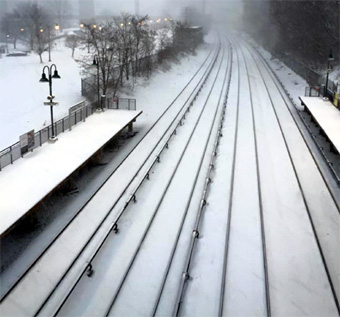 Photo taken in Dobbs Ferry, NY, in Westchester County (near NYC); photo courtesy of Lori Nasrallah
Winter Storm Wreaks Havoc on
Eastern U.S.
| published January 23, 2016 |
By Earl Perkins, Thursday Review features editor
It's officially a monster storm. Snow, rain, wind and chaos are blowing through parts of the South and Mid-Atlantic, and Jonas could become a historic winter snowstorm as it batters the Baltimore and Washington D.C. areas en route to New York and New England, according to USA Today, The Weather Channel and several other media outlets.

Friday and early Saturday brought record snowfalls for several states including Virginia, West Virginia, Kentucky and Tennessee, while storm conditions caused major power outages in North and South Carolina, along with other areas up the Eastern Seaboard.

More than 85 million people in over 20 states face storm warnings or advisories associated with Jonas. The Weather Prediction Center estimates more than 2 feet of snowfall for Washington, D.C., a foot to 18 inches in Philadelphia, and eight inches to a foot in New York.

New York City Mayor Bill de Blasio declared a "winter weather emergency" for the city due to last from 8 a.m. to midnight Saturday, and requested that residents stay off the roads during that time. Almost 600 salt spreaders will be on the roads Friday night, and 1,650 plows are being readied for when the snow falls.

"New York City is fully prepared for tomorrow's storm," he said. "We are constantly monitoring the forecast and are ready to deploy a major, multi-agency operation."

Meanwhile, New York Gov. Andrew Cuomo said the state is ready for the storm, noting this was "not the worst forecast we've ever had." There are also 600 National Guard personnel standing by "ready for deployment."

Maryland Governor Larry Hogan had directed that all state agencies and public utilities brace for what could be a devastating series of power outages and road closings. Like governors and mayors in dozens of other states and cities, Hogan was encouraging citizens to stay home and to stay off roads, and strongly recommending that only essential state and municipal workers and emergency services vehicles take to streets and highways.

On Friday, Hogan signed an executive decree declaring a state of emergency for Maryland. He also directed that all state and municipal agencies concentrate on only emergency activities for the next few days—power restoration, clearing roads, debris removal, and managing road closures. He also directed that any firm in the business of delivery of food, water, propane, diesel or kerosene fuels, medical supplies, and generators be given priority on roads and streets which should otherwise be kept clear of everyday travel or business.

In Delaware, more than 400 snowplows and another 250 road clearing vehicles were already fueled and ready for quick deployment. Governor Jack Markell declared a state of emergency for a state directly in the path of the blizzard. Like the governors of other affected states, he too requested that citizens stay off roads and streets, and stay indoors wherever possible.

Markell imposed Level One driving restrictions as of midnight, which means that only emergency services, first responders, power crews and utility firms, and essential state or federal employees are allowed to be on roads or highways. As in neighboring Maryland, the only exceptions were for those individuals in the business of delivery of medical supplies, fuel and food. The website for the state of Delaware stresses that non-essential businesses remain closed in an effort to keep unnecessary driving to an absolute minimum. Even where snow and ice is not the major issue, Delaware also faces the risk of flooding in low areas, and substantial beachfront erosion. Markell was recommending that all citizens take care and remain vigilant about the conditions in their city or town.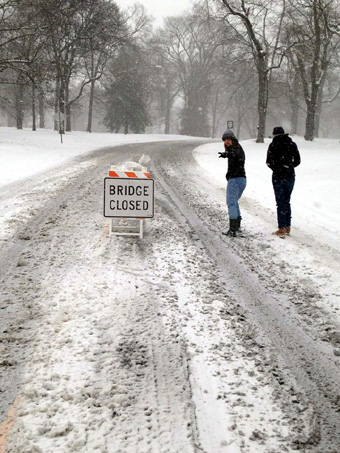 Photo taken in Richmond, VA; photo courtesy of Bert Waters.
In West Virginia, Governor Earl Ray Tomblin declared a state of emergency, and activated all state and municipal resources to concentrate efforts on keeping the roads open and the power grid operating. Unlike some neighboring states, West Virginia's state of emergency does not mandate road closures, but allows for local officials and highway patrol units to close roads as needed. Still, Tomblin encouraged citizens to stay in their homes until the worst of the storm had passed.

As of early Saturday, there were already 11 confirmed highway deaths in six states attributed to icy conditions, including several people killed in Georgia, North Carolina, and Pennsylvania. Numerous chain reaction pile-ups had occurred in a half dozen states, though most of those incidents resulted in minor injuries and hundreds of damaged cars and trucks.

In Washington and Baltimore, some weather experts predict that Winter Storm Jonas could break all records, including the 2010 blizzard which blanketed the area in heavy snow, and the famous 1922 winter storm which dumped some 28-29 inches of snow on the Capital and surrounding counties and towns.

The winter storm may also produce unusually high tides in New Jersey, New York, Maryland and Delaware—including some coastal areas still rebuilding after 2012's Hurricane Sandy.

Jonas is expected to move across the northeast and impact New England by next week, but in the meantime it has snarled air travel nearly from coast to coast.

Numerous flights have been canceled, ticket refunds are offered and change fees are being waived by several airlines, allowing numerous travelers to fly another day. Airlines with flights scheduled in the storm's path have updated waiver policies, creating extensions for travelers to cover certain days. It's certainly a safety issue, so inconvenience is a small price to pay in order to reach home in one piece.

As of 9 p.m. EST Friday, almost 8,500 flights were canceled for the day, along with 3,400 for Saturday, and at least 100 more Sunday, according to FlightAware. If you or someone you know might be impacted by the changes, USA Today has a handy link to all impacted airlines. More cancelations are certainly around the bend as blizzard conditions roll up the coast.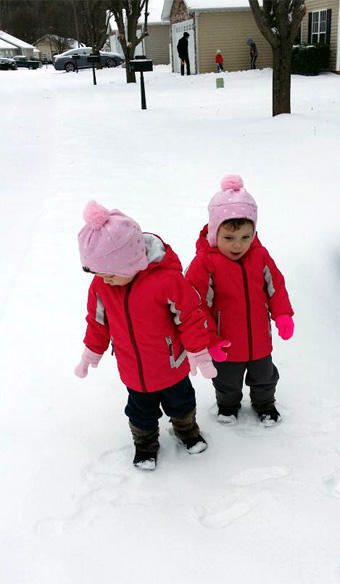 Photo courtesy Wayne Brown and Pamela Pittman Brown.
American Airlines cancelled 800 flights on Friday, along with canceling all operations at Charlotte-Douglas International Airport. It hopes to resume service at noon Saturday. But the carrier canceled all flights at Washington's Dulles and Reagan National airports, Baltimore/Washington International Airport and Philadelphia International Airport on Saturday, with plans to resume Sunday.

American canceled all American Eagle operations at LaGuardia, JFK and Newark Saturday, but hopes to resume service Sunday at all three airports. Delta Air Lines canceled 820 weekend flights in East Coast cities from Charlotte to New York.

"We are carefully monitoring the winds in New York," airline spokesman Michael Thomas added, and "with some winds possibly topping 40 knots in New York, which exceeds our ability to deice, there's a chance for additional cancelations early tomorrow morning."

United Airlines followed suit, shutting down operations Friday afternoon at Washington metro area airports, along with its facilities in the New York City area. In a statement issued Friday afternoon, United Airlines said that in addition to shutting down operations starting Friday afternoon at the Washington metro area airports, United will also be canceling operations in the New York City metro area through Saturday. The carrier hopes to resume service sometime Sunday.

"We know this is stressful for our customers, and our employees are working around the clock to get passengers to their final destinations safely," said United Airlines spokesperson Maddie King.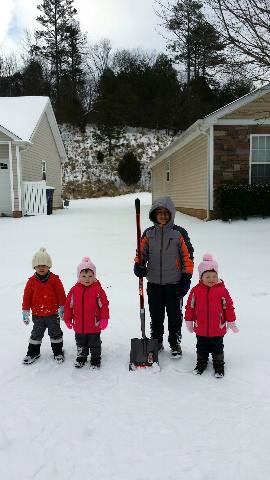 Snow in Winston-Salem, NC; photo courtesy of Wayne Brown
JetBlue, Frontier Air Lines and Southwest Airlines also had extensive cancelations that could last through the weekend. Potential weekend travelers should be aware that major disruptions in the Northeast will cause a nationwide ripple effect. For example, a flight from Houston to Los Angeles could be changed if its crew is stranded in Washington, D.C. Denver reported 64 flights canceled on Friday, while Orlando and Fort Lauderdale, Florida experienced numerous weather-related cancelations.

NBC News was reporting what it called a ripple effect for airports around the country, as a chain reaction of cancelled flights begins to impact even air travelers as far away as California, Colorado and Arizona. Already thousands were stranded in airports in Atlanta, Birmingham, and Orlando—the direct result of canceled flights at airports in the snow-impacted areas of the Eastern Seaboard.

Snow was being reported as far south as South Georgia and the panhandle of Florida, with sporadic reports of light snow flurries in Jacksonville, Lake City and Tallahassee. Residents of southern Alabama and Georgia towns were sharing photos of snow on Facebook and Twitter. Some bridges were being close because of icing in at least seven states in the Deep South.

Related Thursday Review articles:

Jonas Packs a Winter Punch; Thursday Review staff; Thursday Review; January 21, 2016.

Joaquin Seen From Space; Thursday Review staff; Thursday Review; October 2, 2015.