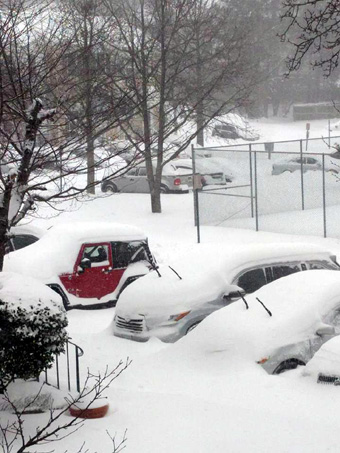 Vehicles in Lorton, VA buried under three feet of snow;
photo courtesy Maria Fahlsing.
Winter Storm Jonas is Growing, and Now New York Bound
| published January 23, 2016 |
By R. Alan Clanton, Thursday Review editor
Winter Storm Jonas had brought a total and abrupt end to what seemed only weeks ago like an endless summer.

Jonas—an epic storm fueled by an unusual combination of winter weather patterns, El Nino, tropical moisture and Polar Vortex—may very well break every record in the books when it comes to snow, ice and overall chaos.

Washington, DC may yet break even its all-time record snowfall set in the winter of 1922, and its runner-up, a 2010 winter blizzard which shutdown the nation's capital. The winter storm is also wreaking havoc across more than 20 states, but is now dumping unusually large amounts of snow on Virginia, Maryland, New Jersey, Delaware, and parts of Pennsylvania.

Of greater concern: Jonas now has New York and New Jersey in its grip, and will set new snowfall records in some areas of the Golden State and the Empire State within the next two days. Officials expect the winter storm to drop more than two feet of snow on parts of both states, with New York City bracing for even more snow as it passes the 24 inch mark—an all-time record. Baltimore has already broken its all-time record with two feet of snow.

According to federal officials, at least 18 deaths have come as a direct result of the super storm, and the number of injuries is estimated at more than 250. Highway patrols and emergency services in a dozen states have faced a steep increase in accident calls, with hundreds of minor accidents being reported every hour. Officials in almost every affected state have asked that citizens stay off of roads and highways.

The storm has impacted nearly every form of transportation in at least 15 states, with closures of U.S. highways, interstate highways, and thousands of secondary roads, bridges and overpasses closed, scores of major airports effectively stalled with more than 10,500 flights cancelled since the start of Friday. Another 3,500 have already been canceled for Sunday.

Snow is so heavy in many areas of the East Coast that even rail service—normally able to operate even in rough winter conditions—is now facing adversity. Travelers as far south as Florida have experienced rail cancellations because trains that run on the north-south lines are stuck in snowbound areas along the upper East Coast. The ripple effect of the transportation snarl stretches across the country, with bus services delayed or inhibited, rail timetables wrecked, and air travelers as far away as Miami, Los Angeles, and Las Vegas feeling the pain as the cascade of canceled flights impacts the ability of airlines to move planes around the country.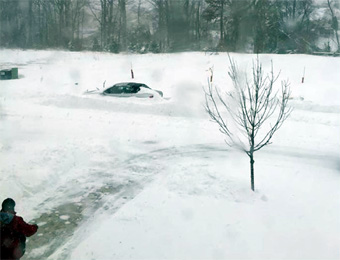 Vehicles buried in snow in Voorhees Township, New Jersey;
photo courtesy of Tracy Davis.
Already on Saturday night, more than 27 inches of snow had fallen on the airport at JFK airport, more than 24 inches at Newark Liberty Airport, and an estimated 26 inches at New York's LaGuardia Airport. Snow is still falling in New York, so neither JFK nor LaGuardia have seen the end of it. In Fairfax County, Virginia, near Washington, Dulles International Airport measured some 27 inches of snow by Saturday evening, and the snow was still falling. Both Dulles and Reagan National Airport will remain completely closed though late on Sunday—at the earliest—according to airport officials and information posted on the airports' official websites. The Washington Post was reporting that it will take clean-up crews at least until Sunday night to get even one runway open at the two major capital airports.

One of the hardest hit places so far: Maryland, where snowfall was measured in some towns at more than 35 inches. CNN was reporting that the city of Redhouse had received more than 38 inches in less than 18 hours.

But Maryland was not alone. Saturday saw lots of records set, and Sunday promises even more weather firsts. According to the Weather Channel, Baltimore-Washington Airport just set its all-time record for snow, with more than 29 inches falling during the first phase of the storm. Philomont, VA, near Washington, DC, saw 39 inches of snow—a new record for Virginia. Cairnbrook, PA, near Altoona, received 32 inches, a new record for Pennsylvania.

The governors of at least 11 states have declared emergency conditions, with about half of those states imposing strict limits of highway and road travel. The governors of Delaware, Maryland, Virginia, New Jersey and New York have all requested that citizens stay off of roads, and remain—wherever possible—in their homes.

Temperatures were still dropping as of Saturday night in many northeastern states. Parts of New York State were expected to bottom out in the upper teens or low thirties, with a wind chill dipping into the low teens.

On Saturday, snow fell in measurable quantities as far south as Dothan, AL, Valdosta, GA, and Savannah, GA. Flurries were spotted in northern Florida, including in Jacksonville, Lake City, Gainesville and Tallahassee.

New York Governor Andrew Cuomo suggested that many in New York State should prepare for waking up to 30 inches of more of snow by Sunday, nearly twice what state and local officials had been predicting as late as early on Saturday.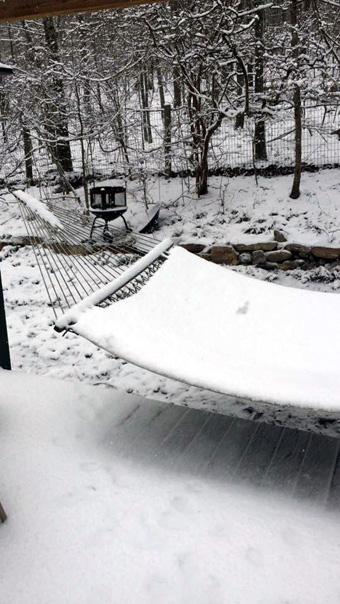 Deck, hammock, and backyard in Waleska, GA;
photo courtesy of Jennifer Craft Morgan
In New York City, an almost unprecedented shutdown of services, activities and amenities has taken place: sporting events cancelled, Broadway and Off Broadway shows cancelled, theaters and restaurants closed, musical venues rescheduling performances. Both New York City and much of Long Island were under a strict travel ban—no unnecessary travel of any kind through at least Sunday evening. Cuomo and New York City Mayor Bill De Blasio were urging New Yorkers to remain indoors and off streets and roads. All city bus services had been halted, and all above ground rail and subway lines had been cancelled.

De Blasio stressed that people need to get "off the street," not merely for their own safety, but to accommodate emergency services, police and utility crews seeking to respond to power or fire emergencies. De Blasio was blunt.

"If you are out," he said, "get inside now!" Washington, DC Mayor Muriel Bowser also worried about the same problem's in her large urban area. "Visibility is poor," she said, "so anyone walking or driving in the area runs the risk of getting hit by crews who are trying to clear the roads."

On Facebook and other social media, millions of people along the U.S. East Coast posted images of snow and ice, including drifts of snow which fell in record amounts in parts of North Carolina, South Carolina, north Georgia, Virginia, Maryland, Delaware, and New Jersey.

Related Thursday Review articles:

Winter Storm Wreaks Havoc on Eastern U.S.; Earl Perkins; Thursday Review; January 23, 2016.

Jonas Packs a Winter Punch; Thursday Review staff; Thursday Review; January 21, 2016.