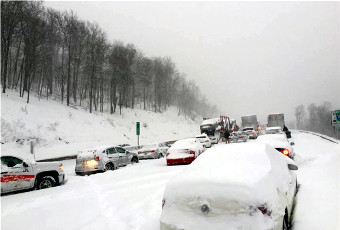 A stretch of I-76 in Pennsylvania, where traffic stranded some motorists for 19 hours;
photo courtesy Emily Linn.
Winter Storm Jonas Shatters Snowfall Records
| published January 24, 2016 |
By Thursday Review staff and editors
It is now official: Jonas is a record-breaking monster. Among its dubious achievements, it has become the first winter storm in American history to drop more than two feet of snow in New York City and Baltimore.

Jonas—now moving slowly across New England and out into the Atlantic—has also shattered snowfall records across more than a dozen states, in cities and towns and rural areas all weighed down with more snowfall than some places have seen in decades, even centuries, and in some communities in Delaware, Virginia and Maryland, more snow than has been recorded since the founding of the Republic.

More than three feet of snow fell in some places along the Mid-Atlantic and eastern seaboard, with records sets in Maryland, New Jersey, Delaware, Virginia and eastern Pennsylvania. Glengary, West Virginia, tucked in between Maryland and Virginia, recorded a record 40 inches of snow; Philomont, Virginia, a short drive from Washington, saw more than 39 inches fall; and some areas immediately west of Baltimore and Washington saw snowfall in the range of 36 to 40 inches. Snow fell in such large quantities that it affected visibility, and prompted mayors and governors to insist that citizens stay off the streets in order to let first responders and repair crews move safely to perform their jobs.

New York City, normally bustling with activity even in winter, saw mostly deserted streets. All Broadway and Off Broadway shows were cancelled, musical performances rescheduled, sports events scratched, and more than 500 restaurants and stores closed. Except for subways running underground, all forms of public transportation were shut down.

Weather-monitoring agencies at a dozen northeastern airports have recorded more snow on runways than ever before in the history of those airports, including at Washington Dulles, where more than two feet of snow fell in less than 48 hours. New York's JFK and LaGuardia airports also set all-time records for snowfall, and may be days clearing runways. Reagan National and Dulles will each be closed to air travel at least until Sunday night, and LaGuardia may be closed through midday Monday.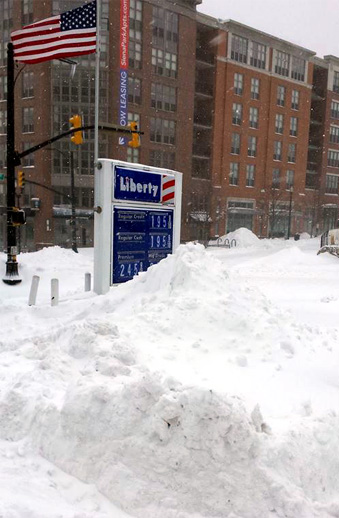 25 inches of snow in a Washington, DC neighborhood;
photo courtesy of Pamela Stroh.
As of Sunday morning, the storm had forced airlines to cancel more than 12,600 flights since the storm moved east, with thousands more cancelations likely to come if airport authorities in more than 25 cities cannot clear mountains of snow from runways and taxiways quickly. Airlines and travel agencies are warning those with plans to travel this week to expect problems through Friday, as the massive number of cancellations has spawned a domino effect from coast to coast, and has impacted flights even in cities unaffected by snow. At least 3,800 Sunday flights were already cancelled as of 10 a.m. Sunday EST.

Though official tabulations are not complete, some airline analysts suggest that the dollar impact to airlines may rival the 48 hour period immediately after 9/11, when in 2001 the federal government grounded all air traffic in North America. Jonas left more than 23 inches of snow at Philadelphia International Airport, 28 inches at LaGuardia, and a staggering 30.5 inches at JFK. At 2:15 a.m., New York City officials had recorded close to 29 inches of snow in Central Park.

But Jonas has caused more than air travel inconvenience and record piles of snow.

The storm has left almost 20 people dead, more than 4000 automotive travelers stranded—including charter buses and Greyhound buses—along frozen and impassable roads, spawned record numbers of highway and road accidents in Virginia, North Carolina, Maryland and Pennsylvania, and caused even rail travel to grind to a near-total halt along crucial north-south corridors on the East Coast. Train timetables as far south as Orlando have been affected by the rail cancellations.

Some people planning to travel by rail to and from places like Charleston, Savannah, Jacksonville, Orlando and Miami discovered late Saturday that many timetables had been disrupted, with passenger trains stuck or delayed by record snowfalls in Washington, Baltimore and New York.

High winds associated with the blizzard have also wrought damage in a dozen states, including unusually winter high wind speeds across coastal areas of Virginia, Maryland, Delaware and New Jersey, and in coastal towns and communities along Long Island, Rhode Island and Massachusetts. On Assateague Island in Maryland, officials clocked wind speeds at 85 miles per hour early Saturday. At Langley Air Force Base and at Newport News, Virginia, federal and state officials recorded wind gusts in excess of 75 miles per hour. And early Saturday, wind speeds of 75 miles per hour were registered in Dewey Beach, Delaware.

The I-95 corridor fared the worst for highway travel problems, with thousands of motorists finding themselves stranded on a road clogged with snow, ice, and multi-vehicle accidents. This, despite warnings by governors of a dozen states (and the mayors of more than 300 cities) that driving could be hazardous and even life-threatening. And with hundreds of U.S. highways and secondary roads also impacted—many closed completely—thousands of trucks and cars were left abandoned. Many bridges and highway overpasses were impassable in Virginia, North Carolina, Maryland and Pennsylvania, and in some states it may be several days before snow and debris can be cleared from roads and highways. Some parts of I-95 and associated beltways may remain closed or impeded for days, while emergency crews and tow trucks remove damaged or abandoned vehicles, and complete work clearing snow drifts.

Long stretches of I-75 and I-85 fared almost as badly as the I-95 corridor. A vehicle pile-up in Kentucky on I-75 caused gridlock to a 35-mile stretch of interstate highway and scores of secondary roads. Some motorists, truck drivers and passengers in buses found themselves stranded for as much as 19 hours.

Officials with several airports say that even now that the winter storm has moved on, it could be days before crews are able to move the snow in sufficient quantities to open runways. Late Saturday, the Washington Post had reported that Regan National would require at least 24 hours of clearing and cleaning, and Washington-Dulles, in Virginia, may remain closed to flights at least through Sunday evening.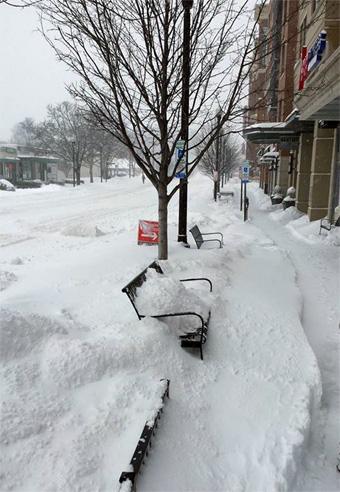 Snow along a Washington, DC suburban street on Sunday;
photo courtesy of Pamela Stroh.
Some officials now worry mightily about what happens when all the snow begins to melt. Some low-lying areas may experience flooding. Coastal and low areas of New Jersey, Delaware and Maryland may be at extreme risk, and residents of beach communities in the Garden State—many still making repairs from Hurricane Sandy—fear a chilling and expensive repeat of the mess caused in 2012's heavy flooding. Already, flooding has caused severe damage in low areas of New Jersey, much of the surging water coming not from the Atlantic Ocean, but from back bays, streams and rivers, and intra-coastal areas.

Adding to Jonas' grim timing: a full moon, which normally produces high tides and high water levels. But this weekend's winds, freezing rains and snow intensified problems with storm surges and flooding. Ironically, massive sand berms and manmade dunes along many Jersey beaches proved useless to protect towns from water surging in from the west instead of from the Atlantic.

In some states, even sunshine and melting snow may not be enough to free many roads of dangerous ice, which can be far more hazardous to drivers than mere snow. Several states and many cities are still under travel restrictions and outright driving bans, as officials worry about additional accidents—even minor fender-benders—impeding or inhibiting the work of emergency responders, power crews, road clearing equipment and utility companies.

In Virginia and Maryland, hundreds of bridges were going to remain closed until officials deemed it safe for drivers to be on roads and highways.

Friday night, a chain reaction pile-up of some 50 vehicles on the Pennsylvania Turnpike spawned a traffic jam stretching for more than seven miles and stranding an estimated 500 cars and trucks. A group of 40 high school students travelling by bus on I-76 in Pennsylvania found themselves stranded for 20 hours. The bus, which had gas—which meant it had heat—was also stocked with water and snacks. The students made the best of the situation, even inviting other stranded motorists to take turns warming up inside the bus, offering people drinks and food. The bus also had a working bathroom—a lifesaver for some motorists whose cars were broken down or stuck while they waited patiently for tow trucks or emergency responders.

Pennsylvania's governor had mobilized the National Guard to help deal with an overwhelmed highway patrol and overwhelmed county and city jurisdictions.

According to Reuters, the storm had no major impact on Wall Street or the major financial hubs in New York, Philadelphia and Charlotte. Still, with road clearing crews working overtime in a dozen states, many roads and streets may still be impassable on Monday morning.

Related Thursday Review articles:

Winter Storm Jonas Growing, Now New York Bound; R. Alan Clanton;Thursday Review; January 23, 2016.

Winter Storm Wreaks Havoc on Eastern U.S.; Earl Perkins;Thursday Review; January 23, 2016.