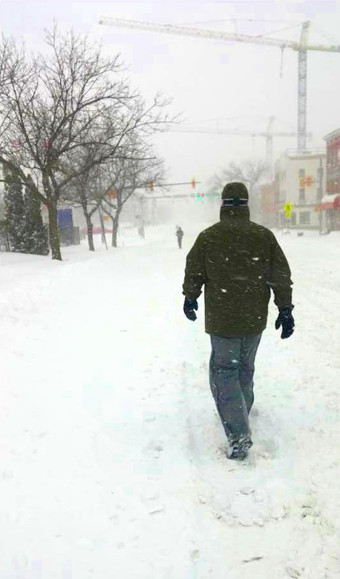 Photos courtesy of Leanne Clark-Shirley
Winter Storm Jonas Clean-Up Proceeds; More Storms Approach
| published January , 2016 |
By Earl Perkins & Alan Clanton, Thursday Review editors
Even as millions of people are still digging themselves out from the record snow that fell across more than a dozen states during last weekend epic Winter Storm Jonas, weather forecasters are warning many of those same Americans to get prepared for the possibility of more snow and ice.

Jonas slammed the eastern half of the United States last week with more snow than some states had seen in half a century. Other areas saw more snow than has ever been measured or observed since the founding of the Republic, and since records have been kept. At least a foot of snow fell in 14 U.S. states.

Airports in New York, Washington, Newark and Philadelphia measured record levels of snow—so much that U.S. air travel was strangled for days when some 13,000 total flights were canceled over a four day period. New York's JFK and LaGuardia airports were closed for more than 48 hours, and Washington's Dulles Airport saw more snow on its runways than had ever been measured since the airport opened in 1962.

Residents in places like Baltimore, Maryland, Lancaster, Pennsylvania, and Washington, DC saw record levels of snow. New Yorkers watched as more than 26 inches fell on streets and Manhattan, Brooklyn and Queens, and as 29 inches fell in Central Park. In Philadelphia, Washington, Baltimore, and Richmond, cars were buried in drifts that reached four feet. In parts of Pennsylvania, Kentucky, Tennessee and Virginia, roofs collapsed, entire highways were shuts down, and thousands of bridges were impassable.

On Friday alone, more than 2000 minor automobile and truck accidents were reported in Virginia and North Carolina, and in Atlanta, ice on roads and overpasses caused the usual gridlock of some parts of the interstate and U.S. highway systems. One stretches of I-76 in Pennsylvania saw more than 600 vehicles stuck in a traffic jam after more than 40 vehicles were involved in a chain-reaction pile-up. Some of those drivers were stuck for more than 18 hours.

Hundreds of miles of major interstate highways, notable I-95, were shot down completely, and for days mayors and governors urged citizens to stay off clogged and dangerous roads, and to stay indoors. Even normally bustling New York City became a virtual ghost town when thousands of restaurants closed, Broadway and Off Broadway shows were cancelled, museums shuttered, and sporting events rescheduled.

Jonas even had a grim sense of bad timing, arriving along coastal areas like New Jersey, Delaware and Maryland just as a full moon brought tides to their highest levels in weeks. Entire cities and towns in New Jersey were flooded, as the storm combined with high water levels to produce unprecedented amounts of moisture and tidal surge.

Some of the records may remain intact for years to come: Glengary, West Virginia got more than 42 inches of snow; Philomont, Virginia received 40 inches; and Assateague Island, Maryland saw wind gusts in excess of 85 miles per hour.

Now, only days after most roads have been cleared, bridges reopened, and air traffic returns to normal, weather forecasters are worried that another major storm—now being frequently called the Groundhog Day Blizzard—could offer a repeat of last weekend's frigid misery and gridlock.

The massive storm is expected to move in from the Pacific Ocean and across California by this weekend, possibly leading to more dramatic weather conditions in the Middle Mississippi River Valley region and a wide tract of the Midwest and central Atlantic region. Heavy rain and snow is on the schedule for California, parts of Oregon and Washington state, and across the Rockies.

For those of you who are highly superstitious, or merely punchy and irritable from last weekend's blizzard, you will be displeased to know that Groundhog Day USA may be accompanied by lots of new snow for many areas. Adding to the misery is a buildup of warm weather conditions in other areas over the southern Great Plains just ahead of that massive cold storm. The unfortunate result will be thunderstorms and other severe weather issues for more than a dozen states, including much of the Mississippi and Ohio Rivers regions.

Some meteorologists are predicting a moderate chance of tornado outbreaks, along with flash flooding and extremely high winds—all unusual conditions for early February, but not so unusual in the context of recent weird and wild weather swings across North America.

The region also could experience snow and wind on the storm's northwestern flank. Residents of Louisiana, Mississippi, Alabama, Arkansas, Tennessee, Missouri, Kentucky, Illinois, Indiana, Ohio and Michigan should be on alert for severe weather Tuesday and/or Tuesday night. The storm threat might reach as far north as St. Louis, Indianapolis and Cincinnati, while possibly stretching southward toward New Orleans, Mobile, Alabama, and Pensacola, Florida.

The U.S. should experience much milder temperatures nationwide in the next six to eight days as two short-wave troughs move quickly across the nation, but a major storm formation in the central states next week may be followed by a cold-air surge during Week Two, according to the website Weather Underground. Slated later this week, locally heavy precipitation will be mainly confined to the far southeastern states and Pacific Northwest, while later this weekend the major storm complex moves onshore in the West before moving eastward.

Forecasters are at odds over whether this next major storm is headed for the western Great Lakes or the eastern Great Lakes by the middle of next week. A surge of much colder air will follow the storm, with temperatures likely averaging below normal over all but the immediate East Coast in the second half of Week Two.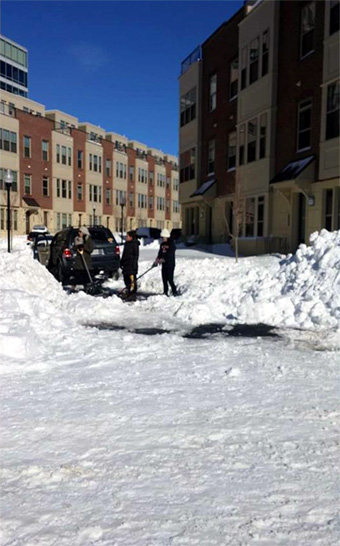 Photos courtesy of Leanne Clark-Shirley
By late Thursday and early Friday of last week Jonas had become a monster, a rare superstorm driven by a complex mix of factors, including El Nino and polar vortex effects on its upper side and backside, moisture-fed troughs pouring in from the south, and high tides in its path. In all, more than 85 million people were affected by the storm conditions wrought by Jonas, and at least 15 states faced some form of weather emergency, up to and including states of emergency as power outages ensued, highways were closed, and entire towns and communities were cut off.

The governors of several states say it may take weeks for residents to completely dig out of the snow and for street crews to have roads and bridges cleared. Warmer temperatures are helping to speed up the snow melt, but that presents its own challenge as waters rise quickly and overload draining, creeks and rivers. Most East Coast airports returned to full schedules by Tuesday, but not until after thousands of flight cancelations cost airlines millions of dollars and left tens of thousands of travelers stranded in airports, or stuck in hotels and motels.

Related Thursday Review articles:

Winter Storm Jonas Shatters Snowfall Records; Thursday Review staff; Thursday Review; January 24, 2016.

Winter Storm Jonas Growing, and New York Bound; R. Alan Clanton; Thursday Review; January 23, 2016.