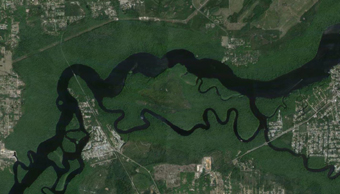 A portion of the St. Johns River and Murphy Creek in Florida, south of Palatka and north of Satsuma; satellite view courtesy of Google Images
Water Rights and the Limits of Growth
By Earl H. Perkins | published Sunday, December 22, 2013 |
Thursday Review Associate Editor
If you live in Georgia, Florida, Alabama or South Carolina, the Niagara Bottling Company of Ontario, California, has declared war on you, and it's too late to do anything about it.

One of the nation's largest and fastest-growing bottled water companies has moved a step closer to winning approval to double the amount of water it draws from the Floridan Aquifer.

The Floridan Aquifer, as defined by the Florida Department of Environmental Protection, is a complex, multichannel system in which water is squeezed though sand, limestone and other natural filtration elements to produce exceptionally clean water. Some geographic areas of the Sunshine State contain different components of the larger five-part aquifer, such as the Biscayne Aquifer in the south, or the Sand-and-Gravel Aquifer in the western panhandle.

Approval has come from the St. Johns River Water Management District staff, which has recommended Niagara's permit be modified to allow a daily pumping of 910,000 gallons. The company's five-year permit was supposed to expire at the end of this month, and it was capped at 484,000 gallons per day. The corporation's application claims the higher-volume request would have a smaller impact on Florida water resources because it will pump directly from the deeper Lower Floridan aquifer.

Everybody attempts to use fancy data to fight their battles, but the concepts are really not that complicated. Florida is pretty much a tenuous spit of land—mostly sand and limestone—that hangs off the southeastern section of the United States. Powerful people have sucked the water from under the state, then, they built massive high-rise buildings on what remained.

As a direct result, sinkholes (once an oddity, but now commonplace) are destabilizing many areas and essentially wiping out the state. So Florida's answer is to throw a Band-Aid on the problem by creating a state-subsidized insurance company for which all taxpayers will be expected to help support. Everybody hates it when the regular insurance companies just quit offering coverage, but when government declares war on you, then your options become limited. These small companies didn't abandon Florida, but were driven out by major corporations and powerful lobbyists.

Niagara employs 120 people at its Groveland bottling facility. I certainly have compassion for those folks, but I also am concerned about potential adverse ramifications on the other 20 million sunshine state residents.

When the district's governing board approves the permit next month, Niagara will receive permission to pump, bottle and sell Florida water for another 20 years.

Founded in 1963 in California, the company specializes in providing water at the nation's lowest cost for club stores (like Sam's), grocery chains, casinos and various retail distributors. Its modus operandi is to garner grants and subsidies from state and local groups and governmental agencies across America, under the guise of bringing desperately needed jobs.

Their website skips over the fact that millions of people are adversely affected through excessive water withdrawals from aquifers.

The Floridan Aquifer is one of the most productive aquifers in the world and is a major source of groundwater in the southeastern U.S. It covers approximately 100,000 square miles, providing water for Florida, southern Alabama, southeastern Georgia and southern South Carolina. Millions of citizens in small communities rely on the aquifer, but it also provides drinking water to major Florida cities including Jacksonville, Tallahassee, Tampa-St. Petersburg and Orlando, along with Savannah and Brunswick in Georgia.

More than three billion gallons of water are produced daily, but that number represents less than 30 percent of the actual flow. Freshwater and saltwater come from the aquifer, causing Florida to place drainage wells in the system for desalinization purposes in the multi-use system. Until recently, water was pumped from the aquifer primarily for industrial and irrigation purposes. Now everyone wants to make money from water, because it just looks easy and almost free.

The aquifer is extremely important to those who live in the southeast, especially in coastal areas and in places like the Florida Keys, where there is no source of fresh water. More than 90 percent of Florida water usage is derived from groundwater, located just under the Earth's surface in soil-pore spaces and in rock formation fractures.

An aquifer is defined as a unit of rock or unconsolidated deposit with the ability to yield a usable quantity of water.

Groundwater is often withdrawn from extraction wells for agricultural, municipal and industrial use. The water table is where fractures and voids become saturated with water, and groundwater is recharged, naturally flowing to the surface. The discharges commonly occur at springs and seeps, often forming oases and wetlands. Groundwater is the liquid flowing through shallow aquifers, but includes soil moisture, permafrost, immobile water in low permeability bedrock and deep geothermal formations.

Water is needed to sustain life, and if Florida's natural resources are squandered then we will be at someone else's mercy for all eternity.