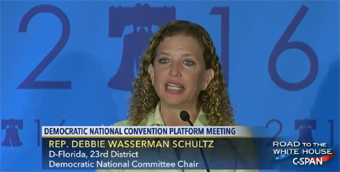 Image courtesy of C-Span
Wasserman-Schultz Resigns as DNC Chair
| published July 25, 2016 |
By Keith H. Roberts, Thursday Review contributor
Supporters of Vermont Senator Bernie Sanders say they've been telling us this for more than a year but no one was really listening: Democratic National Committee chairperson Debbie Wasserman-Schultz has been rigging the system in favor of her friend and close political ally Hillary Clinton all along, and she's been punishing those who have refused to support Clinton from the earliest days of the campaign cycle.

This weekend, on the literal eve of the start of the Democratic National Convention in Philadelphia, Wasserman-Schultz has been forced out—offering her sudden resignation in the wake of yet another email scandal, this one showing a trail of overt support by Wasserman-Schultz for Clinton and an even more vociferous pattern of resistance to potential or genuine Clinton rivals.

The trove of hacked emails, some dating back nearly 19 months, show what most observers agree was a pattern of channeling party support toward Clinton while at the same time offering internal stratagems for combatting her Democratic rivals and minimizing their impact in the field. The emails include derisive or dismissive remarks about not just Sanders, but also former Maryland Governor Martin O'Malley and former Virginia Senator James Webb, candidates who sought to challenge Clinton in the early debates from both the left and right respectively.

Wasserman-Schultz's Sunday afternoon resignation comes at a particularly awkward and public moment for the DNC and Democratic Party strategists who had hoped to kick off the convention week with a sharp contrast to the frequently chaotic and occasionally contentious Republican convention which just ended Thursday night, culminating in a dark and gloomy assessment of the U.S. by GOP nominee Donald Trump.

Democrats had hoped to strike a dramatic pose of unity and cohesion, as well as god feelings, but must now enter into their first day of the convention with a dark cloud hanging over the process which has led delegates to this point: the possibility that the party's top official used her power and influence to preordain the outcome of the long primary and caucus season.

The Florida Congresswoman is resigning amidst a storm of controversy and intense pressure after more than 2,450 emails were released to the media by Wiki Leaks. Hundreds of those emails apparently show Wasserman-Schultz, in effect, attempting to tip the scales in favor of Clinton at various critical points throughout the nomination process, or show her dismissing the impact of Clinton's rivals and in some cases seeking to skew the narrative to spin unfavorable outcomes for candidates like Sanders and O'Malley.

In advance of her resignation, media sources report, Wasserman-Schultz spoke first to candidate Clinton and to President Barack Obama. Minutes later, she released a written statement explaining her intentions to resign as DNC chairperson. Her letter states that she will remain chairperson only through the several days of the convention; her resignation becomes effective on Thursday night, after the final gavel in Philadelphia.

Wasserman-Schultz says she will also deliver remarks during the convention, though it is not clear that Clinton's staff—or those close to Sanders, for that matter—fully support her plan to appear before the delegates and the television cameras. She has been removed from several major, prominent roles at the podium, and her other contact with the main stage will be greatly limited or curtailed entirely.

The committee charged with DNC rules and proceedings has chosen U.S. Representative Marcia Fudge of Ohio to serve as permanent chair of the convention, while Democratic political analyst and CNN commentator Donna Brazile will serve as interim DNC chairperson until a decision can be made about Wasserman-Schultz's replacement. (CNN has said it has agreed to a temporary suspension of Brazile's contract until after the convention has concluded, at which time the network will consider its options).

Sanders issued a statement saying that Wasserman-Schultz has "made the right decision for the future of the Democratic Party."

Meanwhile, Wiki Leaks says it has still more emails it intends to release to media sources. The Wasserman-Schultz emails reveal a pattern which shows that the DNC chair sought to insure that Clinton maintained an advantage over her Democratic opponents, a clear violation of the requirement that as party chairperson she remain neutral and unbiased in her facilitation of all candidates running for President and for federal office.

Wiki Leaks says it obtained the emails, which were culled from thousands hacked from the Democratic Party's computers and file servers. Some Democratic Party officials and several Clinton campaign spokespersons suggest that the emails may have been hacked originally by Russian or Romanian hackers working in tandem with Kremlin leaders with sympathies for Donald trump, a claim which has angered Republicans and stunned reporters.

The emails may also add fuel to the fires of Sanders' legions of supporters, many of whom never fully trusted or supported Clinton in the first place, and many of whom now may see the email fiasco as an example of the Democratic National Committee's internal desire to preordain Clinton as the nominee in 2016. It is a point which was frequently made by Martin O'Malley and his supporters during much of 2015. O'Malley was often critical of the DNC and Wasserman-Schultz for what he saw as a heavy-handed official effort to tip the scales in favor or Clinton, and to create a measurably unlevel playing field for the other candidates.

Related Thursday Review articles:

Sanders: Clinton's "Victory" a "Rush to Judgment"; R. Alan Clanton Thursday Review editor; Thursday Review; June 7, 2016.

Inspector General: Clinton Violated Government Email Rules; Keith H. Roberts; Thursday Review; May 25, 2016.