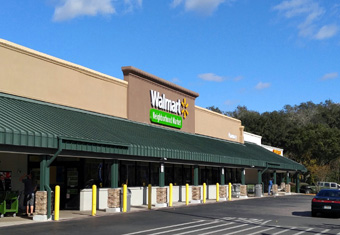 Photo by Thursday Review
Walmart Closing 269 Stores, Will Cut 16,000 Jobs
| published January 17, 2016 |
By Thursday Review staff
This giant retailer's move could be more of a sign of certain economic troubles ahead than the record-shattering two week plunge of Wall Street stocks, generally regarded by economists and market-watchers as a long-overdue correction.

Even for the optimists who say that Wall Street is merely suffering from a form of influenza brought on by low oil prices, this retailer's shift could be a harbinger of long term realignments in the way people shop.

Walmart announced this week that it will shutter 269 stores and layoff approximately 16,000 employees. Though some of the store closings are in other countries, at least 10,000 of the layoffs will occur in the United States, where many stores are underperforming in the face a sagging sales and increasingly fierce competition from online retailers.

Shares of Walmart fell about 30% last year, its biggest stock value setback in company history.

Walmart says it will close 154 stores in the United States; roughly 100 of those closings will be Walmart Express locations; another 12 Supercenters; four Sam's Club locations; and scores of regular Walmart retail stores.

Like dozens of other major retailers across a wide spectrum of brands and tastes—JC Penney, Target, Kohl's, TJ Maxx, K-mart and Macy's—Walmart too experienced its slowest holiday season since the start of Great Recession. Much of Walmart's sales drop-offs come as a direct result of a shift in preferences by consumers, who last year spent an estimated $5.5 billion in online purchases.

Walmart is also facing extreme internal and external pressure regarding its wages and employee benefits, an issue which finally prompted the company last fall to announce across-the-board pay raises for most employees. Analysts suggested even then that it was only a matter of time before the layoffs began, especially in the face of what was already being predicted—a slower-then-forecast Christmas shopping season and an economy still facing difficulties.

Some analysts were predicting last summer and fall that dropping oil prices would eventually push the market into a mini-recession—and Wall Street's recent plummet seems to bear out the notion that there is uncertainty about the strength of the recovery in the U.S. and in other world markets. China's enormous economy, especially, has been constricting steadily since the beginning of last year. Coupled with a worldwide drop-off in demand for oil, the shifts have many investors uneasy.

Of the 100-plus Walmart locations being closed outside the U.S., many are in Brazil, Argentina, Mexico, and other Central or South American countries. In the U.S., Walmart says it will make every effort to relocate employees to other Walmart stores. Where transfers are not possible, the company will provide a severance equal to about two months' wages, and some employees will be given job search assistance and classes in resume development.

Despite the store closings, Walmart says it is optimistic about the next few years. It still plans to open at least 60 new Supercenters in high growth areas, and it has plans for at least 10 new Sam's stores. It will offer positions first—management and associates—in those new locations to employees already slated for layoff.

Walmart is the largest retailer in the world, operating roughly 11,600 stores in scores of countries.

Weeks ago, Macy's announced it was closing 36 stores and cutting its workforce by some 3,100 employees. JC Penney also plans to downsize this year, closing some stores and reducing its employee base.

Related Thursday Review articles:

Macy's to Layoff Thousands, Will Close 36 Stores; Thursday Review staff; Thursday Review; January 7, 2016.

A 1936 Book Explains Why Walmart Will Have a Bad Year; R. Alan Clanton; Thursday Review; October 28, 2015.