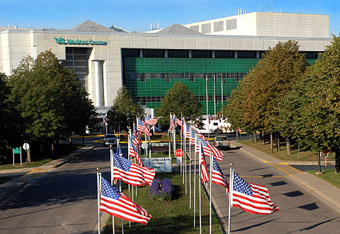 Photo courtesy of Veterans Administration
Gaming the System: The VA at its Worst
| published October 1, 2014 |
By Earl Perkins
Thursday Review features editor

Soldiers at Marine Corps recruit training facilities in Parris Island, South Carolina, and San Diego are taught to overcome adversity and obstacles, but one former Marine may have outperformed all others, according to the Washington Post, USA Today and Inquisitr.

Cpl. Jordan Buisman left the Marine Corps because of complications associated with epilepsy, but Veterans Administration records show he cancelled and rescheduled an appointment four days after his death.

The former videographer sought a neurology appointment in June 2012, and a Minneapolis VA neurologist instructed the 25-year-old to make an appointment if his condition changed. Following an epileptic seizure in September, Buisman made an appointment Oct. 12, which was confirmed for Dec. 20. He died following another seizure Nov. 26. Four days later, VA records show he rescheduled his appointment for Jan. 17. If he could have only lasted 24 more days...

Faking patient cancellations was one of many schemes that VA supervisors orchestrated to hide extensive treatment delays. The upside was that administrators received bonuses for showing that veterans received timely service from health-care practitioners. Buisman's case dovetails with that agenda, eventually causing the administration to radically change the way VA patients are dealt with.

Following the massive scandal that permeated all levels of the VA, President Barack Obama was forced to replace the VA secretary. Numerous corrective actions were also instituted, including rescheduling appointments for veterans who were placed on dummy waiting lists and posting twice-monthly online updates on wait times.

The agency has hired more medical professionals to meet increased demands, and has taken steps to fire or reassign officials responsible for manipulating records. These corrective actions have been instituted nationwide, and will hopefully eradicate woeful shortcomings that have plagued the VA for years. The jury is still out on whether the proper people are being fired, or if they're being protected while underlings are being scapegoated.

On Wednesday, the Minneapolis hospital announced it is scheduling 92 percent of its appointments within 30 days, and the facility requested an inspector general investigation into the former Marine's case.

"The Minneapolis VA Medical Center continues their (sic) commitment to Veterans in providing high-quality health care for Veterans and takes any allegations about patient care or employee misconduct very seriously," the agency said in a statement, adding that "those involved in any inappropriate activities will be held accountable."

The clinic is seeking to better accommodate patients, adding Saturday clinics and appointment slots, recruiting additional clinical staff and outsourcing overflow to private-sector facilities, the agency said. Buisman's case was highlighted this week by USA Today, prompting members of the Minnesota congressional delegation to seek investigations from the VA Inspector General and the Justice Department.

"It is unacceptable for veterans to have their care delayed, and to have those delays covered up, and it is essential that we get to the bottom of what happened at VA facilities," U.S. Sen. Al Franken (D-Minnesota), said in a statement.

The retired Marine's family is incensed at the VA's handling of Buisman's health care, and rightfully so in the wake of revelations concerning mismanagement and malfeasance at VA. Numerous whistleblowers have noted that it was common practice to secretly reschedule patient's appointments without their consent. This practice makes it appear that the fault and delays rest with veterans, rather than the agency.

Rep. Eric Paulsen, a Minnesota Republican, said, "that's just wrong", telling reporters that something needs to be done and "there needs to be consequences." The Minnesota VA office attempted to lay the blame on an automated call system, which notifies patients 72 hours before an appointment. However, that story won't hold water because Buisman's change was made several weeks ahead of time.

Buisman's family is suing the Minnesota VA for wrongful death, alleging the retired Marine's life might have been saved if doctors would have seen him in a timely manner. His mother, Lisa Riley, said she believes the records were falsified to hide delays. The VA is vigorously investigating the case, following inquiries from Franken, along with fellow U.S. Sen. Amy Klobuchar, and Rep. Tim Walz.

"This case appears to be an egregious example of manipulating scheduling practices to conceal excessive wait times that put veterans' lives at risk," said Klobuchar, in a letter to the Minnesota VA.

After studying Buisman medical records, Doctor Orrin Devinsky says there's a good chance the former Marine would still be alive if he'd received access to specialty clinic services with the 14-day waiting period the VA currently seeks. Devinsky is director of New York University's Comprehensive Epilepsy Center.


Related Thursday Review articles:

Support the VA, Support Your Local Crack House; Earl Perkins; Thursday Review; August 19, 2014.

VA Accountability in Central Alabama; Earl Perkins; Thursday Review; September 8, 2014.

Changes at the VA in Alabama; Earl Perkins; Thursday Review; August 28, 2014.