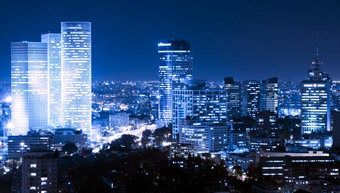 Photo courtesy of University of Illinois (Foreign Study Program)
Uber Arrives in Israel
| published August 26, 2014 |
By Thursday Review staff


Despite the threat of rockets, Uber is moving to Israel, though there have been delays in launching the service.

Uber is a highly popular, fast-growing service which uses digital tools and social media to connect riders with drivers, often offering a high-end ride experience and in a range of prices. Uber competes directly with traditional cab services, which has sparked outrage and protests in numerous countries.

Uber's original plan had been to be operating at full speed in late June and early July, but violence has stymied the rollout. The current fighting between Israel and Hamas has taken the lives of more than 2150 people, and though the vast majority of those killed have been Palestinians, at least 70 Israelis have died as a result of rocket or mortar attacks launched from Hamas positions within Gaza. The effect of the violence has brought tourism to a halt, reduced internal travel and commerce, and suppressed the economy of Israel.

Despite the violence and the bloodshed, Uber has finally begun the rollout of its service in Tel Aviv, and beginning today the car-booking operation is now taking orders.

The San Francisco-based Uber has faced an uphill battle in some countries and in some U.S. cities, where it undercuts traditional cab services by allowing riders to use a variety of computer, smartphone and handheld device apps to request a car or locate a ride-sharing opportunity. Uber merges technologies and social media with non-traditional drivers and drivers not a part of taxi or limo ecosystems.

Unlike a ride in a traditional cab, no money changes hands with Uber; all payments are handled through debit card or credit card transactions, and the total fare is calculated automatically by a variety of factors: speed, distance, time. At the exact moment of drop-off, the passenger's account is charged and an electronic receipt sent. There is no tipping required, though Uber does not forbid it. Uber integrates all forms of current technology—including tracking and electronic mapping—into its business model. Riders can watch their smartphone as an Uber driver approaches the point of pickup (this reduces waiting times at curbs and front porches), and Uber software is able to quickly assist the driver with real-time traffic conditions—a feature which saves both the driver and the passenger money. Unlike taxies, which require a rider to call first and go through a dispatcher, Uber rides are ordered almost entirely by electronic requests—from smartphones, Blackberries, laptop computer, social media applications.

Cab drivers and taxi services in dozens of countries have protested the advent of Uber (and similar services, such as Lyft and SideCar) because the start-ups undercut the traditional business model of cab drivers. In many cities and states, Uber operates without requiring its drivers to complete the same rigorous training and orientation processes. Uber also undercuts wait times, hailing processes, and negotiation points—at airports and train stations, for example—which means that cabbies lose business immediately to Uber drivers.

But in Israel, government officials have made it clear that Uber will be required to operate under the same guidelines as those of cab drivers, licensed limo drivers, and other ride services. Among those competitors is something called GetTaxi, an Israeli-based company with a business model similar to that of Uber's. GetTaxi is already very popular in Tel Aviv, and that means Uber's biggest challenge may be overcoming the local start-up.

Uber has become extremely popular in the United States and many other countries. But cabbies in France, Spain, Italy, Portugal and the United Kingdom have launched aggressive campaigns against Uber and its kindred start-ups like Lyft. In Australia, Canada, Germany and the U.K., the political fights have become extreme. In London, the battle centered on Uber's unique tool kit—fares digitally calculated to reflect distance and time—which London cabbies say violates their business arrangement with the city to have sole proprietorship over vehicular meters. The Hackney Carriage (black cab) drivers may use an analog meter, but, they argue, Uber must use a meter as well.

Dragged into the fray, London Mayor Boris Johnson said it would be difficult for him, or any court, to enforce any law banning digital services like Uber.

Uber expects its debut in Israel to go as well—if not better—than the sometimes politically troubled introduction it faced in some cities and countries. Uber has received a lot of backing from investors in the U.S. and other countries, but so has the home team GetTaxi in Tel Aviv. The question is: will Israeli passengers take enough rides to support both companies?


Related Thursday Review articles:

Taxis, Drivers & Digital Disruptors; R. Alan Clanton; Thursday Review; June 23, 2014.