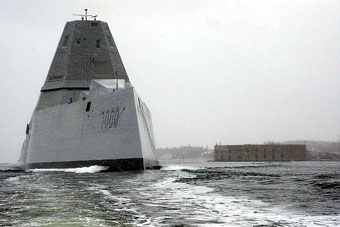 Image courtesy of U.S. Navy
USS Zumwalt Departs for
Second Set of Sea Trials
| published April 7, 2016 |
By Thursday Review staff
In this photo taken in Bath, Maine two weeks ago, the massive stealth guided-missile destroyer USS Zumwalt (DDG-1000) sets to sea for a second round of sea trials and tests.

The Zumwalt, built by General Dynamics and Bath Iron Works, has already completed more than six weeks at sea beginning late last year and early 2016. This second trial period at sea will ramp up the testing, and will included more vigorous demonstrations of the $3.5 billion ship's high tech capabilities and tools. The Navy and the various contractors involved with the Zumwalt's hardware and weapons hope to have the ship ready for acceptance trials later this month or early in May.

The Zumwalt class of guided missile destroyers was originally to include 31 or 32 such stealth ships, but military budget issues and cuts by Congress dropped construction back to just one or two over the next two years, with the possibility—some Pentagon planners hope—of eventually rebooting the Zumwalt program in late 2018 or early 2019.

Its complex systems must first pass a series of sea trials before Congress will authorize more money. The ship, if it becomes fully operational, will include scores of top-secret technologies and high-powered weapons. In addition to its stealth capability (it is, in fact, visible on radar, but may appear very small and unassuming to an enemy), the Zumwalt will possess lethal firepower and a number of cutting-edge, next generation tools.

One concern for some engineers is the "tumblehome" hull design, generally abandoned by most of the world's navies and shipbuilders more than 100 years ago after stability and steadiness proved to be a problem. Engineers with General Dynamics and other companies have assured the U.S. Navy that the computerized propulsion and stabilizer systems on board the Zumwalt will prevent it from instability in tight turns or rollovers in high seas.

The Zumwalt is more than 600 feet in length and weighs roughly 15,000 tons, making it the largest destroyer ever built.

For a more comprehensive look at the Zumwalt, check out our previous in-depth article USS Zumwalt Begins Sea Trials; R. Alan Clanton; December 8, 2015.

Related Thursday Review articles:

USS Zumwalt Begins Sea Trials; R. Alan Clanton; Thursday Review; December 8, 2015.

USS Milwaukee is Commissioned; Keith H. Roberts; Thursday Review; November 23, 2015.