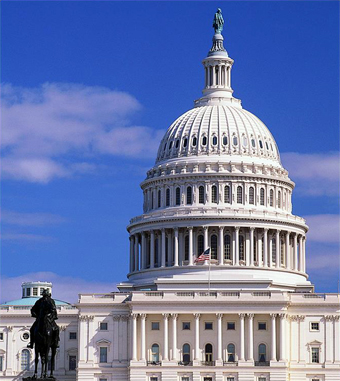 Will Turnout Make the Big Difference on Tuesday?
| published NOvember 3, 2014 |
By R. Alan Clanton
Thursday Review editor

Aside from Joe Biden's publicly-stated belief that things will turn out to the contrary, most analysts suggest that events might go swimmingly for the GOP by the end of Tuesday night.

Though many of the races for the U.S. Senate are close—in some cases razor close—even Democrats concede that Republicans may gain some seats in the House, between 8 and 12 by most estimates. Further, with President Barack Obama's popularity at its lowest point since he took office in 2009, and with so many issues now generating blowback for Democrats around the country, some Senate races—despite those millions of dollars being spent on all those intensely negative ads—may turn out to have little to do with the specific candidates in each state. Instead, the midterms may become a referendum on the President.

Biden may, therefore, be engaged in a bit of bravado and psychological gamesmanship. Or the vice president may just be poorly informed of the current poll numbers. Either way, the VP may be surprised by Wednesday morning. Polls suggest that the GOP may pick up between two and four seats in the Senate, and another dozen in the House.

If Republicans have been sensing blood in the waters, Democrats have adjusted accordingly—fleeing from the President wherever possible, and in some cases distancing themselves so far from the White House that you would think those blue candidates were members of some other political party. Democrats in states like New Hampshire, Louisiana, and Georgia prefer to campaign alongside Hillary Clinton. Florida's Charlie Crist is so focused on rallying Democrats, without the baggage of Obama, that his people have produced TV ads which feature a glowing endorsement from former President Bill Clinton. And in several states, Democrats running for Congress have even gone as far as to produce ads illuminating their differences with the President, or repudiating Obama's positions on health care and the Keystone Pipeline.

Meanwhile, Republican stars were everywhere—Jeb Bush campaigning alongside gubernatorial candidate Rick Scott in Florida, and Mitt Romney campaigning in Alaska alongside Senate candidate Dan Sullivan. In Georgia and in Colorado, the negative ads have reached what many voters feel is an all-time low—with the greatest possible insult by a Republican to accuse a Democrat of being loyal to Obama.

Some pundits and pollsters have been quick to point out that this is not some unprecedented moment; two-term presidents often find their job approval numbers at a low point during the sixth year of the presidency. And such unpopularity brings with it the inevitable side-effects: exploitation by the competing party, a veritable stampede by members of his own party as they shun the chief executive, and much hand-wringing and hair-pulling about the future of Washington with a politically-isolated White House sitting amidst a sea of opposition. Bill Clinton had a rough time of it in 1998, as did his successor, George W. Bush, who reached his lowest approval numbers in 2006.

Still, almost everyone agrees that there is something about this midterm election that smacks of a deeper, more serious problem for Democrats. Both sides freely admit that the election is a referendum on the President, and both sides agree that the outcome may change Congress. Polls conducted over the early part of the weekend (Friday night/Saturday morning) by CBS News/New York Times suggest that the GOP could gain between six and twelve seat in the House, and four in the Senate. Other polls, conducted as recently as Sunday, show many races tightening—prompting experts in both parties to claim that the momentum is moving in their favor.

Democratic strategists worry about low voter turnout—a traditional problem for the party of an unpopular President. Republicans, too, have reason to fear apathy—low turnouts could hurt Mitch McConnell in Kentucky (where he is facing a tough challenge from Democrat Alison Lundergan Grimes) and Pat Roberts in Kansas (Roberts' opponent is independent Greg Orman). And both parties fear the loss of even a few dozen votes in the narrow race in Georgia, where Republican David Perdue is facing off against Michelle Nunn for the Senate seat being emptied by Saxby Chambliss. In all three cases, the GOP candidates have sought to puncture their opponents by linking them to the policies of President Obama.

Early voting may be a factor in some states. This year, early voting is taking place in a dozen states, almost all of which are considered key to the balance of power after Tuesday. States with early voting include Florida, Arkansas, Georgia, Utah, Wisconsin, Louisiana, Iowa and North Carolina. And because the early voting numbers have been high in all of those states, some analysts and pollsters predict a high-then-average voter turnout on Tuesday. And in second-term midterms, the party not-in-the-White House tends to benefit from higher turnout.

And in Colorado, Democrat Mark Udall is leaving nothing to chance, imploring volunteers to work around the clock, sending emails and knocking on doors. Udall is in a tight race with challenger Cory Gardner. Polls as recent as last week, conducted by the Denver Post, showed Gardner with a slight but increasing lead, a sign, perhaps, that Garden's attempts to link Udall inextricably to Obama have paid dividends.

Though the President has been careful to comply with the do-no-damage policy of most of his fellow Democrats this election cycle—avoiding campaigning and eschewing direct involvement—Obama did make a statement this week regarding turnout and voter attitude.

"Don't stay home," Obama told Democrats, "Don't let somebody else choose your future for you."


Related Thursday Review articles:

Udall Against All?; John T. Herndon; Thursday Review; November 2, 2014.

Jeb Bush: Business, Politics, or Both?; R. Alan Clanton; Thursday Review; July 18, 2014.