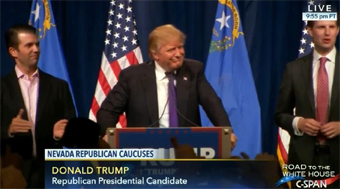 caption goes here
Trump Takes Big Win in Nevada;
Rubio, Cruz Battle for Second
| published February 24, 2016 |
By R. Alan Clanton, Thursday Review editor
Donald Trump's big win in Nevada either confirms what his antagonists have said all along, or it confirms what some polling gurus and math experts are saying is the inevitable.

Trump won his third major contest in as many weeks on Tuesday, raking in nearly 46% of the total vote, and securing himself another 14 delegates to the Republican National Convention. His next closest rivals, Florida Senator Marco Rubio and Texas Senator Ted Cruz, came in second and third in the caucuses, with 24% and 21% each. Rubio walks away from Nevada with 7 delegates; Cruz takes 6; Dr. Ben Carson and Gov. John Kasich each get one delegate.

By early Wednesday morning 100% of all caucus sites had reported results, delivering Trump one more solid win along a widening path toward the GOP convention which now seems relatively free of obstacles. In his speech on Tuesday night Trump acknowledged that though there is still work to do in the coming weeks, his lead is rapidly becoming an insurmountable obstacle for his opponents.

"It's going to be an amazing two months," Trump said in an apparent reference to a slew of primaries and caucuses scheduled in March and April, "but…we might not even need two months, folks, to be honest."

Trump not only exceeded expectations, but may have also shattered the long-held polling shibboleth that his firm ceiling of support among the GOP faithful resides in the mid-30s. By hitting in the mid-40s, and by pulling-in support from a wide variety of Republican demographics—including college educated and non-college educated, men and women, and, most notably, even Latinos—Trump may soon topple the notion that he can be beaten only if all of his intra-party opponents unite.

Turnout was not only higher than expected, but also shattered all records, at least according to Nevada GOP officials and state officials. Caucus turnout was nearly twice what was seen in 2008, and roughly one third more than in 2012. High participation was accompanied by entrance and exit polls showing that voter dissatisfaction and frustration is running at an all-time high, and that voter anger at Washington helped fuel the massive levels of participation.

The Nevada results also left Rubio and Cruz stuck in bookend positions deep in second place. The second and third place showings also confirm Trump's own strenuously held belief that even as other candidates fall away from the race—as in the recent departure of Jeb Bush—Trump will end up with some of the supporters from those former candidates.

Rubio, who is still well-funded at the moment, told reporters that he has no intention of quitting the race now, and considers the fight far from over. Cruz, who also continues to receive substantial funding, clings to the fact that he remains the only candidate to have beaten Trump, referencing the Texas Senator's big win over Trump in Iowa. All three candidates—Trump, Cruz and Rubio—worked hard in Nevada to make sure their would-be supporters attended caucus locations.

The extremely large turnout produced not just huge crowds, but also occasional logistical problems, procedural confusion in places, and even accusations of minor violations of the rules—including caucus leaders and poll volunteers wearing campaign-sanctioned t-shirts, jackets and caps. Though the Nevada GOP said there were no serious violations of the rules, social media was filled with frequent complaints during the night of a variety of flagrant violations of caucus procedure.

Rubio and Cruz divided the non-Trump vote almost evenly, though Rubio ended up gaining a slight advantage in a state with fewer of the evangelical supporters which have formed the base of Cruz's support. Rubio also benefitted from a series of high-profile endorsements in the closing days and hours before the caucuses began.

The final math sparked an intense discussion between the varying factions of the GOP. Trump's 46% is almost evenly matched with the combined totals of Rubio and Cruz, which add up to 45.3% of the vote. Add even a fraction of the totals from retired neurosurgeon and author Dr. Ben Carson, who finished fourth with about 5%, and the votes for Ohio Governor John Kasich (fifth place, 3.6%), and the so-called "anti-Trump" vote exceeds Trump's total. But only barely.

The results instantly put pressure on the remaining candidates—especially Kasich, who had been thought to be one of the beneficiaries of Jeb Bush's withdrawal last week—to suspend their campaigns and allow supporters to rally around either Cruz or Rubio. The once heavily crowded field of 17 candidates last summer is now down to just five who are still actively campaigning. Bush withdrew after a poor showing in the South Carolina primary last week, and New Jersey Governor Chris Christie withdrew after a weaker-than-hoped performance in New Hampshire.

Republican Party regulars and GOP establishment figures had hoped that Trump may have been sidelined by his surprise loss in Iowa, but Trump has continually confounded the experts, and his big wins in New Hampshire, South Carolina, and now Nevada seem to show that he is able to reach out into almost any region of the country to successfully tap-in to anti-establishment sentiments.

With Super Tuesday now looming on the near horizon, Trump may become unstoppable as his delegate lead begins to widen and he racks up victories in those states which have winner-take-all rules. Both Rubio and Cruz are still well-funded, but will now no longer be able to campaign in a single geographic area, as has been the case in Iowa, New Hampshire and South Carolina. With a dozen states coming into play over the next few weeks, Cruz and Rubio will begin to immediately deploy the lion's share of their cash and resources to television advertising to get their message across.

Also potentially crucial: a Thursday night debate on CNN in which the five remaining candidates will meet on stage for what could be the final forum of the season. Political observers now suggest that three things will likely emerge as cornerstones of the debate: a potentially epic battle between co-rivals Rubio and Cruz to claim the high ground among the anti-Trump forces; another likely flare-up of intense debate between Trump and those two competitors in his rear view mirror; and a last stand by both Kasich and Carson, both of whom must prove to viewers that their campaign's represent a viable alternative to the top three contenders, and that they are, in fact, electable.

Trump's win was declared very early on Tuesday evening. Entrance polls and exit conversations between reporters and caucus-goers showed a decisive, almost insurmountable lead for Trump even before caucuses convened. CNN's entrance polling showed that the vast majority of those who voted for Trump did so out of frustration with Washington politics, and out of anger at the Republican Party for being an ineffective vehicle for political change. Most news networks and new sources declared Trump the winner within minutes of the closing of the caucuses, even while votes were being tallied across the state.

Cruz, some political analysts believe, may have seen his fortunes begin to slip in Nevada after being hammered incessantly in the press and by other candidates—especially Trump and Rubio—for running what is being perceived as a campaign too easily prone to "dirty tricks." This week Cruz told reporters that he had asked for the resignation of one of his top staffers, Rick Tyler, after accusations that Tyler had deliberately circulated am edited/altered video in which Rubio was quoted as saying there were "not many answers" to life found in the Bible. In fact, in the actual video Rubio can be heard saying the Bible contained "all the answers." The altered video included subtitles purporting to show Rubio's uncertainty.

The video fracas was one of a half dozen similar incidents in recent weeks in which the Cruz campaign has been accused of misleading advertisements and misinformation, including the still thorny issue of phone calls, text messages and emails incorrectly reporting Carson's withdrawal from the race in the hours before the Iowa caucuses. Carson and some of his top staff still suspect that thousands of would-be Carson supporters switched their allegiance in the final moments before caucusing began in the Hawkeye State.

Trump, too, had complained of misleading ads by Cruz which ran in South Carolina. Those ads, however, merely used direct on-camera quotes by Trump in which he voiced support for Planned Parenthood, abortion, and other high-profile issues antithetical to many conservative Republicans. Trump had threatened to take legal action if Cruz did not pull the ads from the airwaves.

The candidates will meet for a possible final debate on Thursday night in Houston for a forum to be televised on CNN.

Related Thursday Review articles:

Clinton, Trump Have Wide Paths to Nominations; R. Alan Clanton; Thursday Review; February 23, 2016.

Trump Wins South Carolina; Clinton Takes Nevada; R. Alan Clanton; Thursday Review; February 21, 2016.