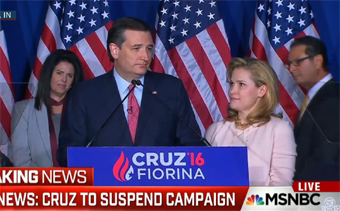 Image courtesy of MSNBC
Trump Wins Indiana;
Cruz, Kasich Suspend Campaigns
| published May 4, 2016 |
By Keith H. Roberts, Thursday Review contributor
Indiana was the Alamo for Texas Senator Ted Cruz, but now that long war is over. With that battle's end, so too the vote in the Hoosier State may spell doom for the GOP's anti-Donald Trump movement, which had uneasily coopted Cruz's attempts to halt Trump's seemingly unstoppable rise to the helm of the Republican Party.

After a crushing loss in Indiana, where Cruz had staked all his earnings and efforts, Cruz announced that he was suspending his campaign immediately. Trump won Indiana by a hearty 53.3%; Cruz pulled-in a respectable 36.6%, but lost in the all-important delegate math, handing Trump almost all of the state's 57 delegates (officially, the Associated Press reports, Trump will take away 51 delegates).

Trump now stands within striking distance of the required 1,237 delegate needed to win the Republican nomination; according to some sources, as of early Wednesday Trump's official slate of pledged delegates stands at 1,040. Cruz has about 566 delegates under his belt. Cruz acknowledged that his path forward is now too complex and difficult to sustain, and he conceded a few hours after the polls closed in Indiana and the returns showed him facing a crushing defeat.

"With a heavy heart, but with boundless optimism for the long-term future of our nation, we are suspending our campaign," Cruz told a throng of enthusiastic supporters. "But hear me now…I am not suspending our fight for liberty."

Ohio Governor John Kasich, who has also remained in the Republican fight, trailed badly by the end of Tuesday night, amassing only about 7.5% of the vote in a state which neighbors his own Midwestern home turf. Late Wednesday, Kasich too offered a reluctant withdrawal from the race.

Cruz's crushing loss in Indiana came even after he threw in every available resource and pre-arranged the battlefield to order, deploying newly-christened running mate Carly Fiorina across the Hoosier State, forging a deal with Kasich to allow the Texas Senator exclusive access in the state, and channeling most of the independently-funded energies of the anti-Trump campaign into his corner. In fact, many political experts regarded Cruz's resilient battlefield strategy in Indiana as having had all the cards stacked in his favor, making his loss to Trump even more devastating for the Texas Senator.

Trump's win in the Hoosier State catapults him into the position of presumed-nominee, though it remains mathematically unclear that Trump can secure the nomination outright on the first ballot at the Republican convention in Cleveland this summer. Trump could still lose several contests between now and the convention, which may be enough to deny him a first-round victory.

Party leaders, such as GOP Chairman Reince Priebus, have asked that Republicans now come together around the Trump campaign with the combined purpose of preparing for a long general election campaign against Hillary Clinton, the Democratic Party front-runner. (Clinton lost in Indiana to Vermont Senator Bernie Sanders, and Sanders has vowed to fight on to the convention this summer).

Despite the call for unity by Priebus, it remains unclear that Trump will be able to muster the full support of many Republicans unsure about his of political credentials and wary of his past flip-flops on fundamental issues, such as gun control, immigration, abortion, taxes, and foreign affairs.

Speaking to his supporters on Tuesday night, Trump said that Cruz has "an amazing future, so I want to congratulate Ted." It was the first time in weeks that Trump had offered kind words for rival Cruz, whom he typically referred to in speeches as "Lyin' Ted."

The loss of Indiana may have effectively halted the anti-Trump movement—a broad very but loosely-organized ad hoc coalition of conservative groups and establishment GOP components who had been dissatisfied and uncomfortable with Trump's rapid rise among the Republican faithful. Stop-Trump groups have raised and spent tens of millions of dollars in advertising in more than a dozen states in an effort to derail Trump before his nomination became inevitable.

Early on in the GOP race, non-Washington and "outsider" candidates gained immediate traction with angry and frustrated voters. Non-traditional candidates such as Carly Fiorina, Dr. Ben Carson and Trump often dominated the polls at the direct expense of the traditional party favorites, such as one time front-runners Jeb Bush and Scott Walker, each of whom at one time were able to raise millions of dollars.

Kasich and Cruz might each still collect delegates along the way depending on the outcome of several states where the anti-Trump movement may remain active, including Oregon and New Mexico, and—in theory—in California, states where Kasich was expected to score better. Kasich currently controls roughly 160 delegates.

Related Thursday Review articles:

The Alamo Just Moved to Indiana; R. Alan Clanton; Thursday Review; April 28, 2016.

Ryan Says He Is not Running; Shares Vision With GOP Candidates; R. Alan Clanton; Thursday Review; April 27, 2016.