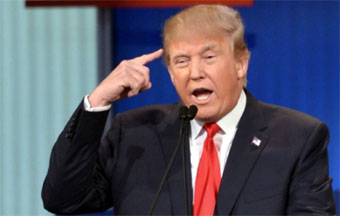 Photo by Mandel Mgan/AFP/Getty Images
Trump's War of Words on Women
| published August 8, 2015 |
By R. Alan Clanton Thursday Review editor
The Republican debate held in the Quicken Loans Arena in Cleveland, Ohio this week, and broadcast live on Fox News, drew more than 24 million viewers, according to overnight and early Friday surveys by Nielsen, the primary data collection firm for TV ratings.

That makes Thursday's rollicking forum in Cleveland the most watched pre-convention debate in TV history, topping even the often highly-rated 2011 and 2012 televised debates on CNN, Fox News and NBC. More remarkably, the debate became the highest rated non-sports single program in cable TV history, topping all other programming by cable networks except for major sports events.

The ratings victory may be great news for Fox News, Fox Broadcasting, and parent company, 21st Century Fox, but its effect may continue to complicate things for the Republican National Committee and its longstanding goals—established after Mitt Romney's election defeat in 2012—to keep the debates civil, taut, issue-oriented, and focused on the road to the White House. In that vein, RNC chairman Reince Priebus and co-chair Sharon Day had hoped to use the debates in the 2015-16 season as a tool for GOP outreach toward Latinos and women, two major demographic groups which the Republican Party lost in 2012.

Donald Trump has, of course, dramatically changed that high-minded game plan. Almost from the instant his campaign began, Trump sought to convert the issue of illegal immigration and the U.S. border with Mexico into a Fear Factor commentary, and along the way he has said things greatly offensive to American Latinos. Despite his own claim that he is popular with native-Spanish speaking Americans, his approval among Latinos has hit a record low for any candidate of any political party. Yet Trump leads his next closest Republican rival by nearly nine percentage points, a state of affairs which threatens to drive the wedge between the GOP and U.S. Latinos even deeper.

But that may not be the biggest thing the top GOP strategists are worried about right now.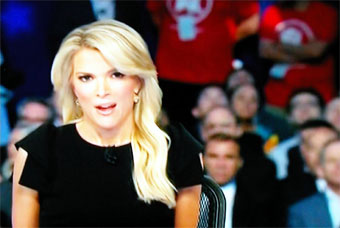 Fox News correspondent Megyn Kelly during debate/image Fox News
During Thursday's freewheeling debate, Fox News commentator Megyn Kelly called the often gregarious Trump to task for his past language regarding women—either as a group, or those known to him personally. Kelly asked Trump to explain some of his most infamous characterizations of women as "disgusting animals," "fat pigs," "ugly hogs," and "dogs." Trump cut Kelly off, joking that all of the references she cited referred to Rosie O'Donnell, a gag which drew a few laughs, a few boos, and plenty of "ooohs" from audience, but clearly did not amuse Kelly, who continued her list of Trump's inglorious characterizations. This included a controversial statement by Trump to a female contestant on NBC's "Celebrity Apprentice" that he thought it would "make a pretty picture" to see the contestant on her knees.

Not one to be easily cornered or caged, Trump blew off the question without denying any of the words, and without offering explanations or apologies or clarification. After Kelly had finished her recitation of Trump's words, she asked if such bombastic and hurtful language was appropriate for someone seeking the Presidency.

"I frankly don't have time for total political correctness," Trump said, shrugging. Throughout the night, Trump generally stuck to his usual tactic of explaining his past words and actions as direct, sometimes brutal and unvarnished truth.

Later that night, just after the debate concluded, Trump told some reporters that he did not feel that he had been treated fairly by the Fox News moderators, Bret Baier, Chris Wallace, and Megyn Kelly. Such complaints are not unheard of in the world of post-debate spin by candidates or their proxies. And Trump's comments were certainly not out of the ordinary considering the daily barrage of Trump-related news. But still, the Trumpster did not dispute the quotes Kelly had read aloud.

But early on Friday, the day after the debate, Trump told reporters he had no recollection of ever having used any of the words or phrases quoted by Kelly in Cleveland. On ABC News Trump said that he didn't "recognize those words" at all, adding that he and his staff were "going to take a very serious look at it," suggesting, some thought, that he was implying Kelly had manufactured the quotes. Speaking of Kelly, Trump also told CNN in a telephone interview on Friday that he did not "respect her as a journalist."

"She's not very tough and not very sharp," Trump said of Kelly, adding that during the debate "there was blood coming out of her eyes [and] blood coming out of her wherever." It was not the first time Trump has publicly attacked women for what he sometimes calls "hormonal" issues. Trump's comments on CNN quickly circulated through the political world and across the internet, and within hours Trump was uninvited from a major political forum in Atlanta, hosted by RedState.com. RedState chairman Erick Erickson personally wrote the letter withdrawing Trump's invitation, but Trump counter-attacked within minutes, calling Erickson a "weak and pathetic leader."

Throughout the day on Friday, the war of words went back and forth, as reporters continued to confront Trump with direct quotes from his past, and with Trump either denying that he had ever used such language or lobbing new insults into the fray.

That Trump enjoys deploying the old-fashioned insult comes as no surprise to many who have followed his theatrics over the decades. In the past, Trump has more-or-less defended himself by saying his bombast is part of his style. But it is his war of words on women which has many in the Republican Party concerned that on the campaign trail he will certainly find a way to insult more than half the electorate (women make up the majority of U.S. registered voters), and likely deliver a serious defeat to the GOP. Democratic strategists—including those within Hillary Clinton's inner circle—are watching closely Trump's progress among the GOP faithful. Clinton herself has been the target of Trump's social media barbs. Earlier this year Trump tweeted "if Hillary Clinton can't satisfy her husband, what makes her think she can satisfy America?" The Twitter message was removed hours later, but before it had spread quickly across the blogosphere.

Trump's narrative, however, also worries would-be front-runners and top-tier candidates like Former Florida Governor Jeb Bush, Wisconsin Governor Scott Walker, Florida Senator Marco Rubio and author and neurosurgeon Dr. Ben Carson, all of whom had made little secret of their intentions to widen the Republican narrative to be more inclusive as the early debate season gave way to the first primaries and caucuses. During Thursday's debate, neither Bush nor Walker—nor any of the other candidates—took the bait in attacking Trump directly. Kentucky Senator Rand Paul may have engaged in the sharpest direct exchange with Trump in response to Bret Baier's opening question about third party intentions or independent runs for President in 2016—a hand-raising inquiry aimed squarely at Trump. When Trump refused to pledge that he would not consider running outside of the GOP, Rand Paul pounced, using the opportunity to paint Trump as manipulative and narcissistic.

Trump has also refused to back down from his comments about Latinos, and—despite a well-publicized one day trip to the border in late July, in which he declared that was quietly receiving support from the majority of Hispanic voters in the U. S.—he has dug in his heels on his commentary regarding immigration and Mexico. One of Trump's most controversial statements has been his contention that the government of Mexico is deliberately sending hardened criminals and drug dealers into the U.S., essentially emptying out its worst prisons and jails as a tool to save money and shift the burden to its neighbor to the north. Trump has not offered any proof for this theory.

Analysts also question his claim of popularity among Latinos; recent polls by NBC News/Wall Street Journal and Telemundo show that Trump receives negative scores from more than 75% of Latinos registered to vote, and more than half surveyed said that his recent comments about race were "insulting and racist." A recent forum in New Hampshire, and last week's fireworks-prone debate from Cleveland, show that several Republican candidates are attempting to distance themselves from Trump's running commentary on border control and immigration. Though most of the candidates in Thursday's debate agreed that border security is an imperative—with even the somewhat moderate Bush suggesting that a formidable fence may be necessary—few have been willing to link the issue of criminal behavior to the vast majority of immigrants who cross the border for jobs or a better life. Rubio was among several candidates this week to point out that many of those crossing the border come from places much more distant than Mexico, and many of the youngest immigrants are children and young people fleeing violence and poverty in countries like Guatemala, Honduras, and El Salvador.

The Republican Party has 17 candidates officially in the running. Rules established by Fox News and the GOP last year limited the number of candidates on a single stage to 10, which meant that at least seven Republicans were forced to participate in a mini-debate at an earlier hour on Fox News—what South Carolina Senator Lindsey Graham jokingly called the Happy Hour Debate. Among the lower tier contestants were Bobby Jindal, Rick Perry, and former HP CEO Carly Fiorina, who by most scorecards won the pre-debate forum easily and impressively. Fiorina's handy thumping of her six male counterparts was so substantial, it called into question Fox News' handling of how candidates were vetted for the prime time show—their positions based solely on a snapshot of polling performance 36 hours ahead of the debate.

If Fiorina's stock rises enough in the ensuing media chatter, she may be able to muscle her way into the next major televised debate. At which point Donald Trump may face challenges from a female candidate for President with both business experience, and the ability to go the distance with a room full of male candidates. What effect, if any, this wrinkle will have on Trump's candidacy is hard to predict; any one of Trump's recent verbal grenades would have been sufficient to destroy any other candidacy, but Trump has so far seemed immune from such reckonings.

Related Thursday Review articles:

First GOP Debate: Playing the Trump Card; R. Alan Clanton; Thursday Review; August 7, 2015.

Immigration Was Hot Topic at New Hampshire Forum; R. Alan Clanton; Thursday Review; August 4, 2015.