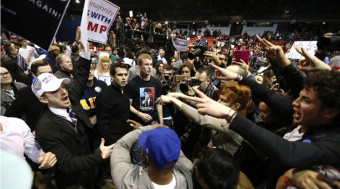 Photo taken at Chicago rally for Donald Trump/
Image Reuters
Rubio, Kasich, Cruz Question
Support for Trump
| published March 14, 2016 |
By Keith H. Roberts, Thursday Review contributor
At a contentious debate in Detroit weeks ago—a forum in which bitterness and personal insults were the lynchpin of the conversation—the four Republican candidates battling for their party's nomination agreed at the end of the debate to offer full and unconditional support for the nominee, whoever that nominee turns out to be.

With the divisive and explosive primary and caucus season reaching its zenith that week, it was an important question—posed by the panel of Fox News moderators—resulted in a rare but perhaps strained moment of unity: the GOP's job after the convention will be to beat Hillary Clinton or Bernie Sanders or whomever the Democratic Party nominates in late summer.

The brief moment of tentative support was interpreted widely as an admission by the other candidates (those not named Donald Trump) that in was in their best interest and the interest of the party to unify behind the boisterous businessman, no matter how distasteful that relationship might be. It was also seen as an acknowledgement that the "establishment" components of the Republican Party want to begin adjusting to the world according to Trump.

But that was then, and this is now. In the intervening weeks things have become far more than "boisterous" on the campaign trail, most especially at rallies and events held on behalf of Trump. In a chaotic week of activity, Trump campaign events have been marred by noisy demonstrations and disruptions by protesters decrying Trump's populist, angry, anti-immigrant and quasi-racist rhetoric, and by frequent outbursts of violence now being captured hourly by people with cell phones and cameras. Trump rallies now routinely include arrests, violence and bloody mayhem, pushing and shoving matches, racist catcalls and shouted epithets, punches and kicks, and a larger-and-larger police and security presence.

The rallies also often feature Trump himself expressing his own personal feelings in unvarnished language ("I'd like to punch that guy in the face," and "Wouldn't you just like to clock that guy?") and verbal demands to the cops that protesters be arrested. Violence between pro-Trump and anti-Trump elements has swelled into chaos and unrest even outside of the event venues, and has led to several bloody confrontations. An event in Chicago was cancelled entirely over the weekend, and other events on Saturday and Sunday were marred by repeated incidents of fights and brawls.

The result has been a careful rethinking by the other three candidates—Florida Senator Marco Rubio, Texas Senator Ted Cruz, and Ohio Governor John Kasich—over those much-vaunted pledges of support. Beginning this weekend, Rubio and Kasich expressed deep doubt about their ability to support a candidate seemingly so willing to encourage violence at campaign events. Cruz, though not rejecting the pledge outright, has also expressed concern about how the lowball spectacle of punches and kicks undermines the GOP's most important messages and tools for outreach.

All three of Trump's opponents have said that Trump himself bears some degree of responsibility for the mayhem, and point to his often over-heated rhetoric and his aggressive language for sparking much of the vitriol and rage.

Appearing on the Sunday morning political roundtable shows, Kasich said that Trump "has created a very toxic atmosphere…there's no doubt that he's run a divisive campaign."

"As I said in the last debate," Kasich added, "he [Trump] makes it difficult. And we will see how this goes. I mean, we have to—he's got to have—a message to begin to lift people and stop dividing people. And the toxic environment must end. This is not making us proud."

Pressed by CBS moderator John Dickerson, Kasich simply would not commit to backing Trump any longer, suggesting that the burden of proof now rests with Trump and the voters.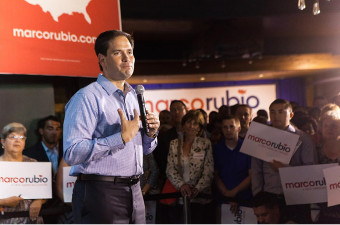 Marco Rubio at campaign event in Cleveland/
Photo Shealah Craighead
Rubio, too, has rapidly and carefully backtracked on his pledge. On both Saturday and Sunday Rubio told reporters that he was finding it very difficult to accept Trump's behavior as anything but destructive for the Republican Party, and fingered Trump directly for reducing the level of debate to that of mud wrestling and even violence.

On CNN Rubio declared that Trump "has turned the most important election in a generation into a complete fiasco and a carnival." Rubio also told CNN's Jake Tapper that he was questioning his ability to remain steadfast in his commitment to the eventual nominee if that person turns out to be Donald Trump, even in the context of his Detroit pledge.

Rubio has gone as far as to opt-in to the so-called Romney Plan to starve Trump of delegates prior to the convention. The Florida Senator, now locked in a fierce battle for survival in the Sunshine State ahead of Tuesday's winner-take-all-primary, urged voters in Ohio (and possibly Illinois) to vote for John Kasich, just as Rubio hopes to win the allegiance of anti-Trump voters in Florida. Rubio trails Trump in many polls conducted in Florida, but is still campaigning mightily and spending what may be the balance of his campaign cash on ads in the Sunshine State in an effort to pull off a win against Trump.

As for that pledge during the Detroit debate, Rubio says he is not hiding the fact that he is experiencing buyer's remorse.

"It's getting harder every day to justify that statement to myself," Rubio explained on CNN over the weekend, "to my children, to my family, and to the people that support me. This country deserves better. At some point, people have to wake up here. This is really going to damage America."

Adding to the mix of news of violence at Trump events: Michelle Fields, a reporter for Breitbart, resigned on Monday after dissatisfaction with how the news site handled her complaints about being manhandled by a high-ranking Trump operative.

Fields filed a police report against Trump campaign manager Corey Lewandowski for assault after Lewandowski allegedly grabbed Fields by her arm and violently yanked her away from the candidate at a campaign event earlier this month. Fields posted photos of bruises on her arm which she says show where she was forcibly grabbed. Several other reporters were present when the altercation occurred, though few have a precise or consistent retelling of the incident. Video shot nearby with cameras and cell phones neither clearly confirms nor repudiates the encounter, though it clearly shows what could be a brief altercation as Lewandowsky and Fields come within close contact.

The Trump campaign has pushed back against Fields' charges, declaring that Lewandowski did not touch Fields, calling the reporter "delusional" and characterizing her as an attention seeker. Trump has told reporters that Fields manufactured the incident. The flap over Fields' encounter with Lewandowski has caused internal strife for Breitbart, including the suspension of one male reporter who took to social media to at first question—then denounce—Fields' account of the incident.

Later in the weekend, Breitbart seemed to directly question its own reporter when it declared that Washington Post reporter Ben Terris may have incorrectly identified Lewandowski. Editors at Breitbart also chose to share screenshots of Lewandowski's cell phone messages which it says could prove that Lewandowski could not have been the person who allegedly assaulted Fields. This move by her editors prompted her to resign, explaining in a statement that she did not feel Breitbart "has adequately stood by me during the events of the past week."

Fields' resignation was soon accompanied by fellow reporter Ben Shapiro, who resigned in protest over how he said was Breitbart's poor handling of the controversy. Shapiro was particularly upset that Breitbart acquiesced in the talking point that Fields and Terris had somehow misidentified Lewandowski, and that Breitbart had done so little to back up its reporter.

Trump has added to the controversies of late by digging in his heels on his frequent taunts at rallies, announcing to the audience that he "would like to punch that guy in the face," or suggesting that it would be appropriate "for that guy to be carried out on a stretcher." Other Republicans have called such behavior unseemly and not in keeping with the better nature of American democracy.

Trump has also taunted protesters and supporters with calls to "really clock that guy" at rallies when interruptions occur. This weekend, he ramped up the rhetoric, demanding that police and security arrest protesters to insure that they have police records (police generally do not arrest protesters or hecklers if violence is not employed; hecklers are typically ejected from events). Trump has also offered legal assistance to a supporter at a rally last week who sucker-punched a protester as he was being escorted out of the event. Police later arrested that Trump supporter and charged him with aggravated assault.

Related Thursday Review articles:

Trump Calls For Arrests of Protesters & Hecklers; Keith H. Roberts; Thursday Review; March 13, 2016.

Republicans Debate in Miami in Insult-Free Forum; R Alan Clanton; Thursday Review; March 8, 2016.