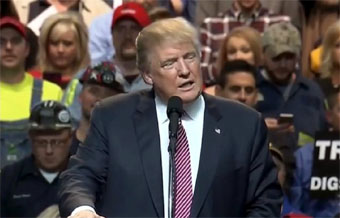 Donald Trump at a rally in Charleston, WV on May 5/
Image courtesy of C-Span
Trump Morphs on Taxes,
Minimum Wage, More
| published May 8, 2016 |
By Thursday Review staff
The Republican front-runner for President—now the effective nominee-apparent—says he is shifting a few of his key positions on taxes and wages. He does not describe them as "flip-flops," but instead argues that he is allowed to maintain flexibility on certain issues.

In a move clearly crafted to begin his pivot toward the center, presumed nominee Donald Trump now says that he may backtrack on his long-advertised plan to reduce the tax rate for the wealthiest tier of earners from roughly 40% down to 25% if he is elected President. Instead, according to Trump, the nation's high earners would continue to pay close to 40%. The comments came during a Sunday morning interview on ABC News' This Week With George Stephanopoulos.

"By the time it gets negotiated," Trump told Stephanopoulos, "it's going to be a different plan."

Trump says that such a move—a delay in dropping the tax rate for high income individuals—would not only help him balance the budget, but would also assist his administration for finding sources of funding for other programs, including a rebuilding of the military. Trump says his retooled plan will also help the middle class.

Trump also said that is allowed to be flexible on the issue of the minimum wage. In past conversations and in frequent GOP debate comments, Trump has said he does not believe that the U.S. minimum wage should be increased—at least not at this time. He has said that the U.S. minimum wage has forced too many jobs overseas. As recently as last week on Fox News, Trump again said that an increased U.S. minimum wage would be inadvisable at a time when so many American jobs are leaving the country.

But in recent comments on CNBC Trump now says he is not opposed to some form of wage adjustment.

"The middle class…many of them haven't had an effective wage increase in 20 years," Trump said. "They're being taxed at a much higher rate. And they're working much harder. It's supposed to be the opposite."

And speaking on NBC's Meet The Press, Trump again tweaked his thinking on the Federal minimum wage by suggesting that states could—and should—compete over wage minimums. On NBC Trump danced away from the suggestion of the Federal minimum, and stressed instead that the states should set their own minimums based on regional and state economics. He also said that he does not understand how people can live on $7.25 per hour.

Pressed on various Sunday shows to offer specifics, Trump was characteristically vague. But he insisted that he is allowed to change his views as the issues come into focus.

The rapid metamorphosis on some key positions surely reflects Trump's ready willingness to shift the election narrative toward his likely fall opponent, Democratic front-runner and former Secretary of State Hillary Clinton. Clinton, still attempting to put an end to Vermont Senator Bernie Sanders challenge, would like to pivot toward a one-on-one election conversation. But Sanders has said he intends to carry his fight and his movement all the way to the convention.

Trump, who has effectively pushed all other GOP candidates aside—his last two rivals each dropped out within hours of losing in the Indiana primary last week—has already shifted his campaign's main talking points toward attacks on Clinton.

But despite a field devoid of rival Republican candidates, the billionaire still faces the vexing problem of unifying Republicans, some of whom are now saying that they will neither support Trump nor vote for him in November. Trump is also facing an uphill battle getting some Republican establishment figures to fully embrace his candidacy. Among those uneasy with Trump: Speaker of the House Paul Ryan, who has withheld a full-fledged agreement to support Trump, and past GOP nominee Mitt Romney, both of whom have been sharply critical of Trump.

Others, such as former Presidents George H.W. Bush and George W. Bush, former Florida Governor Jeb Bush, former Senate GOP leader Bob Dole, and more recent former Republican Presidential candidate Lindsey Graham have all announced their intentions—in one form or another—to not offer support or an endorsement of Trump. Ohio Governor John Kasich has suggested he might sit the election out, and former Presidential candidate and Arizona Senator John McCain has offered only a lukewarm embrace of the presumptive nominee, a tepid endorsement which contains a caveat that Trump apologize for comments the billionaire made about McCain's stint in a POW camp during the Vietnam War.

Meanwhile, some movement conservatives are wary of Trump, in large part because of his frequent flip-flops on issues crucial to the conservative movement. Trump's recent sudden reversals on taxes, the minimum wage, and the budget will not doubt stoke the fires of distrust among some of those thinkers and pundits.

Related Thursday Review articles:

Trump Wins Indiana; Cruz, Kasich Suspend Campaigns; Keith H. Roberts; Thursday Review; May 4, 2016.

The Alamo Just Moved to Indiana; R. Alan Clanton; Thursday Review; April 28, 2016.