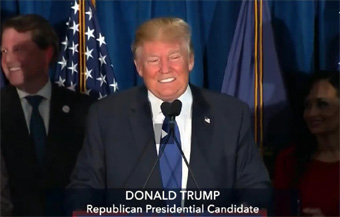 Images courtesy of C-Span
Trump, Sanders Grab Big Wins in Granite State
| published February 10, 2016 |
By R. Alan Clanton, Thursday Review editor
Vermont Senator Bernie Sanders and New York businessman Donald Trump were each expected to win in New Hampshire on Tuesday, and indeed they each won—in Sanders' case inflicting a big setback in the campaign strategy of former Secretary of State Hillary Clinton's goal of an early primary and caucus season.

But it was the size of Sanders' landslide win over Clinton which is the big news of the night for the traditional first-in-the-nation primary.

Sanders won the support of Granite State Democrats by a huge margin, raking in some 60% of the votes to Clinton's 39%. Sanders, whose home state of Vermont is just across the border from New Hampshire, had been leading Clinton for weeks in the state—but buoyed by a virtual tie with Clinton in Iowa the week before, Sanders and his armies of supporters and volunteers catapulted the 74-year-old Senator to a smashing victory on Tuesday.

Likewise, businessman Donald Trump had been leading in most polls in New Hampshire for many months, but his ability to maintain that solid lead through the final voting is a vindication of his campaign message and style after a poor showing in Iowa called into question Trump's real hold on GOP voter allegiance. In Iowa, Trump had come in a distant second to Ted Cruz, and Florida Senator Marco Rubio had come in a close third.

The dual wins for Trump, a billionaire real estate dealmaker, and Sanders, a self-described democratic socialist, reinforces the consensus that Americans are in a foul mood about business-as-usual in Washington and in places of power. Both Trump and Sanders are challengers to the system, and each has waged an insurrectionist campaign bordering on repudiation of party labels and establishment politics. Each were considered long shots nine months ago when they first entered the presidential race.

The GOP results break down this way: Trump carried New Hampshire with 35% of the vote; Kasich, 16%; Cruz, 12%; Bush, 11%; Rubio, 11%, Christie, 7%; Fiorina, 4%; Carson, 2%.

The results in New Hampshire now serve as something of a reset of the field, especially for Republicans. Trump's huge first place win puts him back—or re-solidifies his position—at the top of the GOP pack, despite what party insiders say is a deep concern that Trump's branding is damaging the Republican name with independent voters nationwide. Still, Trump has already upped his game to include what sounds like a general election campaign, in many cases talking past his Republican rivals and taking on Clinton and Sanders. The irony is that Trump in fact scores well with independent voters drawn to his anti-establishment outreach; and despite his bombastic and often outrageous comments, Trump has managed to attract African-Americans and Latinos to his cause, an outcome which few experts would have predicted only six months ago.

But the results from New Hampshire provide an even more important reboot beyond Trump's return to the top of the field.

Kasich's dazzling second place showing serves as a reminder that, as Yogi Berra famously said, it ain't over 'til it's over. Just one week ago the political pundits, election experts, and even GOP savants were predicting a rapid consolidation of mainstream and establishment support behind the fast-rising Rubio—the ongoing star of debates in December and January, and the big "winner" of Iowa with his surprisingly robust third place finish only one point behind Trump. But Rubio's poor debate performance in Manchester, New Hampshire—at the hands of New Jersey Governor Chris Christie's savage illumination on stage—pushed Rubio from the top tier with breathtaking speed. When the New Hampshire votes were counted, Rubio landed in fifth place, behind even former Florida Governor Jeb Bush, who began a steady surge in polls in New Hampshire and nationally after his stronger-than-expected debate performance last weekend.

Rubio, speaking to supporters late last night, accepted the responsibility for his dismal showing and vowed to never let it happen again. But his rapid collapse is being pointed to by the governors in the race as prima face evidence that Rubio is unprepared to serve as President. Rubio's oft-cited main rival is fellow Floridian and former mentor Jeb Bush, who may now stand to gain as Rubio slides and Christie sinks further in polls.

Bush, eight weeks ago seen as descending irreversibly into irrelevance in the crowded field, and being nudged aside by the other mainstream and establishment candidates, now has a reprieve. Bush's poor showing in Iowa called into question whether he could survive to South Carolina or Super Tuesday. A year ago Bush was the de facto man-to-beat, sharing the top spot with Wisconsin Governor Scott Walker in most major polls and raking-in the cash of political donors at a pace which exceeded even the money flowing toward Clinton. Trump's boisterous entry into the race forced aside anyone whose candidacy hinted at establishment, and the Bush brand suffered mightily. Those early investors in the Bush campaign became disgruntled as summer flowed into fall and the former Florida governor watched as poll numbers sank deeper.

Though Bush still finished fourth, barely behind Cruz, the fact that he was able to remain viable in the fierce hand-to-hand combat between the other "establishment" candidates proves he just may be able to take the fight into Super Tuesday and Florida.

Chris Christie, the surprise "winner" of the last weekend's much-watched debate in Manchester, was the surprise "loser" when all of New Hampshire's votes were counted. Coming in in seventh place in the Granite State and having dropped well-below the 10% threshold required for participation in the next televised debates, Christie and his staff were clearly disappointed by Tuesday results. Christie and his team knew they would not perform well in Iowa, but Christie had long pinned his hopes of a surge coming out of New Hampshire, and ahead of South Carolina and Nevada. Adding to the Governor's misery—his campaign's operating cash is running dry, and those close to his campaign suggest that he may not have the money to campaign in South Carolina, even if he suspends TV advertising.

By midnight, CNN and other media were reporting that Christie was flying home to New Jersey to take a break and to discuss his options with his family and closest advisors. (After the fiasco with rumors of Dr. Ben Carson's withdrawal in the hours before Iowans caucused last Monday, the networks and the news services were careful—in the extreme—to point out that Christie had said nothing about dropping from the race, only that he would discuss his options with family and friends). But by early afternoon on Wednesday, it had become official: Christie was the latest victim of the war of attrition, and he plans to suspend his campaign efforts as of now. Christie had anchored much of his hopes on a strong finish in New Hampshire.

As for Carson, neither he nor his campaign staff had expected much from New Hampshire, a state very nearly at the polar opposite of Iowa in terms of evangelical and church conservative support. Though Carson had campaigned in New Hampshire, his strategists had never expected to land within the top tier, and indeed spokespersons for his campaign made it clear all along that the next real contest for Carson would be South Carolina followed by a host of states on Super Tuesday.

Still, there was some sting for Carson supporters, where on social media and in comment boards his followers expressed worry that his campaign was in a slow decline. Many worried openly that he would be unable to recover even in South Carolina, and feared that Cruz had effectively redirected much of Carson's natural support base into the Texan's column. Carson—but most especially many of his staffers and volunteers—are still smarting from what they say was a deliberate and dishonest attempt by the Cruz campaign to steal votes in Iowa by issuing false reports of Carson's departure from the field, much of the reports coming in the form of text messages, emails and phone calls even to precinct captains in scores of counties.

Cruz managed to pull-in a respectable, solid third place finish in a state where he could have easily been happy in fourth or fifth. Indeed, early exit polls and early returns seemed to show Bush—not Cruz—sealing the deal in the all-important third place slot. Had Cruz remained behind Bush and Kasich, ending the night at fourth, it may have proven what the establishment segment had been saying all along—it is not numerically possible for both Trump and Cruz to remain viable co-front-runners in a party still deeply rooted in an orderly process and a tradition of producing candidates through a more thoughtful form of attrition. (One friend sent me an email last night suggesting that the GOP race closely resembles the Democratic contests of 1972 and 1976, when a thicket of candidates made it difficult for voters to sort out friend from foe when it came to the party's long range health).

Clearly, Kasich was the surprise of the night—for some observers a bigger story even than Clinton's shellacking at the hands of Bernie Sanders. Kasich entered the race the longest of the long shots, though several astute observers said his timing and positioning could, paradoxically, lend him an opportunity others may be unable to grasp. Barely able to qualify for the first debate last summer, Kasich has benefitted through the summer and fall from steady, consistent performances in all the televised forums. His debate talking points often include careful but firm rebukes of much of the most extreme or bombastic language of the lead players, especially retorts to Trump and Cruz meant to remind voters that extravagant promises are hard to keep, and that a President must first and foremost connect with human beings on a genuine level, not in the rhetorical sense. Kasich has also steadfastly refused to campaign with negative ads, despite being bombarded hard by ads from his rivals in the last ten days.

Kasich's strong second place showing in New Hampshire also shows that the so-called "establishment" of the GOP and the traditional thread of narrative still exist within the fractured Republican field. Analysts have often pointed to the arithmetic of the race: adding Kasich's numbers to the numbers for Bush, Rubio, and Christie (and, to a lesser extent whatever numbers once flowed toward Scott Walker, Bobby Jindal and Rick Perry), a majority of GOP voters still align themselves with "traditional" candidates. If one removes Carson, Trump and Cruz from that category—since they are all three decidedly and robustly "anti-Washington" and "anti-traditional"—that leaves only Carly Fiorina (a former corporate CEO with a political narrative which does not include elective office). Nevertheless, many political observers suggest that Fiorina shares a closer alignment to people like Kasich and Bush than to Carson or Trump.

This math begs the question. Can the so-called establishment vote ever completely coalesce around a single unifying candidate? And if that candidate emerges from the winnowed circle which now appears to be Bush, Rubio and Kasich, will that convergence happen early enough in the primary and caucus season to derail an inevitable Trump nomination in Cleveland next summer?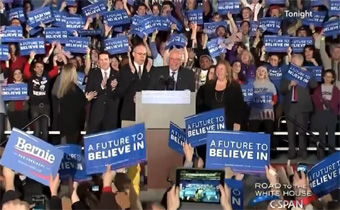 Meanwhile, the Clinton campaign remains optimistic that despite the drubbing it received in New Hampshire, the real path to the Democratic nomination begins in South Carolina. Mainstream Democrats have for decades complained that Iowa and New Hampshire—back-to-back as they are on the calendar—offer a skewed and sometimes distorted form of early vetting and handicapping. In her concession speech on Tuesday, Clinton quickly moved past her loss in the Granite State and began a long, impassioned speech that sounded more like a general election stump speech. The only problem is that Sanders did very much the same thing across town—talking to his enthusiastic supporters as if he was already the party's nominee, and that he was already facing off against the billionaire Donald Trump.

Related Thursday Review articles:

ABC Republican Debate: A Good Night for the Governors, a Bad Night for Rubio; R. Alan Clanton; Thursday Review; February 7, 2016.

Wall Street Takes Center Stage in Democratic Debate; R. Alan Clanton; Thursday Review; February 5, 2016.