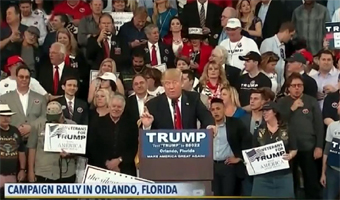 Donald Trump at a campaign rally in Orlando, FL/
image courtesy of C-Span
Republican Battle:
Front Line Florida
| published March 8, 2016 |
By Keith H. Roberts, Thursday Review contributor
Florida is now at the front lines of what has become an epic battlefield for control of the GOP nomination. Candidates Donald Trump, Marco Rubio and Ted are crisscrossing the state, engaged in dueling rallies and deploying millions of dollars in advertising—some upbeat, much of it negative, all of it meant to change the minds or sway the views of Sunshine State voters.

For Florida Senator Marco Rubio, his home state has become his Alamo—a firewall he hopes will produce a major win while at the same time halting Trump's seemingly unstoppable march through the primary and caucus states. Rubio, who has won only a handful of primaries and caucus states, and who has accumulated a much smaller delegate count than the two front runners, hopes to continue closing in on Trump in Florida, where the billionaire businessman still leads in some polls though the gap is narrowing.

A recent Monmouth University poll shows Trump and Rubio at the very edge of a statistical tie in Florida, with Trump pulling in about 37% and Rubio climbing with 30%. Other polls show the gap even closer. As a result Rubio, is sparing no effort in the Sunshine State, working what is now a grueling back-to-back schedule of rallies and public events. Rubio spoke to a large crowd in Jacksonville on Saturday before flying to Puerto Rico to work the caucus territory there—which he won handily. The next day, Rubio returned to Florida, where he set up camp through next Tuesday, the day when Floridians go to their polling places to choose their favorites for the nomination.

After campaigning in several locations on Monday, including Sanford, Rubio appeared at a campaign rally in the west coast town of Sarasota on Tuesday morning, then headed for a similar event on the east coast in the posh Ponte Vedra area Tuesday night.

But Trump wants to halt Rubio in Florida, and once and for all end the junior Senator's chances. Trump, who has been saying he now wants the race to morph into a two-person field—himself versus Texas Senator Ted Cruz—is also crisscrossing the Sunshine State.

Both candidates are blanketing the airwaves in Florida with television spots, and several independent groups—those whose fine print says they have no affiliation to any particular candidate—are running anti-Trump negative ads, many of them featuring former "students" of Trump University, or former employees of Trump businesses, military veterans discussing Trump's numerous military deferments.

Ted Cruz is also making appearances in the state, hoping to not only blunt a possible Trump win, but also to snatch any chance of victory away from Rubio before Rubio can again make claim to being a principal alternative to Trump.

The three-way battle makes for a strange mix of competing priorities and ads, with Cruz in effect managing two competing priorities—perhaps his most urgent one being what he hopes will be the final curtain call for Rubio. Cruz has repeatedly asked that the remaining active candidates retire from the field—specially Rubio, as well as Ohio Governor John Kasich, who is now campaigning with equal fever in the Midwest and especially in his beloved Buckeye State, where—in a strategy similar to Rubio's—he hopes to create his firewall and starve Trump of delegates.

All three candidates share the goal of halting Trump's seemingly inexorable rise—the only problem is that all three would also like to become The Donald's chief adversary in a field clear of other competitors.

Add to the mix the usual high stakes drama and dark intrigue, and you see why some Floridians just want this primary to go away, even as early voting proceeds.

Rubio and his team are lashing out at CNN for reporting that there is dissent within the Rubio high command—some of Rubio's top people urging him to drop out of the race before the final Florida votes are cast, others insisting that he stay in through the primary. CNN first reported the internal fracas on Monday.

But Rubio and his top surrogates say that CNN's story was based entirely on rumor and gossip, and has no merit—especially since the reporter in question never checked with an official with the Rubio campaign. Rubio spokesperson Alex Conant has said that the CNN report is "absolutely 100% false," and has also characterized the story as "a disservice." A little later on Monday, Conant sent out an email in which he said CNN's piece was based entirely "on anonymous rumors," and described CNN as "irresponsible" for airing the piece without first checking with officials of the Rubio campaign. CNN has said it will, for now at least, stand by its story.

But others close to Rubio but not officially a part of the campaign are questioning the timing of the reports, suggesting—in not so many words—that they smell a rat. After all, similar rumors have swirled in previous primary and caucus states this season, including most infamously the false reports issued by some staffers for Ted Cruz in the hours before caucusing began in Iowa, in which it was reported (based on a brief news story on CNN) that candidate Dr. Ben Carson was on the verge of dropping out of the race, and that caucus-goers inclined to support Carson might want to strongly consider voting instead for Cruz. Still others suggest that the rumors have been authored by people working for Trump, who would also like to see Rubio nudged from the race—sooner, rather than later.

Meanwhile in many Florida TV markets the political spots now make up an unbroken chain of 30 and 60 second advertising pressed between programs as the Super PACS and six candidates (four Republicans and two Democrats) saturate the airwaves with a wide variety—and millions of dollars' worth—of political ordnance and negative spin. The ads include a heavy dose of anti-Trump material paid for by GOP-aligned groups gunning for any of the other three candidates to prevail in Florida (Rubio being the likely winner if he can overtake Trump by Tuesday).

Mainstream and establishment GOP leaders are unified in their distaste for Trump, but at the moment have no favorite alternative. This has led to oddities almost never seen in U.S. political history—such as robo-calls to Floridians with the voice of Mitt Romney endorsing Marco Rubio and urging voters to think twice about Trump. In Ohio, voters have been receiving the exact same phone call, with Romney's voice, only in the Buckeye State Republicans are being asked to vote for Kasich by the former Massachusetts governor. In each state Romney's recorded voice urges voters to choose "a candidate who can defeat Hillary Clinton and who can make us proud."

In fact, Romney has not official endorsed any GOP candidate. Romney, as it turns out, has offered help to all three remaining non-Trump candidates, including Ted Cruz. Romney is one of the spearheads of the "strategic-starvation" plan to defeat Trump—in essence asking Republicans to support whichever non-Trump candidate has the best shot at defeating Trump in each state, thus depriving Trump of enough delegates to win up his arrival to the convention on Cleveland next summer.

Nationally, some polls now show the race getting much closer between the top two Republicans. A new NBC News/Wall Street Journal poll show Trump and Cruz locked in a virtual tie—Trump with 30% to Cruz's 27%, indicating that the nomination fight may be rapidly closing in on a two-person race. But the same poll shows both Kasich and Rubio nearly tied in third and fourth place apiece, at 22% and 20% respectively, indicating that substantial backing still exists for the second teir candidates. Kasich's third place showing nationally is his best score yet.

Making the situation even more tantalizing for the anti-Trump forces: the same poll shows that if given the choice of a head-to-head match-up between Trump and a single one of the other candidates, Trump loses to the opponent, with Cruz and Kasich beating Trump by 17 points, and Rubio beating Trump by 13 points. Vindication, it would seem, to the earlier view months ago that if only the establishment candidates could unify quickly behind one acceptable candidate, Trump's rise could be thwarted.

Still, the pollsters are in wide disarray this year. Despite NBC's new polling data showing Trump and Cruz in a near tie, a recent ABC News/Washington Post polls showed Trump still maintaining a 13% lead over his next closest rival Ted Cruz.

Related Thursday Review articles:

Rubio Blasts CNN Reports of Campaign Shutdown; R. ALan Clanton; Thursday Review; March 8, 2016.

Rubio Wants Florida to Vote for a Floridian; R. Alan Clanton; Thursday Review; March 5, 2016.