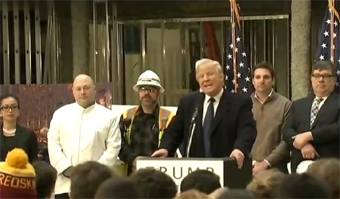 Donald Trump at a press conference in New York/
Image courtesy of C-Span
Trump Campaign to Add
Hired Security for Rallies
| published March 21, 2016 |
By Keith H. Roberts, Thursday Review contributor
Republican front-runner Donald Trump will have to add something significantly more expensive to his presidential campaign's budget starting immediately: a private security contingent. Though as a self-described billionaire, it may not matter to his campaign costs.

The Trump campaign announced this week that in light of escalating incidents of violence at campaign rallies across the country, the real estate mogul front-runner will augment his regular personal security and Secret Service detail with a larger, professionally-trained private security firm, which will provide a dozen or more officers to assist with crowd control and security at events.

The frequency and intensity of violent incidents has increased in recent weeks at Trump's often sold-out events and rallies, and the number of demonstrators who now show up outside and inside Trump's venues has grown substantially—from a few dozen months ago, to well over a thousand even at a typical rally.

The Trump campaign has decided that a private event security firm will do the trick, a decision which comes amid controversy and legal action surrounding Trump campaign manager Corey Lewandowski, who has been seen in videos manhandling (or assisting, depending on one's perspective) rowdy demonstrators and hecklers. Lewandowski is also facing charges filed by a female reporter for the news service Breitbart who has said that Lewandowski manhandled her at a campaign event weeks ago.

The decision also follows ten days in which violence and mayhem have accompanied almost all of Trump's campaign rallies in some seven states, a ten day stretch which included violent altercations between Trump fans and anti-Trump demonstrators in St. Louis, Kansas City, Phoenix, Salt Lake City, and Tucson, and an event in Chicago in which the threat of violence was so profound that the event was cancelled—provoking fights between pro-Trump and anti-Trump forces. In Arizona, a contingent of some 900 anti-Trump protesters shut down a major road leading into the area of a rally, and in Salt Lake City, protesters and rally-goers clashed repeatedly despite efforts by police to keep the crowds separated. In New York, more than 1,000 demonstrators marched on Trump Tower on Saturday and again on Sunday.

A Trump supporter kicks and stomps an
anti-Trump demonstrator in Tucson/
Image C-Span
On Saturday in downtown Tucson, a protester named Bryan Sanders, dressed in an American flag shirt, was led away by police and arena security when a fan of Trump grabbed Sanders and slugged him with a powerful left hook, sending Sanders reeling and falling to the floor, where the then-unidentified Trump supporter kicked and stomped Sanders repeatedly before uniformed police were able to intervene even as more people were being drawn into the altercation. Police arersted the man who attacked Sanders. The Tucson incident was one of many which have been recorded on video and by scores of cell phone cameras.

Trump media spokesperson Hope Hicks communicated the security plans to reporters on Monday in a coordinated effort by the campaign to diffuse what has become an ongoing and growing problem not just for the Trump organization, but also for the police and highway patrol in the venues where Trump has planned to speak.

The events of the last ten days have also heightened the sense of urgency among the anti-Trump forces within the Republican Party—some of whom, met on Friday and again over the weekend in a rolling series of secret meetings to decide how to derail Trump's campaign, now gathering more momentum going into more primary states this week. Some conservative activists and anti-Trump movers-and-shakers met in private in Washington, D.C. on Friday to discuss strategy and to weigh options for stopping Trump before—or at—the Republican convention in July. Other anti-Trump groups met in private in New York over the weekend to develop plans for a protracted caucus and primary fight, and for the likelihood of a contested convention.

Trump had planned to meet with RNC officials on Monday to discuss a variety of topics, though most political observers say that the meeting was intended as a way to tamp down not just the escalating violence which now routinely accompanies Trump campaign events, but also attempt to bridge the widening gap which now exists within the GOP.

The front-runner has continued to build momentum and win states despite many millions of dollars being spent by conservative activists and anti-Trump political action committees—most of them operating without the specific goal of backing any particular candidate. Other conservative anti-Trump rainmakers have showered massive sums of cash into the PAC's which supported many Republican candidates who have already suspended their campaigns—including Scott Walker, Chris Christie, Jeb Bush and Marco Rubio.

But that cash has had little impact on Trump, slowing neither his state-by-state momentum, nor depriving him of his steadily growing delegate count. Despite an intense battle between Trump and his closest rival, Texas Senator Ted Cruz, and despite John Kasich's substantial home-turf win in Ohio last week, Trump still maintains a hefty lead in the delegate count, meaning that very few options remain for the anti-Trump forces save for a brokered convention—something the GOP hasn't experienced since 1964.

Trump has said several times over the weekend that he believes that denying him the nomination, even if he comes up short by a few hundred delegates, could trigger riots in the streets. Trump points to the millions of voters in the primary and caucus states who have already spoken, and says that by sparking a contested convention in July, the Republican Party threatens to ignore the will of its own voters.

But RNC officials are displeased with Trump's intonations about riots, and worry that Trump himself may be deliberately ramping up his language in an effort to prevent a floor fight or procedural processes in Cleveland from derailing his candidacy. The RNC so far has made it clear it plans to abide by its own rules: if Trump arrives in Cleveland with a delegate count certified and sufficient to win on the first round of balloting, so be it. Trump becomes the nominee. But if Trump should fail to reach the magic number by the time the convention is called to order, then—based on RNC rules—all bets are off. Delegates can negotiate their loyalty, opening the possibility, now distinct and likely, of a battle for the nomination on the floor of the convention.

Hicks said in her email to the media that Trump's events can no longer be overshadowed by agitators and outside forces, and that the news security detail will help to better manage and screen how people enter Trump events. Hicks also said that the use of foul language will play a powerful role in how people are ejected from campaign rallies.

"These are private events paid for by the campaign," Hicks said, "and while we do not condone violence or interactions of any kind, that kind of language is not acceptable for the families and the television cameras in attendance."

Trump has said that the demonstrations take away his first amendment right to free speech. He has also called for the arrests of protesters and hecklers, though in most U.S. cities police do not arrest "hecklers" or demonstrators unless they engage in violent acts.

Trump has also blamed some of the violence on agitators in league with Democratic candidate Bernie Sanders, a claim which Sanders has categorically denied (though in reality, many of the protesters—when interviewed by the press—readily and freely admit they are fans and supporters of Sanders).

Related Thursday Review articles:

Violence & Mayhem Increases at Trump Campaign Rallies; R. Alan Clanton; Thursday Review; March 20, 2016.

Kasich's Ohio Victory & the Brokered Convention; R. Alan Clanton; Thursday Review; March 17, 2016.