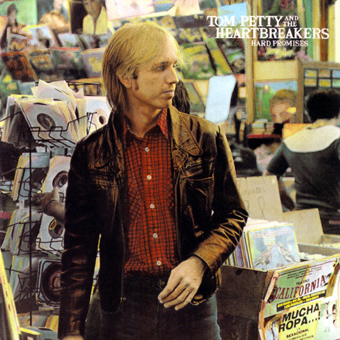 Image courtesy of MCA Records
Reflections on the Death
of Rock Legend Tom Petty
| published October 3, 2017 |
By R. Alan Clanton, Thursday Review editor
An American rock and roll legend—performer, songwriter, producer, collaborator—has died only days after his most famous group completed a tour to commemorate its fortieth anniversary.

According to his agent and manager Tony Dimitriades, Tom Petty, author of such iconic American rock songs as "American Girl," "Free Fallin'" and "I Won't Back Down," never recovered from the massive heart attack he suffered two days ago. Petty, aged 66, had gone into cardiac arrest on Sunday, and had been rushed from his home in Malibu, California to UCLA Medical Center, where doctors were unable to restore his heartbeat or his vitals.

He was taken off life support late Monday night after more than 36 hours with no signs of a recovery. It is not yet clear how long he had remained unconscious in his Malibu home before first responder arrived.

Petty was a top-tier American rocker whose distinctive vocals and remarkable guitar work helped him endure through decades of changes in pop music tastes and styles. Petty's career was notable for its frequent collaborations with American and British musicians, including George Harrison, Jeff Lynn, Bob Dylan, Roy Orbison, Johnny Cash, Stevie Nicks, and Eric Clapton.

Petty's songs remain staples of classic American rock, and his best known compositions helped propel him from regional obscurity in the early 1970s to best-selling status by the start of the 80s. Tom Petty and The Heartbreakers—the band he founded, and the group would record and perform with for the majority of his life—found success elusive for part of the 70s, until the group's album Damn the Torpedoes hit record stores in 1979. Songs like "Refugee" and "Don't Do Me Like That" propelled the band from a Southern Rock cult status to worldwide acclaim within a year.

Petty was born in Gainesville, Florida in October of 1950. His childhood and youth were marked by extreme difficulties at home and in school—most especially from an abusive, heavy-drinking father who disapproved of Petty's interests in music, poetry, and artistic endeavors. Petty's dad often assaulted Tom and his brother Bruce physically, and the young Petty used his diverse interests in music as an escape. In 1961, at the age of 10, Petty met Elvis Presley while the latter was filming parts of the movie Follow That Dream in nearby Ocala, Florida. That meeting helped to focus the trajectory of Petty's love of music, and he later said that upon watching The Beatles on the Ed Sullivan Show, he had made up his mind what he wanted to be as a young teen.

Disinterested in classes, he walked away from high school just after his 17th birthday and formed a band while working part time at various low paying jobs, gravedigger, landscaper for the University of Florida, odd jobs around Gainesville. He also took guitar lessons from Don Felder, the guitar wizard who would later join The Eagles. Petty's first band, The Epics, included future musical collaborator and lifetime bandmate Mike Campbell, as well as lifelong friend Benmont Trench. The Epics would later change their name to Mudcrutch, and despite popularity around Gainesville and a strong following in nightclubs in nearby Jacksonville and Orlando, Petty and his colleagues remained a regional act, and the band's only single, "Depot Street," gained modest traction on radio stations in northeast Florida, but no further.

After a brief stint as a solo artist performing in nightclubs, Petty teamed up again with Trench and Campbell to form the nucleus of The Heartbreakers. Joined soon by Ron Blair and Stan Lynch, the band found its way into a studio and recorded its first album, titled simple Tom Petty and The Heartbreakers. The album, recorded and owned by Shelter Records, was distributed by its larger partner ABC Records, and the single "Breakdown" broke into the Top 40 in the U.S., and gained a strong following in the U.K. and Canada on the heels of touring with other acts, including Nils Lofgren. Sensing their opportunity was near, Petty and his band released their second album, You're Gonna Get It—flush with newly written songs—in 1978. It included the hits "I Need to Know" and "Listen to Her Heart," and based on the strength of those two songs propelled Petty even further into the rock music consciousness.

But it was 1979's Damn the Torpedoes, distributed by MCA, which proved pivotal to the group, and quickly elevated it from second tier status. Songs like "Don't Do Me Like That" and "Here Comes My Girl" shot to the top of the charts, and within weeks the new album was selling in the hundreds of thousands. By the time the tune "Refugee" was released, Damn the Torpedoes, produced by Petty and Jimmy Iovine, had gone platinum, selling just under 2 million copies, and by the end of the century it had sold more than 3 million in the U.S., 200 thousand in Canada, and nearly 1 million more in other countries. Damn the Torpedoes reached and remained stubbornly at the Number 2 spot in the U.S. and the U.K., held at bay for seven weeks by Pink Floyd's The Wall.

The breakout album was not only popular with fans, but the critics—some of whom had been following Petty for several years—applauded the records freshness and its adherence to the basic themes of rock and roll at the very moment when pop music was undergoing an explosive divergence in post-disco styles, including New Wave, Punk, Funk and more. Some music historians have suggested that the timing of Damn the Torpedoes was fortuitous, giving mainstream, no-nonsense American rockers a new and powerful touchstone. Overnight, Petty and his band were superstars.

In 1981 the band released Hard Promises, which also shot to the top of the charts and gave birth to another powerful single, "The Waiting." By then, MTV had become one of the main venues for the hundreds of new musical acts as well as the established performers, and Petty and his band gained even more traction with videos released to accompany the music. More great albums followed, including Long After Dark (1982) and Southern Accents (1985), which produced the mega hit "Don't Come Around Here No More." Later that year, Petty, his group, along with Bob Dylan, began a North American tour together.

A couple of years later, Petty would collaborate with Jeff Lynne (former ELO frontman), Roy Orbison, Bob Dylan, and former Beatle George Harrison to form the supergroup Travelling Wilburys. That collaboration would produce two major albums (Volume 1 and Volume 3; the group skipped past "Volume 2" as a humorous hedge against a major bootleg campaign to sell stolen studio recordings of some of the songs intended for "Volume 2").

In 1989, Petty rejoined some of his original group, notably Mike Campbell, and some members of Travelling Wilburys (Jeff Lynne) to produce Full Moon Fever, a quasi-solo album which still featured the work of bandmates Campbell and Tench, along with Howie Epstein, Phil Jones, Roy Orbison, George Harrison, and others (though former Beatle Ringo Starr appears in videos of at least two songs, the studio recordings included Jones on drums, not Ringo).

Full Moon Fever, which had no musical blemishes, would be even bigger than much of Petty's previous work, the album reaching Number 3 on the U.S. charts and Number 2 in Canada. The album also produced at least four major singles, including the iconic tunes "I Won't Back Down" and "Free Falling," which became two of Petty's most famous compositions. The album also spawned the songs "Runnin' Down a Dream" and "Love is a Long Road."

In 1991 Tom Petty and the Heartbreakers released Into the Great Wide Open which produced the hit single of the same name, along with another powerful single, "Learning to Fly." Along with bandmates Tench, Campbell, Epstein, and Lynch, the record also features more work by Jeff Lynne (piano, vocals, percussion, synthesizer), another former ELO musician Richard Tandy, and former Byrds singer Roger McGuinn on vocals ("All the Wrong Reasons").

Petty, along with many of his band members and collaborators, continued to perform and record throughout the 1990s and the Aught years. The band reunited in the studio in 2009 to begin recording the group's 12th album, Mojo, which was released in 2010. The group heralded the new album with many fresh appearances, including the May 15, 2010 edition of Saturday Night Live. Mojo, like other Petty albums, shot quickly up the charts, and soon pegged the charts at Number 2 on Billboard's U.S. roster.

By the end of 2016, Petty's worldwide record sales had topped 80 million units, making him and his Heartbreakers among some of the most successful musicians of the rock and roll era.

For more than a year Petty had said he planned to retire completely in 2017, and at the end of his most recent tour, only days ago, he thanked the audience for supporting him for more than four decades of rock and roll music.

"I wanna thank you for 40 years of a really great time," Petty said at the close of his last show—a Los Angeles performance which marked the end of his recent world tour. "God bless you, and good night." Those words, spoken to roaring cheers at the Hollywood Bowl one week earlier, would seemingly sum up his musical career and his legacy.

Related Thursday Review articles:

Chuck Berry Dead at Age 90; R. Alan Clanton; Thursday Review; March 19, 2017.

Glenn Frey: The Passing of a Musical Legend; R. Alan Clanton; Thursday Review; January 19, 2016.