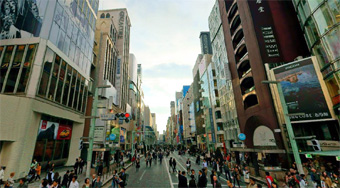 Image courtesy of Google Earth
Image courtesy of Google Earth
Safest City in the World: Tokyo
| published March 13, 2015 |
By Thursday Review staff


A new extensive report by The Economist magazine rates Tokyo, Japan as a the safest large city in the world—based on a combination of qualitative factors, including digital security, health, infrastructure safety, and personal safety.

The Economist's team looked at more than 100 cities, and ranked 50 of those in its "Safe Cities Index," which breaks the urban areas down by major region or continent (Africa-Middle East, North American, Central & South America, Europe, and Asia-Pacific).

Tokyo topped the list of safe places based on this composite of security and safety factors—for all regions. Other safe mega cities included Toronto, Stockholm, Santiago, Abu Dhabi, New York, Singapore, and Amsterdam.

The report begins by explaining just how much of the world's population now lives in big cities.

"The current level of urbanization ranges from 82% of the population in North America," the report says, "to 40% in Africa. But all regions are expected to follow this trend toward greater urbanization over the next three decades. Lagos, the most populous city in Nigeria, is predicted to double in size in the next 15 years."

The Economist's report pointed out the sometimes unpredictable nature of cities, and what we understand about them. New York City, for example, was once one of the most violent places in North America, reaching a peak in 1990 when it reported 2,245 homicides—or roughly six murders per day. Yes New York now ranks as one of the safest cities, with a murder rate far below many other U.S. cities, including Chicago, Washington, D.C., Los Angeles, Detroit and Jacksonville. In all of 2013, for example, the Big Apple recorded only 335 murders—a rate of less than one per day, and a record low for the city.

Population alone, the report shows, is not necessarily a deciding factor in security and safety. Tokyo is the world's most populous city, yet it also ranks as the safest of the 50 largest urban places worldwide. The report also confirms what should come as no surprise in a world with an increasingly interconnect economy—the safety and security of a city "is closely linked to wealth and economic development." The less safe the city is on the overall scale, the more its economic issues reflect the crime and insecurity. Likewise, safe cities tend to have economies which are healthier and more likely to grow. Wealth also correlates directly to security: wealthy cities like Tokyo, Singapore and Osaka occupy the top three positions on the overall rating.

The report also shows that digital and cyber security closely relate to overall safety: cities with up-to-date forms of digital security, video surveillance, computerized infrastructure, and high-tech crime tracking, tend to be much safer than those cities where the same processes use antiquated systems. Likewise, healthcare systems which have been upgraded for better tracking and better patient data collection and retention also rank as safer places to live, another unsurprising factor in an age when the spread of infectious disease can have immediate and serious effects on an urban area. Influenza, for example, can spread quickly, often with a devastating effect on the economy; cities with the digital and technological tools can respond rapidly to health crisis, thus averting billions of dollars in lost economic potential.

Near the bottom of The Economist's list of cities: Bangkok, Thailand; Ho Chi Mihn City, Vietnam; Sao Paulo, Brazil; and Moscow, Russia.

The top ten safest cities in which to live are listed here: Tokyo, Singapore, Osaka, Stockholm, Amsterdam, Sydney, Zurich, Toronto, Melbourne, and New York.

Related Thursday Review articles:

Will Hong Kong's Protest Movement Falter?; R. Alan Clanton; Thursday Review; November 26, 2014.

Hong Kong's Economy May Suffer From Political Chaos; R. Alan Clanton; Thursday Review; September 18, 2014.