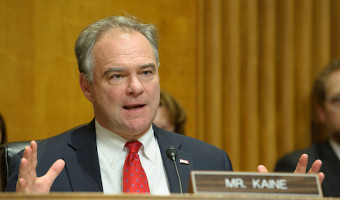 Photo courtesy of Tim Kaine U.S. Senate
Does Tim Kaine Top Clinton's VP List?
| published June 9, 2016 |
By Keith H. Roberts, Thursday Review contributor
With front-runner Hillary Clinton's delegate count now secure—meaning she will likely win the Democratic Party's presidential nomination on the first round of balloting this summer—the political handicappers have been working overtime guessing Clinton's first choice for running mate.

Clinton's big wins in New Jersey, California and other states on Tuesday pushed her pledged delegate count into winning territory, despite rival Bernie Sanders' insistence that the fight is not over until all super delegates vote at the start of the convention. Meanwhile, Clinton has already pivoted, taking her message directly to potential general election voters and attacking Donald Trump, the presumptive Republican nominee, head-on.

Political analysts now say that from within the Clinton camp word has circulated that the former Secretary of State and former First Lady is strongly considering U.S. Senator Tim Kaine of Virginia as her running mate. Kaine's name has been floated in the past, but Clinton's long battles with Sanders have delayed any serious discussion of a potential vice-President.

Kaine's state of Virginia is considered a crucial battleground state—a valuable trove of electoral votes but also a state which could swing into either the Democratic or Republican columns. Analysts suggest that Clinton's selection of Kaine could be pivotal to securing Virginia for Democrats in the fall, and for ensuring a rich cache of electoral votes goes Democratic in an election already shaping up to be a close one. Several current polls now show Clinton ahead of Trump nationally by about 10 percent. Still other polls show Clinton's lead holding at only a few points, well within the margin of error. Democratic strategists and Clinton's high command would like to see that lead widen.

A recent Washington Post article says that Clinton's list of potential running mates may currently include some 27 names. The Post's analysis says that Clinton may choose from among a variety of establishment candidates, including the aforementioned Kaine, or Andrew Cuomo (New York Governor), Mark Warner (also a Senator from Virginia), Kirsten Gillibrand (New York Senator), or Tom Vilsack, current U.S. Secretary of Agriculture.

Out-of-the-box choices are also on the table: Former New York Mayor Michael Bloomberg, a former Republican now independent; Bill Di Blasio, current New York Mayor, and someone far more liberal than Clinton, and her own rival, Bernie Sanders, which assumes he would agree to any discussion as Clinton's running mate.

Also on the list: former Indiana Senator Evan Bayh; New Jersey Senator Cory Booker; U.S. Rep. Joachin Castro of Texas; U.S. Rep. Xavier Bacerra of California. The latter two choices would add Latinos and Spanish speakers to the list, a point not lost on Democratic strategists who see a vast opportunity to consolidate U.S. Latino voters in Clinton's electoral column in November.

Related Thursday Review articles:

Clinton Wins California, Clinches Delegate Victory; R. Alan Clanton; Thursday Review; June 8, 2016.

Sanders: Clinton's "Victory" a "Rush to Judgment"; R. Alan Clanton; Thursday Review; June 7, 2016.