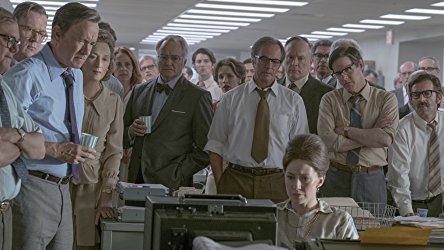 photo courtesy of 20th Century Fox/Amblin Entertainment/DreamWorks
The Post
Brings News & Political
History to Life
| published February 8, 2018 |
By R. Alan Clanton, Thursday Review editor
Steven Spielberg's The Post—starring Meryl Streep and Tom Hanks—hit the screens last month amidst a glut of action-thrillers (The Commuter; Proud Mary), fright fests (Insidious), and animated or digitally-enhanced family comedies (Paddington 2), meaning the odds of its success actually increase as more adult audiences opt for the history-laced content and historical perspective.

A fact-based movie telling the story of the Washington Post's tenacious rise from a local-regional paper to a truly national news organization, The Post's only big screen rival seems to be Darkest Hour, another historical opus which stars Gary Oldman as Winston Churchill, British Prime Minister during World War II.

The Post is vintage Spielberg, and an ideal vehicle for showcasing the amazing on-screen talents of Streep and Hanks. Hanks plays Ben Bradlee, the tough, irascible, crusty editor made most famous for his later management of the unfolding Watergate stories. Streep portrays Katherine Graham, a woman who inherits the helm as Washington Post publisher after the deaths of her father and her husband, and who must overcome the challenges of a business built and controlled almost entirely by men. Each has their own reasons to fight for self-identity and success: Bradlee (Hanks), whose single-minded goal of leveling the playing field between his then second-tier Washington Post and the snootier, iconic, deeply-established New York Times, overlaps with Graham's (Streep) desire to forge her own path and demonstrate that she can navigate both a complex public offering of Post stock as well as be taken seriously as the publisher of a significant national newspaper.

Streep instantly captures the deeply complicated process of Graham's early ventures into board rooms (in which there were no women) and newsrooms (few women) while simultaneously helping to shepherd The Washington Post into the pantheon of major national papers, and giving the post its new identity (while still retaining its family ownership and brand identity). Hanks captures the spirit and tone and grittiness so famous in Bradlee, and helps channel the relentless, restless energy required by Bradlee in those days in his quest to compete head-to-head with the stodgy New York Times. (A personal cinematic aside: Hanks is one of my favorite actors, but no one—in my opinion—can top Jason Robards' nuanced but electrifying performance as Bradlee in the 1976 classic All The President's Men).

The Post picks up the thread with an early glimpse into the inner torments and machinations of Daniel Ellsberg, a think tank researcher and field analyst for a top secret study, commissioned by then-Defense Secretary Robert McNamara, of the long, arduous history of U.S. involvement in Vietnam. Several years after his direct participation in that study, which became popularly known as The Pentagon Papers, Ellsberg covertly makes photocopies of the thousands of pages of memos, files and entire chapters—reams of paper which he later begins to share with Neil Sheehan, a top foreign correspondent for the New York Times. Noting that Sheehan's byline has been conspicuously absent from The Times' pages for many weeks, the always watchful and suspicious Bradlee senses that something large must be brewing in secret at The Times. Thus begins the complex and circuitous journey which will eventually pit The Post and The Times in a fierce battle for primacy on an earth-shaking major story, but—after the Justice Department of President Richard Nixon moves rapidly to snuff the story on grounds that it might violate national security issues—also links the two newspapers at the hip in one of the most important freedom-of-the-press cases ever to appear before the Supreme Court.

As cinema, The Post shares a close narrative kinship with Spielberg's previous major historical big screen piece, Bridge of Spies (also starring Tom Hanks). Both attempt, with some minor sanitizing and glamorizing, to nevertheless accurately and compellingly tell pivotal 20th Century American stories—each historical subchapter linking complex foreign affairs matters, Cold War realities, business considerations, and high stakes court decisions. Each story also has as a centerpiece the importance of setting moral precedent on societal, political, and constitutional levels.

The Post is not for every audience, though Spielberg makes every reasonable effort—and a few unreasonable as well—to keep the story approachable. Its density, and its complex layers of interaction between the principal parties, not to mention its intricate look at what may be to many moviegoers a mostly obscure piece of contemporary history, may make it a challenge for movie fans unaccustomed to a history lesson. Still, the movies scores high for anyone who wants to reassess that critical moment in American history.

The Post also stars Sarah Paulson as Tony Bradlee, Bob Odenkirk as Ben Bagdikian, Bradley Whitford as Arthur Parsons, Bruce Greenwood as Robert McNamara, and Matthew Rhys as Daniel Ellsberg.



Related Thursday Review articles:

Bridge of Spies; R. Alan Clanton; Thursday Review; October 14, 2015.

Ken Burns: Vietnam War Epic Mini-Series; R. Alan Clanton; Thursday Review; September 21, 2017.