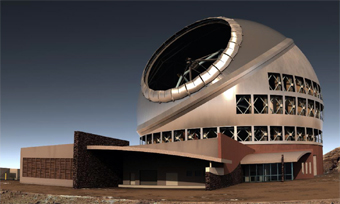 Artist's rendering of the TMT project/image courtesy of TMT
Huge Hawaii Telescope Project Halted
| published April 9, 2015 |
By Thursday Review staff
Builders and contractors working on a state-of-the-art observatory to be perched atop the summit of the Mauna Kea volcano in Hawaii have halted all work, part of a one-week moratorium on construction on the huge project enacted while local, state, and Federal officials sort out cultural and political differences with locals.

The observatory, to be called the Thirty Meter Telescope Facility, is a project jointly funded by numerous countries, notably the United States, China and India. When completed, the Thirty Meter Telescope will be one of the world's largest and most sensitive telescopes—situated on a spot considered to be ideal for deep space observation and scientific data collection.

But some native Hawaiian tribes consider the mountain and the volcano to be sacred ground, and they have petitioned the state of Hawaii and the Federal government for work to stop. Several weeks' worth of protest at the construction site—by both Hawaiian natives as well as local environmentalist groups—finally prompted Governor David Ige to request a time out—a one-week period where work on the observatory stops while all parties can negotiate a solution.

The University of Hawaii, which supports the project but is now caught in the middle of the brouhaha, is subleasing the land on Mauna Kea to the Thirty Meter Telescope group.

Scientists say that the new telescope—and its powerful, high-tech lens—will have the capacity to see deeply into space and study the origins of the universe. The observatory will be able to offer one of the most comprehensive and detailed looks into space ever provided by a mountaintop telescope.

The telescope's location has been controversial from the start more than a year ago. Project managers say that they have been thorough in both their archeological examinations as well as their environmental studies. The state has been generally supportive of the project, but concerns over its location—that it is being constructed on land considered sacred to some native Hawaiian groups—has escalated the controversy, sparking political debates statewide.

Protests against the observatory reached a crescendo in early April with hundreds blocking roads and entrances to the construction site. Dozens were arrested for blocking traffic and roads.

The governor hopes that for the next week or so all parties involved can engage in dialog to find a solution—one which in theory would allow the project to proceed under specific conditions or after certain concessions have been met.

Related Thursday Review articles:

Deep Space Observation Versus Lawn Care; Thursday Review; April 7, 2015.

The Rings of Saturn; Thursday Review staff; Thursday Review; March 17, 2015.