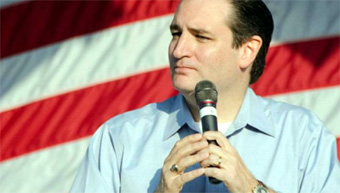 Image courtesy of Ted Cruz.org
Cruz Maintains Iowa Lead
| published January 5, 2016 |
By R. Alan Clanton, Thursday Review editor
Ted Cruz is for the moment maintaining a solid lead over rival Donald Trump in Iowa, where tens of thousands of people will caucus in less than a month to select their choices for the Republican nomination for President.

Though the size of Cruz's lead varies greatly in some polls, the Real Clear Politics Average ranking—which is a mathematical composite of the data of several leading polling organizations—shows Cruz holding support from about 31% of Iowans, as compared to Trump with 27.4% support. Florida Senator Marco Rubio follows in third place with 11.6%, followed by retired neurosurgeon and author Dr. Ben Carson in fourth. Former Florida Governor Jeb Bush is in fifth place with about 5% support.

A December poll by CBS News/YouGov showed Cruz leading in Iowa, with support from 40% of those surveyed. That same poll showed Trump in second place with 31%, and Rubio in third with 12%.

Though the race remains extremely fluid, Cruz has become only the second GOP candidate to seriously challenge Trump's dominance in most polls. In the fall, Carson staged a major surge which briefly toppled Trump from some national polls, and put Carson in first place in several key states, among them Iowa. But Carson's rise to the top tier began to erode in tandem with Cruz's steady rise in the polls.

In fact, a look at the RCP average shows that Cruz's ascension in Iowa has had a direct effect on Carson's support in the Hawkeye State, suggesting that even though the anti-establishment movement is alive and well, those who have already decided not to vote for Trump are still shopping for alternatives to the real estate mogul and billionaire. Cruz, for now, is winning the hearts and minds of those Iowans.

For Cruz, a Texas Senator, the newfound high ground carries with it some risks. Several other Republican candidates have begun attacking Cruz directly, hitting him on his weakest spot—his record and his occasional flip-flops on certain issues. Cruz has for the most part resisted the temptation to attack his rivals, though he has sparred intensely with Rubio on issues of national defense, foreign policy and immigration.

Rubio has blasted Cruz for what Rubio has characterized as a weak foreign policy based mostly on isolationist philosophy; Rubio and other candidates have also criticized Cruz for his occasional advocacy of softer approaches to intelligence gathering and data collection. New ads supporting former Pennsylvania Senator Rick Santorum needle Cruz for his famous 2015 Senate filibuster in which, among other things, he read long passages from the childrens' books of Dr. Seuss.

Cruz says he is unfazed by the barrage of attention, negative and positive.

Politicians behave a certain way when they are panicking," Cruz told NBC News reporter Hallie Jackson this week, "and they engage in attacks, they engage in personal attacks. That's human nature. I understand that. [But] I am not going to get down in that muck."

Cruz has been careful not to attack Trump directly, though the two did briefly spar in the days prior to the last GOP debate in mid-December after Trump referred to Cruz's as "a maniac." But during that debate, which was broadcast on CNN, Trump and Cruz appeared to just as quickly bury the hatchet. Instead, the Las Vegas debate proved to be the flashpoint in a simmering rivalry between conservatives Rubio and Cruz, who at that time were battling fiercely for control of the second spot in national polls.

As a sign that Cruz still considers Rubio his most formidable potential rival in the complex, ever-shifting field, the Texas Senator took the opportunity on NBC News to land a sideways jab at Rubio when NBC's Jackson asked about the Florida Senator.

"He is very well liked in Washington," Cruz said of Rubio. Translation: Rubio is part of the establishment against which Cruz and others—such as Trump and Carson—are running against.

Political analysts say that Cruz's current strategy is to continue to position himself as the anti-establishment candidate most tolerable to those voters who may be repulsed by Trump's often bombastic language, or unsure of Trump's political bona fides. That means that Cruz must continue to push back against both Rubio and Carson in Iowa, and the Cruz campaign hopes to convert a possible big win in the Hawkeye State into momentum going forward—especially into New Hampshire, where Trump maintains a substantial lead over both Rubio, in second place, and Cruz, who remains in third place in the Granite State.

Neither Iowa nor New Hampshire will bring about a swift conclusion, many political observers say. Stalking closely behind Trump, Rubio and Cruz in New Hampshire are New Jersey Governor Chris Christie, who now maintains a solid fourth place—a mere one point behind Cruz—and Ohio Governor John Kasich, a point and a half behind Christie.

Meanwhile, front-runner Donald Trump has begun a noticeable shift from attacking his Republican opponents toward taking the fight directly to Democratic front-runner Hillary Clinton. On the campaign trail in recent days Trump has been lobbing ordnance at Clinton's husband, Bill Clinton, for his alleged past sexual indiscretions before and during his two terms as President. Trump has also begun running his first major new TV ad of the new year, a 30 second spot which looks more like a national ad than something targeting only Iowans—another sign that he may be already realigning his sights toward the general election, now only 11 months away.

Related Thursday Review articles:

Republicans: Policy & Fireworks in Las Vegas; R. Alan Clanton; Thursday Review; December 16, 2015.

Rubio Wins in PPP Matchup With Clinton; Keith H. Roberts; Thursday Review; December 26, 2015.