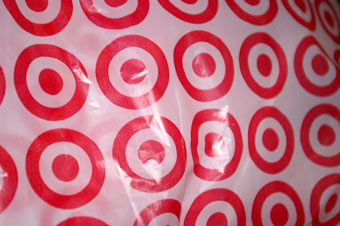 Target to Lay-Off Hundreds
By Thursday Review staff | published Thursday, January 23, 2014 |

Coming off a holiday season beset by the dual problems of slumping retail sales and a near-catastrophic cyber-attack on the personal information of millions of credit card users, retail giant Target announced this week the layoff of over 450 employees, many of them from its huge Minneapolis, Minnesota headquarters.

Target also announced that it will defer filling at least 700 other open positions at both its corporate office, at a variety of distribution centers, and at hundreds of stores across the U.S. and Canada.

Some business analysts suggest that the layoffs and virtual hiring freeze may have also been partly the result of a new period of market correction in some retail areas, and that the much-publicized security breach in December simply arrived at an inopportune moment during the traditional Christmas shopping surge.

But other retail analysts have said that Target—like many big retailers—placed great stock in their holiday sales fortunes, and the combination of slower-than-expected sales, coupled with the cyber-attacks, drove profits to unexpected lows for the fourth quarter 2013.

Taken alongside J.C. Penney's announcement a couple of weeks ago that it intended to close at least 33 retail locations and lay-off up to 2000 employees, those in the business of analyzing U.S. retail ebbs and flows say that this indicates that American consumers spent far less than had originally been expected during the holiday season. Sears and K-Mart have also reported lower retail sales for the same period.

At the height of the recession in 2009, Target was forced to make its biggest ever layoff, cutting nearly 2200 employees nationwide, at least 1100 of those from its main operations centers in Minneapolis and St. Paul. This week's cuts would be the company's second largest employee layoff.

Target has struggled the last year with bringing its new Canadian store footprint to profitability, but some analysts on Wall Street and in the business press also foresee a difficult road ahead for Target, whose security breach may have affected as many as 110 million credit card and debit card users in North America.

The cyber-attacks are now believed to have been the result of malware engineered by a Russian teen—a hacker who then made the application available to cyber-criminals.


For related articles on this topic:


"Who Pays for the Target Breach?"; Thursday Review; Wednesday, January 15, 2014.

"Can You Protect Yourself From Credit Card Fraud?"; Thursday Review; Saturday, January 11, 2014.

"Target's Woes Get Worse";Thursday Review; Saturday, January 11, 2014.