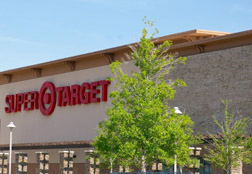 Target Withdraws From Canada
| published January 31, 2015 |
By Thursday Review staff
Target's new Chairman and CEO, Brian Cornell, says the company will spend at least $600 million to complete an orderly and total pullout from Canada, starting immediately. The massive shutdown and dissolution, some business and retail analysts say, was probably inevitable. Target's experiment with a Canadian retail front has been a disaster for the company, one of several which caused the forced departure of previous CEO Gregg Steinhafel.

Steinhafel's stewardship of Target went back decades, and his tenure as an employee had lasted for more than 35 years. So it was big news when he stepped down as CEO last year amid a variety of problems now facing the retail giant. Under Steinhafel's guidance, the big store chain grew from a relatively obscure American Midwestern retailer—its first store was opened in 1962 in Roseville, Minnesota—to the largest in the United States, surpassing Wal-Mart in sales and volume. Target currently operates nearly 2000 retail stores in the United States.

But Target slammed into a brick wall in 2013. Aside from its well-publicized and now infamous data breach—a catastrophe in which hackers entered a backdoor in Target's credit card system, stealing the information of some 70 million of the store's customers between November and December of that year—Target has had other major problems.

Its misadventures north of the border have turned from sluggishness to catastrophe. Back in December, at the height of the holiday shopping season, new CEO Cornell took a personal, unannounced road trip into Canada to have a first-hand look at what was happening. According to the now famous news reports, he did not take along a contingent of any kind; it was just Cornell, whose face was still generally unknown to the majority of employees. He drove to scores of Target locations in Canada, walked in unannounced, strolled through clean but cavernous stores which should have been filled with Christmas shoppers, browsed the aisles, and made a fateful decision: he would begin immediately the process of shutting down all Canadian operations.

It was the beginning of the end of a bad foray across the border for the Minneapolis-based Target. The decision to close those 130 stores will be costly and painful: some 17,300 people will be out of work by the time the shutdown is completed later this year. There will be millions paid in unemployment, and millions more will be spent on the costly business of liquidating inventory or moving what remains back into the States.

But after those quiet visits to those mostly empty stores at Christmas, Cornell realized that amputation was needed, not some form of therapy or corrective surgery. A variety of expensive marketing campaigns in Canada had already failed to draw more shoppers, and a hodgepodge of late discount campaigns and pricing fixes could not undo the damage from the grand opening days when store pricing was out-of-whack with regional pricing norms. Canadians were unimpressed with the prices, and took their business en mass back to more familiar shopping haunts. By late last year, Target was hemorrhaging because of the Canadian experiment, and the bleeding had to stop. On a company blog for managers and supervisors, the CEO said that the data showed that the Canadian stores were losing money literally every day they were open. Cornell quickly decided to pull those stores off of life support.

In the mainstream and business press, reaction was understandably swift and sometimes harsh. But Cornell wasn't hired by the board to gain popularity in the media, or to avoid controversy by playing it safe. Cornell, who has worked previously for PepsiCo, Michael's and Wal-Mart, is known as a fixer, and a tough operator at that. He is also a trenches guy—the sort of manager who gets involved in understanding the day-to-day operations of the company; known for an open door policy and a willingness to listen.

And it was his hands-on instincts which led him to those quiet walk-throughs on those stores in Canada. Spreadsheets and sales reports and analytics aside, Cornell wanted to see for himself what was happening.

Target managed to rebound slightly after the 2013 data breach. For months, U.S. customers shied away from the stores. But as the economy began to regain full steam last year, especially by summer, much was forgiven by shoppers as thousands began to herd back into American stores. And though Target has, like all retailers, taken a beating at the hands of Amazon and other online sellers—some of whom can now guarantee delivery in less than 24 hours—its U.S. component has recovered profitability. But now the question becomes larger: where does Target go from here? Shutting down its 130 Canadian stores makes sense, but its U.S. footprint may be reaching its maximum effectiveness.

Cornell may begin to shepherd other ideas into the Target mainstream thinking, among them smaller stores for dense, crowded urban areas, and possibly mini-stores close to major college campuses in cities. Target has also been in the process of slowly eliminating some of it coupon programs—especially the streams of coupons which print at the register when a transaction is complete—and downgrading its 5% discount for customers who use Target's Red Card. Though cutting out these forms of discounting may cause some customers to balk and go elsewhere, Cornell calculates that it will put millions back into the company's revenue stream. And coupled with a U.S. economy showing signs of full recovery and even growth, thanks in part to lower oil prices, Cornell may be wagering that increased buying power by Americans will be enough to offset those who chafe at fewer coupons and discounts.

Related Thursday Review articles:

Radio Shack's Hard Times; Thursday Review staff; Thursday Review; January 19, 2015.

Good Deflation, Bad Deflation; Thursday Review staff; Thursday Review; January 28, 2015.