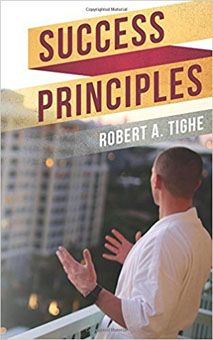 Success Principles
by Robert Tighe
| published May 18, 2018 |
Book review by Thursday Review editors
According to Robert Tighe, there is no single key to achievement, nor any single magic formula for success in life, or in business. But there are certain essentials, among them the need to make the personal decisions necessary to forge a path to success, regardless of how one defines "success."

Tighe should know. His youth and teenage years were fraught with more than a few setbacks and a full share of challenges, including high-risk behavior, the heavy buffeting of peer pressure, and appearances before judges in courtrooms. A few of Bobby's best friends had already been booted out of colleges by the time Bobby decided to enlist in the U.S. Army—one of the key events which would alter the trajectory of his business career path.

His book Success Principles: A Guide to Overcoming Challenges, Creating Success Habits, and Leaving a Legacy—a relatively short and quick read at 56 pages—connects all sides of the equation from a deeply personal perspective.

Growing up in a good home with a faith-based family, he points out, is a foundational start, but it is also no guarantor of success by any measure. Tighe uses examples from his own life, however, to show how success can come through a variety of factors and personal disciplines, including some of the well-known tools—effective networking and sensible money management, to name but two—as well as the more nuanced factors, such as emotional balance, the law of attraction, physical health, and managing goals.

Success Principles also examines what may be one of the most important—but sometimes overlooked—traits of the highly successful person: time management. Though easily within the grasp of almost anyone, the ability to manage one's time effectively can make a decisive difference, yet its positive impact is often shunted aside through a variety of poor habits, such as procrastination and failure to organize one's calendar and one's day. Then, there is the critical step of setting goals—daily, weekly, annually—an often transformative process which can be as simple as preparing a written list each day, and then addressing those bullet points with a steadfast desire to obtain the fruits of those labors.

Tighe suggests that the complimentary life tools of effective time management and tangible goal-setting, when effectively combined into one's daily habits, can make the difference between mediocrity and success in anyone's life, no what path through business, academics or personal activity one has chosen.

In short: a highly readable and approachable book with plenty of instructive personal examples and actionable advice.

Related Thursday Review articles:

The Boys in the Boat by Daniel James Brown; Review by Karen Franklin; Thursday Review; July 28, 2016.

Unbroken by Laura Hillenbrand; Review by Earl H. Perkins; Thursday Review features editor; November 8, 2014.