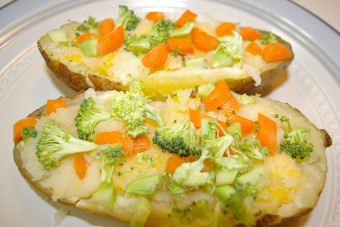 The Stuffed Baked Potato: A Great Way to
Make a Meal of Leftovers
By Maggie Nichols | published Saturday, September 21, 2013 |
Thursday Review Contributing Writer

One of the things my grandmother instilled in me was the pointlessness of wasting food—even small quantities. You know the stuff: those eight or nine leftover carrots, those two dozen sweet peas, four or five florets of broccoli, or those scraps of baked chicken or turkey or ham—none of it enough to make a genuine meal, even for one person. Aside from making soup, what do you do other than throw this stuff out?

That's where the stuffed baked potato comes in handy. Aside from the fact that the potato is loaded with its own nutrients, including plenty of Vitamin C, this simple meal gives you a chance to use a half dozen leftovers easily and quickly.

Here's what you need to start with: four baking potatoes; 2 tablespoons or butter (margarine will do); 1 package of frozen chopped broccoli (thawed, drained); ½ cop of ranch or light ranch salad dressing; 1 tablespoon of vegetable or olive oil; one small onion (chopped finely) salt and pepper is desired.

Skewer the potatoes with a knife or fork a few times, then, place them in a microwave oven for 10 to 12 minutes. Remove the potatoes from the microwave sand place them in a preheated conventional oven (set to 425) for about 20 minutes. After baking briefly, remove the potatoes and carefully slice off the tops. Using a spoon, scoop out the contents but leave the skins intact. Leave enough pulp along the insides that the skins retain their shape. Place all the pulp in a bowl and mash until the consistency is smooth.

In a skillet, heat up some butter. On medium heat, slowly stir in the chopped onion and sauté for five to six minutes, or to desired color. Add the chopped broccoli, a bit of salad dressing and a pinch a salt. Stir for another two to three minutes. After sautéing the mixture, reduce heat; then, add the contents of the skillet to the mixing bowl and stir until it is consistent.

Slather the outside of the potato skins with olive oil or vegetable oil. Spoon the potato mix back into the skins. Evenly place them on a baking sheet, and bake for another 15 to 20 minutes, or until they reach desired texture. In the microwave, heat up the leftovers for a few seconds; ideal items include chopped chicken, ham, bacon, turkey, but you can also throw in finely chopped carrots and broccoli along with other veggies. When the potatoes are ready, simple add these leftovers, spooning or pushing them into the soft, cooked potatoes. Add salt if desired (it's healthier if you skip the salt at this point), a bit of pepper, shredded cheddar or diced parsley as needed.

All-in-all a great meal that can managed in less than 30 to 40 minutes—and a great way to clean up those small portions of leftovers in the fridge.