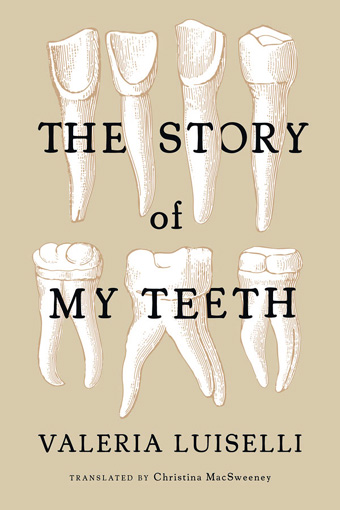 The Story of My Teeth; Valeria Luiselli
| published February 6, 2016 |
Book review by Kristy Webster,
Thursday Review contributor
Meet Gustavo Sanchez Sanchez, a.ka. "Highway," a traveler, an auctioneer, an enigma who wears Marilyn Monroe's teeth and smiles at passerby.

Each piece auctioned by Highway takes on a life of its own as he spins wild and larger than life tales, incorporating everyone from Plato to Virginia Woolf and even the life of the author herself.

Prepare for the unexpected, the magic, the eclectic and the pure genius of Luiselli's first novel, The Story of my Teeth. IF you're in the mood for something fresh, and out of the ordinary, this work of art is for you. (The book is translated by Christina MacSweeney).


Related Thursday Review articles:

Wolf in White Van; John Darnielle; book review by Kristy Webster; Thursday Review; February 5, 2016.

Orphan Train; Christina Baker Kline; book review by Karen Franklin; Thursday Review; July 26, 2015.