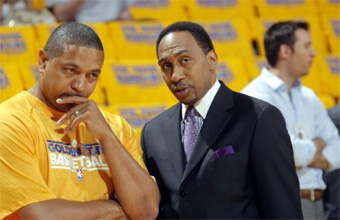 Photo courtesy of ESPN
Don't Take the Bait
| published March 15, 2015 |
By Earl Perkins
Thursday Review features editor

Stephen A. Smith is a race baiter. A loud and obnoxious blowhard who has been a know-it-all his entire media career, Smith recently unloaded on Philadelphia Eagles Head Coach Chip Kelly. The former Oregon Ducks coach must deal with fragile egos while fielding an incredible football team, and he better make a deep playoff run every year.

Anything short of competing for a Super Bowl each year, and Kelly will be quacking after another job with a quickness. Philly had the makings of a really fine team, but needed just a couple more parts to scare the league.

Smith's ire was raised following Kelly's decision to cut ties with Lesean McCoy, Jeremy Maclin and DeSean Jackson, while giving Riley Cooper a five-year contract extension.

Cooper made a stupid racial crack/joke in July 2013, which came back to haunt him after video surfaced on the internet. He shouldn't have said what the world heard, and he was quickly punished following a heartfelt apology.

Many whites of recent generations think they are black, adopting language, culture and actions from the ghetto. I think that's what went through Cooper's head, because he was always well-liked by teammates and those who knew him. After all, how many black people attend Kenny Chesney concerts?

But getting back to Smith and his disdain for Kelly's personnel decisions. The man cut loose two great players, along with another pretty good one, leaving the world wondering what was going on in the city of Brotherly Love.

The Eagles were so close, but now Kelly has gutted the club and somehow hopes to assemble a winner through free agency. Good luck on that prospect, but I guess anything is possible. He plans on freeing up enough cap space to land any player he needs for an instant rebuild. He'll probably get fired for his troubles.

On the air, Smith implied that race was a primary factor in Kelly's decision to cut several players, including DeSean Jackson, Jeremy Maclin, and LeSean McCoy. By comparison, Smith said, Riley Copper remained with the team. Smith's comments stirred immediate controversy, threatening to turn Smith's words into a media fracas—Keith Olbermann-style. But the next day Smith was unrepentant, saying that he although he never specifically used the word "racist" to describe Kelly, he stood by his harsh words and interpretation of the matter of the Eagles' roster.

Smith has teamed with sycophant Skip Bayless on the ESPN2 show, First Take, which centers on the pair yelling at each other like both are deaf. The shtick reminds me of The McLaughlin Group on PBS, except fewer politicians. Formerly a fine newspaperman, it's beyond me why Bayless would cheapen his legacy by becoming a carnival barker in a sideshow which makes both hosts look like idiots.

The recent brouhaha comes on the heels of the Ray Rice knockout punch and foot shove to make sure she's not faking, followed by the great hair dragging incident. Smith's tone-deaf observation last July was that those of the female persuasion shouldn't provoke violence from men. He served a week on the bricks for that twaddle.

What he really needs is a company attorney with an idiot button to avoid leaking these diatribes to the general populace. I would have been more sympathetic if he'd ripped the University of Oklahoma students for their YouTube indiscretion.

Smith has always been quick to pull the race card, with the recent race bomb providing another glimpse into how his mind works. The man just has a problem with white people making employment decisions concerning those of a darker hue. That's obvious, because he quickly followed his initial drivel by repeating it the following day on the off chance that anyone missed the first rendition. Maclin even came out saying Eagles fans need to lay off ripping Kelly.

But of course, it doesn't help that Philadelphia has been considered a racist hotbed for generations, which means Stephen A. probably didn't cast a wide net to discover disgruntled individuals.

Player personnel decisions, team dynamics, salary cap issues and legal contracts are extremely complicated issues, and I doubt a coach is going to make decisions based on race in this day and age. Coaches spend thousands of hours perfecting their craft, and they also have a strong bent for self-preservation—they know the attitude is win at all cost or you're fired.

Related Thursday Review articles:

The NFL's Unfortunate Tradition; Earl Perkins; Thursday Review; November 21, 2014.

Olbermann Suspended After Penn State Dust-Up; Thursday Review; February 25, 2015.