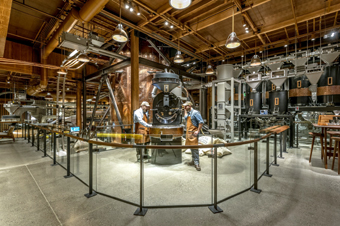 photo courtesy of Starbucks
Starbucks as Tourist Attraction
| published December 6, 2014 |
By Thursday Review staff


Starbucks CEO Howard Schultz describes it as the "Willy Wonka of Coffee," by which we assume he meant the "Wonka Chocolate Factory of Coffee," since—to be grammatically appropriate—Mr. Schultz is already the Willy Wonka of coffee.

Starbucks recently opened an elaborate multi-media venue in its hometown of Seattle, Washington—a tourist attraction which will draw thousands to the great American coffee mecca and the birthplace of the famous brand. The facility, named Starbucks Reserve Roastery & Tasting Room, is located in downtown Seattle, takes up two floors and covers more than 15,000 feet of floor space. Starbucks suggests that, if successful as a tourist and fan draw, more such facilities may be opened in other cities in the future.

Visitors to the sprawling center can watch coffee being roasted, observe as raw beans are offloaded and transported via conveyor belts and glass tubes to specially designed bean silos, examine full-scale roasting equipment at work, and even taste samples of a variety of coffees from around the world. The facility also contains a full-sized coffee tasting bar and a large gift shop—and, of course, visitors can purchase coffee just as they can at any other Starbucks location.

The Reserve Roastery & Tasting Room is located in a renovated Capitol Hill building at 1124 Pike Street at the intersection of Minor Avenue and Melrose Avenue, just a few blocks from the original Starbucks shop near the Market. For now, about 40 employees work at the new facility.


Related Thursday Review articles:

Here's What's Brewing: National Coffee Day; Thursday Review (Archives); September 29, 2014.

Coffee, Tea, Cold Drinks & Fizz; Thursday Review staff; Thursday Review (Archives); May 18, 2014.