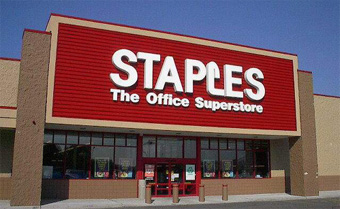 Staples to Close 12% of Stores
| Published March 7, 2014 |
By R. Alan Clanton
Thursday Review editor
In a pattern that has been revealing itself unpleasantly since the end of the holidays, office supply retailer Staples has joined the list of other major stores who plan to scale back their employee base or close locations, or both. This week, Staples announced their intention to close as many as 225 stores between now and the end of 2015.

Ron Sargant, chairman and CEO of Staples, said the closures are part of a long range plan to adjust to rapidly shifting consumer preferences and buying patterns. Sargent indicated that Staples will shift much of its own marketing emphasis to online sales.

Since early February, major layoffs and announcements of store closings have come from J.C. Penney, Target, and most recently electronics retailer Radio Shack, which said it planned to close over 1000 store locations during the next 18 months. Weeks earlier, JC Penney announced that as a result of slumping sales, it would close 33 stores this spring and summer and lay off up to 1100 employees in the U.S. In late January, Sam's Club announced its intention to cut back its workforce, and said it would lay off as many as 2300 employees this year—mostly in underperforming stores.

Target, which saw its holiday sales tank as a result of consumer concerns over a major data breach (which occurred between late November and mid-December 2013), recently announced that it planned to layoff roughly 750 employees—many of them in Target's hometown of Minneapolis. Target also said it would move more slowly in filling positions in existing stores.

Business analysts say that a combination of factors is behind the massive shift in retail sales.

The first is a general realignment by millions of consumers, away from traditional retail shopping, and toward online sales. Online purchasing reached an all-time high last year, and in the holiday quarter just ended, companies like Amazon saw their biggest growth yet. Staples says it plans to shift more of its emphasis toward online sales as quickly as possible. According to the Associated Press, roughly half of Staples' revenue already originates from online sales.

Secondly, the severe North American winter—and its multiple Polar Vortex events—meant that fewer shoppers have been as willing to brave the frigid, icy conditions to go out in search of traditional buying—either at the big box stores (even Wal-Mart had a slower than-average holiday season), or at smaller local or regional stores. Other than clothing—a segment which saw a marked increase in sales during December and January—nearly all other components of retail shopping suffered. Consumers may have also been slammed by huge energy bills in January and February, further suppressing retail sales as homeowners (and renters) struggled to cope with a much larger than average slice of their budget going to home heating.

Thirdly, last fall's data breach at Target, Neiman-Marcus and Michael's may have had an immediate effect on gift-buyers who might have been disposed toward the use of credit or debit card purchases during December and in the critical weeks leading into Christmas.

Staples, like many traditional retailers, has seen an ever-larger segment of its sales drop as consumers shift their buying habits to web-based sales. By closing stores, the office supply giant hopes to combine a reduced workforce with its own online footprint in order to remain competitive for the near future. A closure of 225 stores represents 12% of all Staples locations in North America.

Staples profits fell last year by roughly 11%, a figure disappointing to both Wall Street and Staples' investors. Company officials says they expect another loss this quarter as well, but they hope that by shuttering hundreds of stores they can put the company back on track for profit by sometime in 2015.

The retail sector devoted to office supply sales has been particularly hard hit in recent years. Early last year, Office Max and Office Depot agreed to a massive merger in an effort to control costs, reduce middle-management jobs, and better manage inventory.


Related Thursday Review articles:

Radio Shack's Image Deficit; Thursday Review; March 4, 2014.

Sam's Club Cuts Workforce; Thursday Review; March 4, 2014.