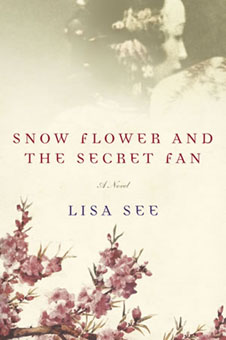 Snow Flower and the Secret Fan;
Lisa See
| published July 13, 2016 |
Book review by Patricia McQuigg, Thursday Review contributor
Snow Flower and the Secret Fan is a book for all you women who think you have a hard life—or have already had a hard life. Believe me that upon reading Lisa See's book you will quickly change your mind. And for all of you women who have had it pretty easy—and you know who you are—this book also offers something for you, for you will have a renewed appreciation for living in this world, today. Sadly, there are still women in some cultures and some places in the world who are no better off than life illuminated in this novel by See.

Snow Flower and the Secret Fan is a deeply compelling read; I literally could not put it down for its remarkable and personal account of two lives deeply intertwined some centuries ago in a remote part of China. The story includes rich descriptions of lifestyles and culture, as well as a powerful narrative of two lives and the hardships and losses each face over their lifetimes.

Lisa See brings dedicated research to this novel, shining a light on the historical context and rich cultures of a remote part of China at a time when the country was already detached and isolated from much of the world. For readers who love this sort of fiction, I highly recommend Snow Flower for its moving story of two women whose lives are deeply interconnected, and deeply woven into the complex fabric of another age and place.

Published by Random House.

Related Thursday Review articles:

The Collection of Heng Souk; S.R. Wilsher; review by Patricia McQuigg; Thursday Review; April 13, 2016.

The Story of my Teeth; Valeria Luiselli; review by Kristy Webster; Thursday Review; February 6, 2016.