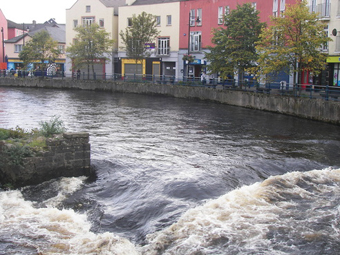 Sligo: Memories of the River and Music
By Michael Sigler | published Monday, December 30, 2013 |
Thursday Review Contributor
It is morning in the town of Sligo, Ireland, a place I have come to teach others. Across the now busy street the Sligo River winds its way rapidly into the cold Atlantic Ocean. It is winter and the wild ocean winds barrel up the channel, making life unbearable for the river denizens; causing any who venture out to cover themselves tightly. The river itself is now largely controlled and confined by block and concrete and yet it tells a story of life and death, famine and fortune and the now faded picture of a once desperate country.

I am here on a personal mission because my family was once part of this river's unfolding drama. In the late 1800's the country of Ireland was gripped with the Cholera epidemic. Thousands upon thousands lay dying or dead. Up the street lie the ruins of the old Sligo Abbey, now a museum piece but once a temporary morgue.

Along with the epidemic came the devastating potato famine. Blight was to destroy Ireland's main food source and thousands were forced to flee or face starvation or death.

Across the river, in a small alcove sits the famine statue depicting a desperate young family. The plaque inscribed below is the plea of a father in a letter to his son in America who had immigrated earlier, asking for help. Owen Larkin who is mentioned in my family's genealogy penned the letter. Only history knows what happened to that family as records show the son had died on the journey, so the letter probably never arrived.

To those who had the fare, ships came into Sligo River, up from the Atlantic, filling their hulls with thousands of hopefuls. Many of these ships never made it to America, storms taking some, disease and sickness turning others into ghost ships. Out my window the traffic below moves in an ever-winding ribbon, unconcerned or unawares of the drama once played out along this river.

Still this story is sometimes remembered. Sligo is a musical town; a Mecca for traditional Irish music. Once a year at the Sligo Music Festival, cafes and pubs are filled with such names as Seamie O' Dowd, Paddy Killoran and the Junior Fiddlers of Dooney. Much of this music is rich in heritage, speaking in rhyme and story of days long ago. Traditionalists such as Oisin MacDiarmada and Jesse Smith keep the memories fresh.

I am glad to be here, if only for a short time. Ireland is a country with a deep history and I am glad to know I share a part of that history.