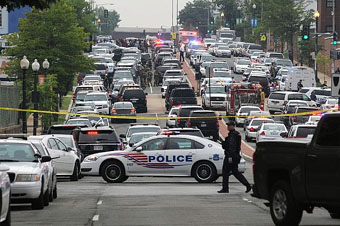 Photo U.S. Navy/Department of Defense
Reports of Shooter Shut Down Navy Yard
| published July 2, 2015 |
By Thursday Review staff
For a period of about two hours on Thursday the Washington Navy Yard was placed on lockdown. The Washington Navy Yard was the scene of a 2013 attack by a gunman who killed a dozen people in less than 90 minutes, and word spread early on Thursday that an active shooter was somewhere within the U.S. Navy facility.

The Thursday lockdown was, as it would turn out, much ado about nothing. Officials said that there was no evidence of gunshots or explosions, and zero evidence that there was ever an active shooter within the sprawling military compound. There was also no indication of a bomb or explosive device.

By mid-morning officials had sent out an all-clear message, and employees and military personnel went back to resume their usual duties.

The original call to D.C. 911 came around 8:00 a.m. when someone within the compound reported hearing what may have been gunshots. Based on security and safety protocols developed after the 2013 shooting, the entire military facility was placed on lockdown. The two-hour lockdown closed all incoming and outgoing traffic, halted all activity and work except that which was focused on safety, and caused gridlock on more than a dozen Washington streets.

Emergency services, police, security personnel and a variety of first responders went into full operational mode, including the first step of sealing off all buildings and all perimeter fences. Despite the false alarm, officials later praised the speed and effectiveness of the whole process in what amounted to a very expensive but successful drill. Another standard preventive measure: federal and local security teams closed down parts of Pennsylvania Avenue near the White House, and quickly deployed additional police and security near the U.S. Capitol and other key buildings. Officials at the Pentagon said that they had taken no special steps, but were instead closely monitoring the situation at the Navy Yard.

Thursday's heavy search efforts concentrated on Building 197, the same area where the 2013 shooter inflicted the most injuries and fatalities.

Gridlock along roads closest to the Navy Yard was extreme, and caused a ripple effect of traffic snarls which lasted through much of the day. Some roads were clogged with ambulances, fire department trucks and equipment, police cars, security vehicles, government SUVs and sedans, military police, and cars and trucks belonging to the FBI and Homeland Security.

Security analysts and intelligence experts say that part of the swift response to Thursday's incident may have been in large part due to heightened concerns about a potential terror attack during the July 4 weekend. ISIS-inspired acts of terror—timed possibly to coincide with the month of Ramadan, and timed possibly to celebrate the one year anniversary of the self-declared Islamic State—were carried only days ago in France, Tunisia and Kuwait. U.S. officials, though quick to explain they have no credible or specific threats, worry that individuals in the U.S. may be inspired to execute similar lone wolf attacks on American soil.

Related Thursday Review articles:

ISIS-Linked Attacks Indicate Success of Militant Outreach; Thursday Review staff; June 29, 2015.

Graduation Day, Annapolis; Thursday Review staff; Thursday Review; May 22, 2015.