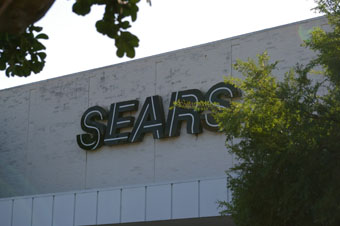 Image courtesy of Thursday Review
Sears, Kmart to Close 68 Stores
| published April 24, 2016 |
By Keith H. Roberts, Thursday Review contributor
The troubles facing Sears and Kmart are numerous and deep, and the roots of those problems can be famously traced back decades. That Sears is dying a slow death is not new news.

Nevertheless, the recent announcement that the combined retailer will close nearly 80 stores—most of them Kmart locations, along with a dozen Sears locations—comes as yet another shock to a rapidly-changing retail world learning all too late how to maintain profitability in the age of the internet and online shopping. This recent announcement follows perilously close on the heels of its previous widely publicized plan to shut down some 50 stores. This brings the total number of stores impacted to more than 130.

Among the cities and towns that will lose a Sears location: Little Rock, Arkansas; Plattsburg, N.Y.; New Castle, Pennsylvania; Jacksonville, Florida; Marion, Ohio; Oxford, Alabama. Pennsylvania and Illinois will see some six Kmart closings, North Carolina and Kentucky five apiece.

The store closings will begin in early June and continue most of the summer, with the final stores on the hit list turning out the lights no later than mid-fall. Most of the targeted Sears and Kmart stores will begin various forms of clearance and liquidation sales in May, and some locations will liquidate down to the shelves, endcaps and register counters. Layoffs will be massive, though like other retailers the company says it will attempt—wherever it is feasible—to offer employees the option to transfer to profitable locations.

For Sears and Kmart equally, it has been a year or more of hemorrhage. Parent company Sears Holdings reported a staggering half billion dollar loss in the first quarter of 2016, its biggest slump ever. Added to several years of slumping sales, it must now figure out a way to keep slashing and burning until it can sustain itself as a much smaller, leaner retail operation. It must also renegotiate its debt, which now hovers at about $1.2 billion.

Like its mid-market kindred JC Penney, Sears has not fared well ever since the advent of Wal-Mart, Target and Costco. But any hope of learning to meet those challenges has been fraught with the even more pressing matter of Amazon, E-Bay, Craigslist, Wayfair, and a host of online shopping platforms which have taken the lion's share of the retail dollar from brick-and-mortar stores.

Most retailers have faced difficulty in coping with online buying—now much easier and most accounts cheaper than shopping in actual stores. The advantages of point-and-click shopping are almost too numerous to list here, but include the obvious elements of convenience, savings and hassle-free browsing. Why struggle with traffic and gridlock, why waste time rummaging through disorganized shelves in the store, and why bump elbows with aggressive and annoying fellow shoppers when you can shop while sitting on your sofa in your pajamas? And why waste the gas? Traditional retailers have no easy retort to those questions, nor—on the whole—have they developed a response.

JC Penney made matters worse by undertaking an unnecessary and pointless redesign and makeover—tinkering with everything from its product lines to its store lighting to its checkout systems. The already troubled retailer just made its future much more dicey. Other mid-price retailers like Kohl's, Beall's, Stein Mart and Belk have all slammed into a brick wall named Amazon. High end stores are not immune: in January, Macy's announced it will close 36 stores and lay off thousands; Jos. A. Bank will shutter some 250 stores nationwide.

Even Wal-Mart and Target have felt the pinch as Amazon and the other big online retailers have boomed at the expense of the super store. Wal-Mart is closing some 270 locations and cutting 16,000 jobs; Target has pulled out of a massively unprofitable venture involving scores of new stores in Canada where only a handful of shoppers would walk mostly empty aisles. Wal-Mart has begun systematically lowering Wall Street expectations as it has hit several bad quarters in a row.

The slow loss of Sears locations hits hard for those of a certain generation (and above). Founded in 1886 by Richard Warren Sears and Alvah Curtis Roebuck in Chicago, Illinois, Sears was once one of the world's biggest retailers, with a huge mail order and catalog sales business that alone surpassed the combined profits of most American retailers. In its heyday it operated locations in almost every major U.S. city and town, often as massive stand-alone stores in middle class and working class neighborhoods, or occasionally in downtown areas. Sears was a forerunner of the suburban movement, picking its locations carefully based on traffic flow, insuring more-than-adequate parking, and insisting that it be convenient for its shoppers to walk in without a substantial commute.

In later years, it adapted quickly to the concept of the suburban mall, but it has maintained a preference for ownership of its real estate—as opposed to leasing an anchor-location. Example: a large Jacksonville location now on the chopping block sits at the end of a massive mall development called Regency Square, once thriving, now falling into hard times with the majority of store spaces empty and the immense parking lot often only at 5% capacity. The owners of the mall intend to eventually morph the behemoth mall into other things, possibly college classrooms or office space. But Sears owns its immense two-story building at one end, meaning it will have to dispose of all that square footage at a time when the rest of the development sits largely empty.

Sears finds itself in some places trapped by the very geographic genius it once deployed to its advantage; middle-class and lower-middle-class neighborhoods where there is still population density but little spending power in a post-Great Recession economy neither fully recovered nor ready to support rapid re-expansion of brick-and-mortar stores. The Regency Square location easily fits the textbook example of the paradox.

Sears was also the first major retailer to deliberately attract men into its aisles, with hardware, sports, fishing, and tool departments as large as (or larger than) the departments which catered to women shoppers. Sears also introduced its own line of products which appealed to the male shopper, from its popular Craftsman line of tools to its iconic Die Hard batteries for cars, trucks and boats.

Sears was also famously diverse even when such forms of horizontal business integration were unpopular with other retailers: it was one of the first major retailers to offer its own in-house credit card, and one of the first to create its own insurance division (All State). Among its well-known subsidiaries are Homart Development Company (which concentrated on building shopping centers and malls), Dean Witter, Coldwell Banker real estate, and even Prodigy—an early web-access and browser system which Sears developed in conjunction with IBM. That 1984 Prodigy partnership is a particularly ironic tidbit of retail history: Sears could see part, but not most, of a future in which people might one day spend lots of money in the then-nascent internet thing, yet it could not make the sort of direct, one-to-one retail webface-to-customer connection eventually perfected by Amazon. Only in 2009 did Sears find enough of an interest in the power of the search engine to buy the tech firm Delver.

In 1993 Sears finally killed off its long-running printed catalog, perhaps the most famous of all mega-catalogs of store products and pricing, eclipsing even its other catalog rivals Montgomery Ward and JC Penney. Again, there is an irony here: if only Sears could have converted the power of its Prodigy web access mechanism into an actual online catalog, or sorts, Sears might be the multi-billion dollar behemoth that Amazon is now.

Sears was also at one time one of the most diverse and complex retail operations in the nation, with portrait studios, photo labs and photography gear (Tower Photo), financial services (Dean Witter), real estate services (Coldwell Banker), insurance (All State), credit cards (Discover; Sears), automotive repairs and tires, appliance repair, truck rentals (Penske), car rentals (Budget), jewelry repair, home maintenance programs and home warranties, and all manner of home repairs, from roofing to insulation to doors and windows.

And in its heyday some of its product brand names were among the most well known in the U.S., including Die Hard, Craftsman, Kenmore (a line of appliances), and Silvertone (a line of musical instruments, electronics and audio equipment).

These successes allowed the company in 1974 to construct what was then the tallest building in North America, the Sears Tower, a dark-gray, 1,451-foot, 110-story high rise on Wacker Drive in Chicago which remained the world's tallest building until completion of the Petronas Twin Towers in Kuala Lumpur in 1998. (The Sears Tower is now known as the Willis Tower, and its primary tenant is United Airlines, which occupies about 20 floors of the structure).

Sears, like many retailers, including even Wal-Mart, Target and Costco, was late to fully realize the threat posed by Jeff Bezos's Amazon and its simple, unfiltered connection to potential buyers, nor could Sears have envisioned the mind-boggling algorithms at work which lead the typical online shopper to spend substantially more than intended upon each visit to a website to buy music, books, shoes, shirts, computers, tablets, drones, cameras, speakers, and now even groceries.

According to Fortune magazine, Sears has lost some $8 billion since early 2010 when its decline began to accelerate.

Related Thursday Review articles:

Jos. A. Bank and Men's Wearhouse to Shutter 250 Stores; Thursday Review staff; Thursday Review; March 10, 2016.

Walmart to Close 269 Stores, Will Cut 16,000 Jobs; Thursday Review staff; ; Thursday Review; January 17, 2016.