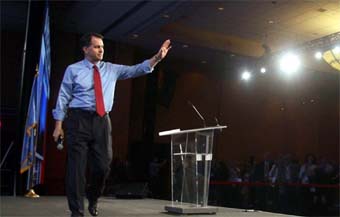 Image courtesy of Scott Walker 2016
Scott Walker Endorses Ted Cruz
| published March 29, 2016 |
By R. Alan Clanton, Thursday Review editor
With only days before the Wisconsin primary, all eyes are on two nomination contests still gripped with drama at a time of year when the caucuses and primaries have normally already produced a presumptive nominee.

The Republican race has come down to three candidates—front-runner Donald Trump, Texas Senator Ted Cruz, and Ohio Governor John Kasich. All three want a big win on April 5 in Wisconsin, a state seen as important for its key primary (it was the first state in the U.S. to hold an open primary), and a pivotal battleground state in a general election. Wisconsin has 42 delegates at stake in what will likely be a nip-and-tuck fight for every vote between now and the call-to-order at the Republican National Convention in July. The candidates will meet on stage Tuesday night in Wisconsin for a town hall forum.

Wisconsin Governor Scott Walker, once a presidential candidate himself last year and a front-runner in what was then a crowded GOP field, has weighed-in on the current candidates in a much-anticipated endorsement.

Though there was some speculation that he might endorse fellow governor and kindred Midwesterner Kasich, Walker has instead endorsed Cruz, sending out a message on social media early on Tuesday.

"Ted Cruz is the best positioned candidate to both win the Republican nomination and defeat Hillary Clinton," Walker said on Twitter, "I'm proud to stand with him."

Walker confirmed his endorsement the same morning during a radio interview on popular news-talk station WTMJ in Milwaukee.

"I've said it on the campaign trail for Governor and again last July—I think Americans want to know what you're for, and not just what you're against," Walker told listeners to the radio show.

Trump and Cruz are locked in an intense, bitter and sometime personal battle for control of the remaining delegates. Many GOP establishment figure and leading Republican conservatives are fighting to deny Trump the nomination. Their strategy is to back either Kasich or Cruz in states where the two have the best chance of beating Trump, thus depriving the billionaire real estate mogul of advancing in the delegate count. The goal of the anti-Trump movement is to deny Trump a first-ballot victory at the convention in Cleveland, then open up the convention to other candidates.

Trump, the front-runner, currently leads the field with 739 delegates. Cruz is in second place with 465 delegates, with Kasich in third place with 143. Marco Rubio—who won in Minnesota, Puerto Rico and the District of Columbia—dropped out of the race after his loss in his home state of Florida earlier in March. To win on the first ballot at the GOP convention a candidate must have at least 1,237 delegates.

Walker withdrew from the current race for President last September after his polling showed him stuck in single digits and well behind anti-Washington candidates such as Trump, Carly Fiorina, and Dr. Ben Carson.

Related Thursday Review articles:

Trump Threatens Lawsuit Over Louisiana Delegates; R. Alan Clanton; Thursday Review; March 28, 2016.

Kasich's Ohio Victory & the Brokered Convention; R. Alan Clanton; Thursday Review; March 17, 2016.