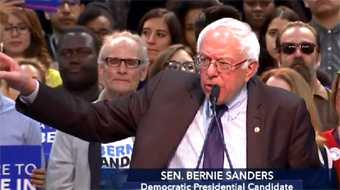 Image courtesy of C-Span
Sanders Sweeps to Victory in Alaska, Hawaii, Washington
| published March 27, 2016 |
By Thursday Review staff writers
Vermont Senator Bernie Sanders handily won three primary and caucus contests on Saturday, narrowing the delegate count distance between himself and Democratic front-runner Hillary Clinton. Sanders swept to victory in weekend contests in Alaska, Hawaii and Washington.

Sanders was expected to do well in all three states, but his lopsided wins may offer a continuing challenge to Clinton's assertion that she is best suited to be the party nominee, and the person best qualified to take on presumed-GOP front-runner Donald Trump. Sanders win in Hawaii—which polls had shown was essentially preordained—turned into a rout, with the Vermont Senator sweeping 70% of the vote.

In Alaska, Sanders won by an even bigger margin than in Hawaii, carrying some 81.6% of the caucus votes, compared to Clinton's 18.4%. It was his biggest, most lopsided victory yet.

Before Saturday's contests, Clinton led Sanders by about 300 pledged delegates, but also maintains a commanding lead among the so-called super delegates—party leaders and officials who can vote as they choose. Taken together, Clinton has about 1,690 delegates, placing her well over halfway to the required 2,382 delegates needed to secure the party's nomination on the first ballot this summer. As of this weekend, Sanders has just short of 1,000 delegates.

Despite Clinton's impressive lead, Sanders insists he will remain in the race until the start of the convention. His big wins in Washington, Alaska and Hawaii may propel his campaign much further, spurring another wave of donations to his campaign and bringing still more volunteers into his ranks. Sanders' cash war chest is already substantial, and his strategists predict another windfall in donations during the upcoming week.

Sanders will rack up a substantial number of delegates from his weekend victories. In Hawaii, he will receive the commitments of 17 delegates to Clinton's eight. In Alaska, Sanders will walk away with 13 additional delegates to Clinton's three. And in Washington State, where Sanders won by 72.7%, Sanders will grab 25 more delegates to Clinton's nine.

Though Sanders can claim that the weekend results are his best and most lopsided victories yet, many Democratic Party insiders and outside political observers suggest that his clean sweep—impressive though it was—is simply too little too late to overcome Clinton's wide margin in the delegate count. Sanders insists he will solider on with his cause right to the convention, and he makes no secret that he intends to attempt to leverage some of Clinton's super-delegate strength away—even if it requires a fight at the convention.

However, Democratic Party officials and many Democrats in congress are beginning to make loud hints that the Vermont Senator should see the handwriting on the wall, as it were, and begin to seriously consider suspending his campaign. Those Democrats argue that with each passing day in which Clinton and Sanders are locked in a fight for the hearts and minds of Democratic voters, the task becomes more challenging for the eventual nominee—which insiders suggest will ultimately be Clinton—to effectively make the pivot toward the general election. In recent days, Clinton has taken to avoiding talk of Sanders on the campaign trail and has concentrated much of her verbal firepower on Donald Trump, the Republican front-runner.

But Sanders is unmoved by Clinton's presumption that she is now the de facto party nominee. He also says that the underlying message and core principles of his campaign are too important to walk away from now. Sanders has energized tens of thousands of younger voters, and often draws much larger crowds to his rallies. Sanders is also raising cash much faster than Clinton, a fact that worries some within the Clinton camp who now foresee another five to six weeks of competing with Sanders in upcoming states.

"We are making significant inroads into Secretary Clinton's lead," Sanders told enthusiastic supporters at a huge election night rally in Madison, Wisconsin on Saturday, "and we now have a path to victory. It is hard for anybody to deny that our campaign has the momentum."

Clinton's supporters say that their candidate has the real momentum from this point forward, and they suggest that the proof is in the math challenge now facing Sanders. The Vermont Senator must win the support of roughly 64% of all remaining delegates to even catch up with Clinton, much less surpass her in the delegate count.

Still, Sanders is certain that with enough wins under his belt, he can persuade sufficient numbers of super-delegates to switch sides, meaning he could still win at the convention.

"Don't let anybody tell you we can't win the nomination, or the general election," Sanders told the audience Saturday night, "we are going to win both."

Related Thursday Review articles:

March 22 Primaries Extend Front-Runner Delegate Counts; Keith H. Roberts; Thursday Review; March 23, 2016.

Mega Tuesday Nudges Clinton, Trump Closer to Nominations; R. Alan Clanton; Thursday Review; March 16, 2016.