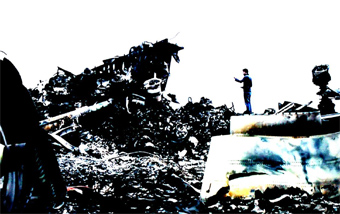 Image courtesy of CBS News
Did Russian Troops Fire the Fatal MH-17 Missile?
| published March 22, 2015 |
By Thursday Review staff


Last summer and fall, international investigators looking into the crash of Malaysian Airlines Flight 17—the debris from which came down in southeastern Ukraine—had already concluded decisively that the destruction of the passenger plane was not the result of an onboard incident or failure—no bombs, no pilot error, no fuel tank leak, no engine failure, no mechanical malfunction.

Furthermore, none of those in the various international and private investigative roles agreed with the Russian theory that the Boeing 777 was downed by Ukrainian fighter jets. Flight data and satellite imagery showed no evidence than any Ukrainian military planes were operating in the area where MH-17 was hit.

On the contrary, the collective evidence—eyewitness accounts, video and photos taken from the ground, radar and satellite tracking, satellite imagery, air traffic control data, and even the information gleaned from the 777's black box—indicate that the plane was shot down by a surface-to-air missile. The most likely source of that rocket was a Russian-made BuK missile launcher system manned by pro-Russian militants in rebel-controlled areas just to the west of where the commercial plane was struck.

Though neither Dutch nor Malaysian authorities have not reached their final conclusions about the exact cause of the crash, the widely disseminated view is that the pro-Russian rebels either accidentally—or deliberately—fired upon MH-17.

But this week, a barrage of rumors have emerged from the Netherlands suggesting that the authorities looking into the crash may have arrived at the even more shocking conclusion that those missiles were not fired using merely Russian-made weaponry, but that the rockets which struck MH-17 were fired from a launching system manned by Russian soldiers and commanded by Russian officers.

If true, this new twist will likely be unwelcome news for Moscow and for Russian President Vladimir Putin. Moscow, which has steadfastly denied any involvement in the Ukrainian civil war—which has now raged for more than a year and cost more than 9,500 lives—has also refused to acknowledge that pro-Russian rebels fired the missile which struck the Malaysian airliner, killing all 298 passengers and crew on board. But this new evidence may show that the militants were bystanders and that the rocket-launching system was being operated by Russian troops under the direction of Russian commanders just a few miles away.

Dutch officials are not yet ready to release this information in an official capacity, but some who are close to the investigation and its progress—including analysts with IHS Jane's, an aviation news and analysis service—say that this explosive new evidence is likely to spark additional outrage and controversy at a time when relations between the U.S., Europe and Russia are at a point nearly as low as before the end of the Cold War.

The passenger plane was struck back on July 17, 2014, over a mostly rural area of southeastern Ukraine, about 19 miles away from the border with Russia. Debris showered down across a wide area of agricultural fields and pastures near the towns of Hrabove (Grabove) and Rasypnoye.

There are disputes over even these initial findings, all of which are based on more than one million pieces of evidence. Russia's biggest news service, RT, has already slammed the leaked findings—and any conclusions which media and experts are drawing—as premature. Dutch officials, too, are warning reporters not to take such incremental leaks as definitive, and ask that journalists maintain patience in an investigation which may take many more months—even years—to conclude.

The team investigating the crash is international in make-up, and includes aviation experts and forensic investigators from about a dozen countries.

Related Thursday Review articles:

Kiev Says Russian Troops Crossing Border; R. Alan Clanton; Thursday Review; February 21, 2015.

Pro-Russian Militants Bombard Mariupol; R. Alan Clanton; Thursday Review; January 25, 2015.