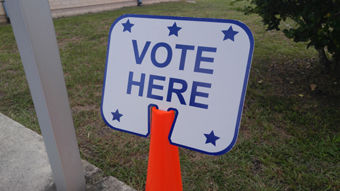 image courtesy of Thursday Review
Russian Hackers Stealing
U.S. Voter Data
| published August 30, 2016 |
By Thursday Review staff
The White House and the FBI believe that Russian hackers—possibly supported by the government of Russian President Vladimir Putin—were behind a series of cyber thefts of voter registration information and voter data in the United States.

The attacks come only months after it was discovered that hackers with direct links to Moscow stole tens of thousands of documents and emails from the Democratic National Committee and several top Democrats, and only six months after it was revealed that Russian, Ukrainian and Romanian hackers may have gained access to Hillary Clinton's private email account and the privately-managed server she used during her tenure as U.S. Secretary of State.

FBI officials and other computer forensic analysts say that the breach of voter registration databases left the same telltale digital trail as that of the cyber breaches at the DNC—a sign, some experts worry, that Moscow may be seeking to influence the outcome of U.S. elections.

The breach for now appears to be isolated to specific areas of the country, including a substantial trove of voter data in Illinois and Pennsylvania. Government agencies tasked with watching for evidence of cyber threats say that similar attempts to breach voter registration files have occurred in two dozen states and scores of major U.S. cities, a wave of small scale attacks which prompted the FBI to send out a nationwide warning to voter registration offices around the country advising them to be vigilant in the protection of voter information. Such data could include home addresses, phone numbers, Social Security numbers, military service data, driver's license numbers, length of residence, and even frequency of voter participation in primaries and general elections.

Officials in Arizona say that an attempt to breach voter registration databases there failed, but that the footprint left is identical to the successful breach in Illinois.

FBI officials say that although it is unclear if the hacks were garden variety attempts to collect personal information—similar to cyber breaches of major banks, retailers and credit card companies—or if the attacks were sure signs that Moscow is attempting to gain some degree of sway over elections in the United States, all digital footprints and thumbprints lead back to the same hackers who successfully gained access to the networks of the Democratic Party. Those earlier cyber breaches showed direct links to hackers working for Russian intelligence services.

Also unclear to U.S. law enforcement and government cyber experts: is the theft of voter data Moscow's latest attempt to look more deeply into the U.S. political processes, or is it representative of something more sinister—perhaps an attempt by Putin and his allies to exert sway over the outcome of elections in America.

The FBI has said that it urges all voter registration offices to maintain close scrutiny of its electronic and digital security, and has encouraged supervisors of elections to contact law enforcement and the FBI whenever there are signs of a breach in the system.

Word of the alleged attacks came ironically on the same day that Americans in dozens of states went to the polls to participate in Democratic and Republican primaries.

Related Thursday Review articles:

Cyber Attack Targets UCLA Hospital System; Keith H. Roberts; Thursday Review; July 18, 2015.

Taxpayer Information Stolen From IRS Website; Keith H. Roberts; Thursday Review; May 27, 2015.