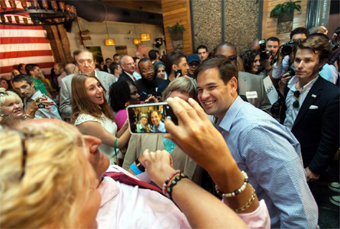 Marco Rubio at campaign event in Cleveland/
Photo by Shealah Craighead
Rubio Wins District of Columbia
| published March 13, 2016 |
By Thursday Review staff
Florida Senator Marco Rubio caught a badly-needed break in his campaign for the Republican nomination this weekend when he won the District of Columbia's Republican caucuses Saturday.

With 100% of the votes counted and confirmed, Rubio carried 1,059 votes to Ohio Governor John Kasich's 1,009 votes, a margin of only 50 votes between the two candidates (Rubio won 37% to Kasich's 36%). Rubio will walk away with 10 delegates, Kasich will win nine. Businessman Donald Trump and Texas Senator Ted Cruz finished in distant third and fourth places, and will win no delegate for their small percentage of votes.

It was a win Rubio badly need to win. He is currently struggling to remain upright in his home state of Florida, where he still trails Trump in many polls. Though some polling organizations have shown the gap rapidly closing between Trump and Rubio in Florida, other polls indicate that Rubio still has a long way to go to pull off a victory on Tuesday, the day Floridians go to the polls.

Rubio was briefly the star of the establishment party leaders and the movers-and-shakers within the GOP, but his third or fourth place finishes starting Super Tuesday have caused stock in his campaign to sink, though many GOP regulars still want him to win in Florida. A Rubio win in the Sunshine State will translate into a jumpstart to his flagging campaign, and would deprive Trump of a vast trove of delegates in Florida's winner-take-all primary.

John Kasich also faces a tough fight in his home state of Ohio, where he has been campaigning steadily for several days. Kasich is in a nip-and-tuck battle in the polls in the Buckeye State, but some polls have him leading Trump by three-to-eight points, while others show the two candidates in a dead heat.

Rubio spokesman Alex Conant declared the D.C. results a harbinger of things to come, and said that District of Columbia voters were looking ahead to the future of the Republican Party by choosing Rubio. The D.C. outcome was Rubio's third victory so far; he has won previous contests in Minnesota and Puerto Rico.

Trump is ahead in the GOP delegate count with approximately 460 delegates in his corner. Cruz is second, with about 370 delegates. Rubio follows in third place with 163, with Kasich in fourth with 63. Wins for Rubio and Cruz on Tuesday will catapult them into more serious numbers, and level the playing field between the four candidates.

To win the Republican nomination requires 1,237 delegates. If Rubio and Kasich were to each win their home states on Tuesday, it is theoretically possible that none of the major candidates will reach the convention with enough delegates to win on the first round of balloting, meaning the convention in Cleveland would be open to a floor fight—the first time for the GOP since 1964. If however Trump wins in Florida, political experts predict that Rubio will have very little maneuvering room between Tuesday and the convention.

Related Thursday Review articles:

Rubio Blasts CNN Reports; R. AlanClanton; Thursday Review; March 8, 2016.

Super Saturday Wins to Trump/Cruz; Earl Perkins; Thursday Review; March 6, 2016.