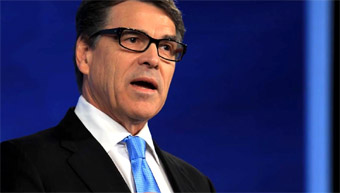 Image courtesy of Rick Perry for President
Rick Perry Joins Crowded 2016 Contest
| published June 4, 2015 |
By R. Alan Clanton Thursday Review editor
The field of Republican candidates looking at the 2016 Presidential election—already a full house representing the complete spectrum of conservative politics—just got a lot more crowded. And it only took about a week to add numerous names to the horserace.

Former Pennsylvania Senator Rick Santorum, a Presidential candidate in 2012, has announced last that he is entering the race to become the GOP nominee in 2016, hoping to be the one chosen by Republicans to challenge presumed Democratic front-runner Hillary Clinton. Within days, former New York Governor George Pataki tossed his hat into the ring, making his announcement in Exeter, New Hampshire, the birthplace of the Republican Party in 1853.

There was an irony in the two announcements coming one after the other: Santorum represents a form of social conservatism now one of the central narratives of the GOP and its most loyal following; and Pataki is that rarest of creatures—a moderate Republican with enough progressive social positions to place him in the quasi liberal range of the political spectrum. Pataki supports abortion rights, Santorum steadfastly opposes abortion; Pataki supports gay rights, Santorum opposes allowances for same sex marriages. And Pataki is also an outspoken environmentalist in a party which spends little time analyzing global temperature changes or receding ice caps.

For Santorum, the decision to run was—he says—a personal one. Pataki, to paraphrase National Review, is the vanity candidate to beat all vanity candidates, with a non-starter of a Presidential campaign. One friend compared Pataki to the previous longshot candidacies of John Anderson (1980) and Jon Huntsman (2012). Old Schoolers might call Pataki a "Rockefeller Republican," except that even old school political analysts figure the majority of voters have no idea what a Rockefeller Republican even is.

Santorum hopes to reprise his surprise showings and hidden followings from 2012, which he and fellow conservative Newt Gingrich battled more-or-less independently to deprive Mitt Romney the GOP nomination. Santorum also hopes to seize territory he once easily occupied in 2012, the same path once blazed by other GOP social and religious conservatives—from Pat Robertson to Mike Huckabee.

But Santorum faces immense obstacles, not the least of which is an increasingly crowded field of conservatives among the Republican contenders. Santorum is now also competing directly for the same voters which Huckabee seeks to corral, some of whom may also be inclined toward other conservatives like Florida Senator Marco Rubio, Texas Senator Ted Cruz, and author and neurosurgeon Dr. Ben Carson. In other words, Santorum must split the allegiance of social and evangelical conservatives among at least four other candidates. He will not have that segment of the room to himself.

Pataki meanwhile hopes to gain early traction precisely because he is the only moderately-liberal Republican in the room.

Huckabee and Santorum are not the only two 2016 candidates hoping to revisit success from previous election years.

This week, Texas Governor Rick Perry, an early front-runner from the 2012 contest, says he is ready to try again—this time with deeper policy experience, a deeper resume as governor of a large state, and a leaner and cleaner message. Perry, already a regular at events and forums in New Hampshire and Iowa, hopes to avoid the catastrophe that was his 2012 bid when his awkward and stumbling debate performances sent his campaign—which started in a de facto front-runner position—into the ditch, and into single digits. In 2012, Perry finished in fifth place in Iowa, ran out of funds as backers fled toward Romney, Gingrich and Santorum, and was forced out before the all-important primaries in South Carolina and Florida.

But this time, Perry also hopes to translate his long run as a popular Texas chief executive into an actionable selling point; Perry held the governorship continuously from 2000 to earlier this year, winning his last two re-elections by huge margins. Perry, now 65, has also worked almost around the clock on his homework, putting on more policy beef and intellectual muscle in four years than most candidates acquire in a decade. This has helped him redefine himself as something of a party elder and thinker, and a governor on the cutting edge of some of the toughest issues—immigration, education, health care, gun control. Perry also hopes to use the long Texas economic boom as perhaps the top line on his resume; Texas has fared better than most states in the long, arduous post-Recession recovery, with somewhat higher wages and higher levels of employment.

Perry also intends to use his military experience as a way to embrace the transcendent issues of military strength, foreign policy and terrorism as his natural strengths. In the early part of his career, Perry piloted C-130s and other aircraft while serving in the Air Force in the 1970s, a fact he only rarely touted in 2012, but something he clearly intends now to use as a way to distinguish himself from the crowded GOP field, which now also includes South Carolina Senator Lindsey Graham—also a military veteran with deep foreign policy and military affairs understanding.

In short, Rick Perry seeks to reclaim that fleeting sweet spot he so briefly occupied in 2012 when he was considered the genuine article among a GOP field crowded with other heavyweight contenders, including the presumed front-runner Mitt Romney whom Perry briefly eclipsed. But aside from the complexity of the Republican field, now swollen with more than a dozen contenders, Perry may also have to answer for a nasty political feud with Democrats in Texas which turned into a felony case of abuse of power. He and his supporters have called the charges against him groundless, but the probe and the case remain open. This is not the sort of baggage to carry into a first debate, and certainly not what Perry wants haunting him as he presses the flesh in New Hampshire, Iowa and South Carolina. Still, he can rightly claim to be in good company: not all probes into New Jersey Governor Chris Christie and Bridgegate have been resolved, and former Florida Governor Jeb Bush—the GOP leader in some polls and the biggest fundraiser other than Hillary Clinton—now faces a pair of lawsuits from public interest and accountability groups.

Perry has spent much time over the last few years attempting a full scale rehabilitation of his image after his gaffes and fumbles during early debates in 2012 took him from first place to the bottom of the pack. Political insiders even then worried that his tack in the summer and fall 2011 was ripe for disaster—promoting himself as a party savior who could take on Romney the apostate and the closet liberal by bringing some downhome Texas common sense to the discussion. Perry entered the field as a Tea Party favorite and the anti-Romney—a true red state conservative with a proven track record and few of the Massachusetts-style compromises which were then dogging Romney. But when Perry famously clashed with Romney in early debates, he generated not cheers but jeers, most especially when he could not recall the name of one of the Federal departments he planned to cut, and when often got lost in his responses to questions or stumbled through muddled explanations of policy. Perry never regained his footing.

This time around Perry hopes to recapture the magic that brought him into the contest in 2011. He is one of several governors running among the Republican field, a group of state chief executives who have been successfully testing the message the governors are uniquely qualified as managers to take on the responsibilities found in the Oval Office. Like Bush, Christie, Walker and Pataki, Perry will tout the day-to-day skills required to run a state as being a more practical and real-world proving ground for potential Presidents.

Officially, more than a dozen Republicans are already in the race or are days away from making their candidacies official. Some polls show Wisconsin Governor Scott Walker in a more-or-less a dead heat with Jeb Bush, with Ted Cruz, Marco Rubio and others in close succession. Other polls show Bush with a tiny edge over Walker. Christie has formed a political action committee and has been campaigning continuously for many months, but like Bush has not made his intentions official—yet. Other candidates include Dr. Ben Carson, former HP CEO Carly Fiorina, former Arkansas Governor Mike Huckabee, Kentucky Senator Rand Paul, and South Carolina Senator Lindsey Graham, who announced his candidacy last week. Others who are considering a run include Louisiana Governor Bobby Jindal, Ohio Governor John Kasich, Indiana Governor Mike Pence, and businessman and TV personality Donald Trump.

Related Thursday Review articles:

GOP Candidates Field-Test Messages; Thursday Review; May 10, 2015.

The Clintons Earned Millions in Speaking Fees; Thursday Review; May 16, 2015.