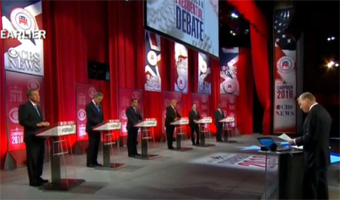 Images courtesy of CBS News
Republican Candidates Engage in
Explosive Debate
| published February 14, 2016 |
By R. Alan Clanton, Thursday Review editor
Call it the Liar-Liar-Pants-On-Fire debate, or call it good entertainment. The question is: did the forum help Republican voters in the upcoming primaries and caucuses decide between the six candidates now in the running?

If the previous Republican Presidential debates of the last 10 months have been noted for their general rowdiness and frequent combative exchanges, last night's forum—hosted by CBS News and conducted in Greenville, South Carolina—could be characterized with a term once derisively used by Ted Cruz in an earlier debate: a cage match.

The debate may have broken the record for the most frequent use of the word "liar" to describe another candidate or another candidate's statements, with—by our count—25 uses of "liar" or "lie" or "big fat lie."

The debate, which included all six remaining major candidates (the attrition rate has been high since the ends of the Iowa caucuses and the New Hampshire primary; New Jersey Governor Chris Christie, former HP CEO Carly Fiorina, and former Pennsylvania Senator Rick Santorum all suspended their campaigns during the previous ten days), was at times boisterous, and was noted for its periods of loss-of-control by moderator John Dickerson, CBS News chief political correspondent.

In particular, some exchanges between front-runner and businessman Donald Trump and former Florida Governor Jeb Bush turned into something just short of Ultimate Fighting. Likewise, several intense and combative exchanges between Trump and his closest rival, Texas Senator Ted Cruz, were so over-the-top with bombast that no candidate could be clearly heard. Dickerson had on several occasions difficulty regaining command of the dialogue, and the often extreme cases of back-and-forth made it difficult for other candidates to get a word in edgewise.

Bush and Trump sparred bitterly over the legacy of both his father (President George H.W. Bush) and his brother (George W. Bush) in several personal exchanges over national security, the Gulf War (1991), the Iraq War (2003) and even the underlying causes of 9/11. The two also battled over what military actions should be taken to combat ISIS, and what course to take in the five-year long civil war in Syria, a war now joined by Russia, and a war which may soon also include troops from Turkey.

Trump has been a frequent critic of the war in Iraq—that is, the 2003 invasion planned and orchestrated by George W. Bush. During the debate, Dickerson seeded the sparring by asking Trump about some of his past statements on the long war, including Trump's once famous assertion that then-President George W. Bush should have been impeached for taking the country to war in a deeply-divided sectarian region.

"Obviously," Trump said, "the war in Iraq was a big, fat mistake." Trump brought up the issue of weapons of mass destruction believed by some experts to have been in the possession of Saddam Hussein. "They said there were weapons of mass destruction, and there were none…and they knew there were none!"

Trump then drew a direct line from George W to brother Jeb, needling him on his early missteps on whether the war in Iraq was a good idea. "It took him five days before his people told him what to say, and ultimately, he said it was a mistake."

Jeb Bush took that as a challenge to the family name and legacy, telling the audience that he was "sick and tired" of hearing President Obama and White House allies blaming brother George W. for all the problems of the current administration.

"I could care less about the insults that Donald Trump gives to me," Bush said, "It's blood sport for him. He enjoys it, and I'm glad he's happy about it. But I am sick and tired…sick and tired of him going after my family. My dad is the greatest man alive in my mind. And while Donald Trump was building a reality TV show, my brother was building a security apparatus to keep us safe. And I am proud of what he did."

But Trump was disdainful even of Bush's attempt to show loyalty to family.

"The World Trade Center came down during your brother's reign," Trump said disapprovingly, "just remember that." Trump was interrupted briefly by a wave of boos from the audience, which provoked Trump to glower at the audience. "That's not keeping us safe."

When Bush attempted again to defend the legacy of his family, insisting that Trump leave Bush's mother, Barbara Bush, out of the political attacks, Trump was even more dismissive.

"She should be running," Trump said.

Though Bush was at times visibly agitated by Trump's provocations, he did not seem to lose his cool or poise, and many political analysts gave the former Florida Governor points for standing his ground in what was arguably the most intensive verbal firefight yet launched against another candidate by the bombastic, often unpredictable Trump.

Trump attempted to interrupt repeatedly as Bush spoke. Other candidates could also be heard attempting to inject themselves into the fray, but that often just added more noise to what was quickly becoming a cacophony on stage. Indeed, the Bush versus Trump dynamic at several times brought the entire debate to a halt, as moderator Dickerson tried to rein in the escalating war of words.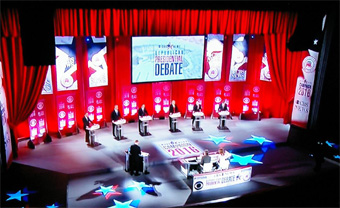 Trump was by this point in the debate the victim of repeated round of boos from the audience, a problem which he attributed—on stage no less—to his assertion that the room had been pre-packed with "establishment" Republicans and "special interest" groups backing Bush or Kasich. Trump eventually waved off the boos each time they were hurled at him. Others on stage were booed as well, though clearly Trump took the brunt of the audience's wrath during several intense exchanges with rivals on stage.

Trump was no less decorous with Cruz, who he repeatedly attacked as a liar. In a heated exchange over the relative fidelity of their own conservative values, Cruz listed examples of Trump's departures from issues crucial to most in the GOP.

"He [Trump] supports taxpayer funding for Planned Parenthood," Cruz said, "and I disagree with that…that's a core principle…" Trump began interrupting Cruz even before Cruz had completed the sentence.

"You are the single biggest liar," Trump said, "you're probably worse than Jeb Bush." The audience erupted in boos as Dickerson again tried to regain control of the debate.

Cruz and Trump battled to be heard before Trump again slammed the Texas Senator.

"This guy will say or do anything," Trump said, pointing at Cruz, "a nasty guy…now I know why he doesn't have one endorsement from any of his colleagues." Cruz attempted to cut off Trump, appealing to the moderator to restore order.

"Donald has this weird pattern" Cruz said, "when you point to his own record, he screams liar, liar, liar. If you want to go, and watch…" But it was Trump who interrupted Cruz. The two then got into a shouting match over Trump's exact words and deeds when it comes to Planned Parenthood and abortion. Again, the CBS moderators lost effective control over the conversation, and the audience was left with little but the sounds of multiple candidates attempting to all talk at the same time.

Rubio and Cruz also sparred bitterly over immigration, a topic which had divided the two in the past and led to sometimes complex, hair-splitting exchanges. The Greenville, South Carolina debate was no exception, with each accusing the other of infidelity on the issue of illegal immigration, especially as it pertains to the U.S. border with Mexico. Rubio even declared that Cruz could not even speak Spanish, a move which prompted Cruz to fire back—in Spanish—demanding that Rubio repeat his views on Obama's executive orders on immigration for Spanish speakers listening to the debate.

The rancorous arguing over immigration prompted both Bush and Kasich to observe that in the absence of New Jersey Governor Chris Christie, someone in the room should point out the differences between the arcane bill-writing of the U.S. Senate versus the day-to-day realities faced by governors.

The debate was, by almost any measure, raucous and at times explosive. Oddly, the debate had started with may have been the most low-key and somber first 20 minutes of any of the debate thus far in the 2016 election cycle. CBS moderator Dickerson framed the opening discussion around the passing of Supreme Court Justice Antonin Scalia, who had died earlier that very day. News of Scalia's death had reached the Republican candidates only an hour or so before the start of the debate in Greenville.

All on the stage offered condolences to Scalia's family, and each took the opportunity—after Dickerson framed the question—to weigh-in on the issue of whether current President Barack Obama would immediately pick a successor to Scalia, or wait—as is the unofficial custom—to allow the next President to make the selection.

In fact, Obama had just held a brief press conference, only 15 minutes before the debate commenced, during which he announced his intention to make his own choice for a Scalia replacement, adding that he expected Republicans to cooperate by making the confirmation process fair and painless.

But amidst the online reports that night and the newspaper headlines the next morning, sadness and shock over Scalia's sudden death at the age of 79 was mixed equally with the now explosive issue of when—and how—Scalia's replacement would be named, with Republicans in Congress vowing to wage an epic fight with the White House. Republicans fear that Obama will name a center-left or progressive jurist to the court, a move which would likely tip the balance within a group of justices now leaning slightly right on most issues. Likewise, Democrats—who have already stated clearly that Obama has the constitutional authority to name Scalia's replacement very soon—worry that a delay might give a new President, perhaps Jeb Bush, Ted Cruz, or Donald Trump, an opportunity to recalibrate the court to the right.

In the meantime, the stakes for Republicans are high in South Carolina, a state which often decides with accuracy the outcome of the Republican nomination. Trump remains the front runner, but the fight is intense for the coveted second, third and fourth place finishes, just as it was in Iowa and New Hampshire.

Related Thursday Review articles:

Democratic Debate on PBS: Wall Street Still a Thorny Issue; R. Alan Clanton; Thursday Review; February 12, 2016.

Trump, Sanders, Grab Big Wins in Granite State; R. Alan Clanton; Thursday Review; February 10, 2016.