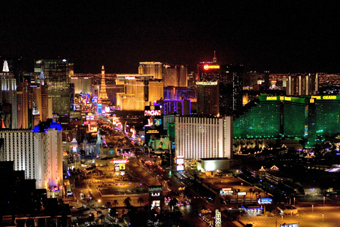 Image courtesy Wikipedia
Raiders One Step Closer to
Las Vegas Move
| published August 26, 2016 |
By Thursday Review staff
According to sports insiders, analysts at ESPN, and several legal observers, the NFL Oakland Raiders may be one step closer to a major move to Las Vegas, Nevada.

The team, long based in Oakland, California, filed official trademark and copyright paperwork this week to retain the exclusive use of the phrase "Las Vegas Raiders." The trademark action would give the team's owners and their NFL counterparts control over how the words are used on caps, jackets, banners, soft drink cups, t-shirts, and thousands of other imprinted and digital items. The move also means the team's owners could begin the process of creating a new logo.

The legal action may simply be the first salvo in a complex and byzantine process: indeed, according to court records, at least six other individuals or groups—unconnected in any way to the NFL or the Raider organization—have also filed similar trademark and copyright actions, typical when rumors of major moves reach speculators, investors, or merely Main Street individuals seeking opportunities to make quick cash.

The Raider owners would have to appear in the appropriate legal venues to make the case that they alone deserve the right to exclusively control the use of "Las Vegas Raiders," a process which generally goes well for the NFL, but which may require time and money. Word that Raider owner Mark Davis was tinkering with a move to Las Vegas reached the front page as far back as late January and early February.

Though the move could still take several years to complete, the Raider organization is now actively discussing its contingency plans for relocation to Las Vegas, which would include a proposed $2 billion football stadium/multiuse facility to be funded in part by several major hotel and casino owners, developers, and investors. Government officials in both Las Vegas and the state of Nevada have expressed support for the project, which they hope will bring a sharp increase in economic activity and growth to the area.

The matter of a Raider move to Las Vegas is still subject to the approval of a majority of other team owners, meaning that the proposed relocation could be vetoed when—and if—Davis and other Raider owners make official their plans.

Related Thursday Review articles:

Rams Returning to LA; Inglewood to Build $1.86 Billion Stadium; Earl Perkins; Thursday Review; January 15, 2016.

Coughlin Will Not Go To Philly; Keith H. Roberts; Thursday Review; January 14, 2016.