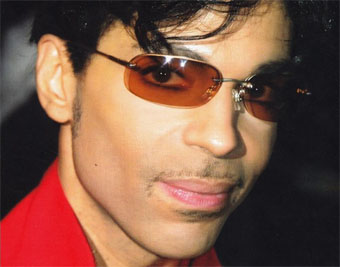 Image courtesy of amazon.com
Police:
Prince Death Not Suicide
| published April 23, 2016 |
By Thursday Review staff
Rumors in the music press and in the media have prompted a key law enforcement official in Minnesota to meet with the press to quell talk that rock and pop music legend Prince committed suicide or met with foul play.

Prince was found unresponsive in his Paisley Park home and studio complex Thursday morning, and he was declared dead minutes later by first responders and police. The pop singer and performer had been forced to cancel or postpone a few shows weeks ago, but appeared to be back on track with a huge show in Atlanta last week, at which time he apologized to fans for the missed performances.

His flight from Atlanta to Chicago abruptly ended when the pilot called-in a medical emergency, forcing an early landing in Illinois. Prince was rushed to a hospital for what was believed to be a severe case of flu and stomach distress. By all accounts he recovered from the illness, though it is not clear to the authorities that his condition either improved or worsened over the next few days.

Prince was seen in a record store in Minneapolis on Saturday, where employees say he bought several CDs and stopped to shake hands with a few fans. He was also seen briefly at a small shopping center where he ordered a specialty coffee from Caribou Coffee. He was also seen by people in the area on his bicycle on both Saturday and Sunday.

His personal staff said he appeared to rise each day as normal between Sunday and Tuesday at his Paisley Park residence and studio. His last known outing was uneventful. A friend drove Prince from a visit back to the compound around 8:15 p.m. on Wednesday, the last point at which he was seen alive.

The next day, a staffer found an unresponsive Prince slumped in an elevator. Within only a few minutes, two other staffers arrived, at which time one of them called 911.

Jim Olson, Sheriff of Carver County in Minnesota, told reporters that despite the rumors that Prince had committed suicide, the medical evidence does not point to a self-inflicted death, either by deliberate overdose or by other means.

"We have no reason," Carver said on late Friday, "to believe at this point that this was a suicide. And there are no signs of trauma…no signs that something violent happened." Carver also quashed growing talk that Prince met with foul play within his home or studio, adding that the singer and songwriter was alone in the house at the time of his death.

A few media outlets have reported that Prince was seen purchasing over-the-counter or prescription medicine the day before his death, possibly cold or flu pills, but this has not been confirmed by the mainstream press or by the police. The website TMZ has published an alleged surveillance photo purporting to show Prince walking back to his SUV near a pharmacy, but the photo is not clear enough to determine if the person in the image is Prince.

Carver said that at this point Prince's body has been returned to his family for final arrangements, and the medical examiner—also present at the press conference—said that Prince's family has been helpful and cooperative with all aspects of the investigation.

Those close to Prince say that it is unlikely he committed suicide—nor that he died from some form of accidental overdose. He was a well-known vegan and health advocate, who had been widely known to friends and family to shun drugs, tobacco products, and alcohol for many decades. He was also a copious consumer of bottled water and natural juices.

His only known serious medical issue was a childhood form of epilepsy, which apparently did not manifest itself in his adult life. He may have also had pain problems as a result of a hip injury after a stunt on stage in which he leaped from risers and landed on the floor in platform heels. He may have also suffered from pain in his ankles. Some music industry friends suggest that he may have taken prescription pain medications from time to time in an effort to manage the discomfort. Prince was a tireless—often athletic performer—especially during the heydays of his 1980s anf 1990s touring.

Initial results of the autopsy have shown no obvious signs of drugs, alcohol or toxins of any kind, though the authorities stress it may be weeks before a thorough report can be issued.

During his long, diverse career, Prince produced and recorded 38 albums and sold more than 100 million records, making him one of the biggest selling pop and rock recording artists of all time.

Prince earned seven Grammy Awards, some 25 Grammy nominations, one Golden Globe Award, and one Academy Award for his original musical score for Purple Rain.

Media sources have reported this weekend that Prince's body—according to his wishes—has been cremated.

Related Thursday Review articles:

Musical Legend Prince Dead at 57; Thursday Review staff; Thursday Review; April 21, 2016.