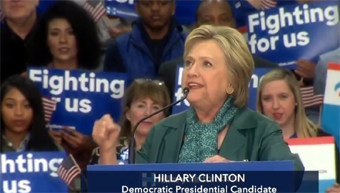 Clinton speaking to supporters on March 22/Image courtesy C-Span
March 22 Primaries Extend
Front-Runner Delegate Counts
| published March 23, 2016 |
By Keith H. Roberts, Thursday Review contributor
Against the backdrop of terror attacks in Brussels which left at least 32 people dead on Tuesday, voters in three states in the U.S. went to the polls to choose their preferences for the next President.

Both party front-runners burnished their already impressive leads in their respective delegate counts. But both front-runners still faced adversity on Tuesday night.

Republican front-runner Donald Trump won big in Arizona—where polls had shown him leading for weeks—taking-in a larger share of the vote than some analysts had expected. Trump will grab all of Arizona's trove of 58 delegates, marching his candidacy a few steps closer to the GOP nomination. The billionaire real estate mogul won Arizona by more than 47%.

But Trump lost to his closest remaining rival, Texas Senator Ted Cruz, in Utah. Cruz pulled-off a better-than-expected win in the conservative state, and may—according to some political experts—walk away with the lion's share of Utah's 40 delegates. Cruz's win came as a result of high voter turnout and active participation by Utah's Mormon population, many of whom had heeded the anti-Trump message and rallied to back Cruz.

The split decision for Republicans may prolong an already-bitter contest for control of the GOP as Trump continues to rally angry mainstream voters and anti-Trump forces attempt to block his path to the nomination. Trump currently has about half of the 1,237 delegates needed to win the nomination outright on the first ballot at the convention in July.

Cruz seeks to become the rallying point for those opposed to Trump, and has asked that voters previously inclined toward other non-Trump candidate now offer support for his campaign instead. Like other previous GOP candidates, Cruz has maintained that if the anti-Trump forces and establishment elements can coalesce around a single candidate, it would be possible to beat Trump numerically in the polls state-by-state. But Cruz ran headlong into a wall in Arizona, where Trump still won by a total greater than the sum of his opponents, indicating that his path to the nomination remains wide.

Democratic leader Hillary Clinton won big in Arizona, padding her lead over her rival Bernie Sanders. But Sanders, a Vermont Senator, won in two of Tuesday's contests—in Idaho and Utah—delaying what Clinton would now prefer to be a seamless march toward the convention.

Clinton's win in Arizona was solid; she claimed roughly 57% of the votes, leaving Sanders with about 40%. Under the proportional delegate math, she will be awarded 44 delegates to Sanders' 30. But in the Utah caucuses, Sanders rolled to a thundering victory, taking-in nearly 80% of the votes, and leaving Clinton with 20% of the votes—her most lopsided defeat to date. Sanders will pick up 26 delegates from Utah to Clinton's six.

Though the path for Sanders will still be difficult, the Vermont Senator says he will soldier on as long as it takes. Clinton's delegate count continues to grow steadily, but Sanders and his strategists still hope to win in several key states in the near future. Sander's goal is to deny Clinton an easy path to the nomination, then perhaps convince many of the so-called super-delegates to switch sides and back him instead.

Both the GOP and the Democratic battles may continue for weeks or months. Trump's solid win in Arizona extends his delegate lead substantially. Trump pulled-in about 47% of the Arizona vote, to Cruz's 25% and Kasich's 10%. Cruz, however, easily outperformed Trump and Ohio Governor John Kasich in Utah; Cruz captured the votes of more than 69% of the state's GOP caucus-goers, leaving Trump with 17% and Kasich with 14%.

How deeply the terror attacks in Brussels impacted the voters of both parties on Tuesday is not clear, but entrance and exit polling indicated that among many voters concerns about ISIS-inspired terrorism is now again a front-and-center issue, with most Republican voters ranking it near the top of their list of concerns.

Voter turnout was extremely high in all three states, but lines which stretched for a long as a half a mile were reported at some polling and caucus places in both Utah and Arizona.

Related Thursday Review articles:

Violence & Mayhem Increases at Trump Campaign Rallies; R. Alan Clanton; Thursday Review; March 20, 2016.

Trump Campaign to Add Hired Security for Rallies; Keith H. Roberts; Thursday Review; March 21, 2016.