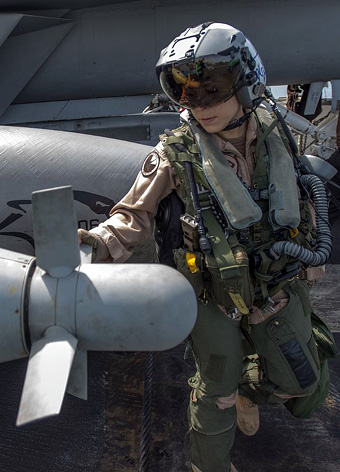 Image courtesy of U.S. Navy
Pre-Flight Inspection
| published March 17, 2015 |
By Thursday Review staff


Lt. Cmdr. Kristen Levasseur, a U.S. Navy aviator, conducts a pre-flight inspection of the EA-18G "Growler" she will fly on targeted missions against ISIS in Iraq and Syria. Levasseur is a member of the Cougars Electronic Attack 139, a unit with the mission of providing "electronic warfare in support of air and ground forces around the world," according to the squadron's website.

In this photo, Lt. Cmdr. Levasseur is conducting her pre-flight inspection while aboard the USS Carl Vinson. The Carl Vinson is deployed in the U.S. 5th Fleet area of responsibility in support of strikes against ISIS targets in northeastern Syria and northern Iraq, a campaign known as "Operation Inherent Resolve."

According to recent reports by the Department of Defense, the combined efforts of the U.S. led-coalition of air power and the work of ground forces—mostly mixed units made up of Iraqi Army and Kurdish forces, as well as some Iranian units—have pushed ISIS lines of control back in several areas of northern Iraq. According to estimates by the Department of Defense, ISIS has lost roughly 20 to 25 percent of the populated territory the militants once controlled on the ground—though the dynamic and shifting battle lines mean that reliable estimates can vary from day to day.

Below is a map and key provided by the U.S. Department of Defense showing the approximate front lines between areas currently controlled by ISIS and those retaken by Iraqi or Kurdish forces.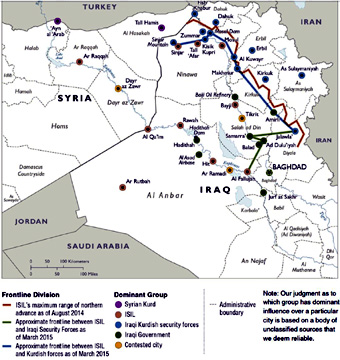 Photo of Lt. Cmdr. Kristin Levasseur taken by mass communications specialist 2nd class John Philip Wagner, Jr.

Related Thursday Review articles:

Obama,Congress & The Fight Against ISIS; Thursday Review staff; Thursday Review; February 23, 2015.

Jihadi John Identified?; Thursday Review staff; Thursday Review; February 26, 2015.