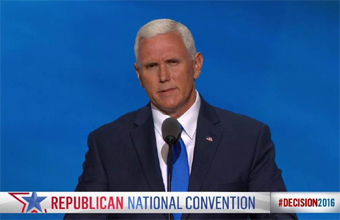 Image courtesy NBC News
Pence Highlights GOP Night of
Eloquence, Contention, Chaos
| published July 21, 2016 |
By R. Alan Clanton, Thursday Review editor
Indiana Governor Mike Pence accepted the nomination of the Republican Party to run for vice-President of the United States at a sometimes raucous convention in Cleveland on Wednesday night.

Pence spoke after a long night of speeches by former Presidential candidates Scott Walker, former House Speaker Newt Gingrich, a video featuring Senator Marco Rubio, and a speech former Trump rival Ted Cruz which prompted an increasingly noisy chorus of booing from the New York and New Jersey delegations when Cruz failed to offer an endorsement of GOP nominee Donald Trump.

Pence delivered a speech marked by humor and humility, along with scathing attacks on Hillary Clinton and Barack Obama. Pence, as he often does, characterized himself as "a Christian, a conservative, and a Republican…in that order." Unlike Cruz, Pence offered up a ringing and resounding set of bullet-point reasons to vote for businessman Trump, and used his own more humble background as a clear-cut contrast to the more boisterous Trump. Pence thanked his mother—who was present in the hall—and acknowledged the hard work and military service of his father, while also recognizing his three adult children present at his wife's side.

Pence also offered a deeper—some would argue the deepest yet—examination of the character and skill set in Donald Trump. Pence's resounding recognition of Trump came as one of the few contrasting speeches in which a speaker offered compelling reasons to vote for Trump as opposed to biting, often sarcastic reasons to not vote for presumptive Democratic nominee Hillary Clinton. Still, Pence attacked Clinton on multiple fronts, warning of a nation in which Clinton's agenda brings about a more liberal court system, a ban on guns, and an expansion of abortion rights—red meat comments meant to rally the party toward its conservative core principals.

Though Pence's speech was also highly formal in its disciplined, scripted content and soft-spoken delivery, it stood in stark contrast to many of the more boisterous remarks and chaotic moments from earlier in the week. Pence also focused perhaps inevitably on unity and cohesion within the party, and sought to carefully—some might argue awkwardly, at times—square the circle of a party deeply at odds with itself and still uncertain of its immediate future.

Trump's running mate also sought to draw a contrast between what he characterized as a dynamic new Republican agenda, and the proposals of a Democratic Party locked deeply into the Washington mindset seemingly unpopular with voters. Trump, Pence argued, represents change and a fresh approach to America's problems.

"At the very moment when Americans are crying out for something new and different," Pence said, "the other party has answered with a stale agenda and the most predictable of names." Democrats, Pence declared, were about to choose as their candidate "someone who represents everything this country is tired of."

Pence also touted Trump's remarkable gifts for political survival, pointing out that despite an onslaught by a large field of tough rivals and a daily battering by a skeptical, incredulous media—many reporters and analysts widely assumed that the Trump campaign would implode—the candidate not only survived, but emerged stronger and more popular than ever, evidence, he said, of a wide disconnect between the American public and media and political elites.

Pence's speech came as the keynote of the evening, and followed dozens of speeches and remarks by Newt Gingrich, Scott Walker, former astronaut Eileen Collins, and Trump's son Donald Trump, Jr., all of whom delivered better-than-expected remarks.

Ted Cruz's now controversial speech, which included at the beginning a congratulatory note for GOP nominee Trump, and while well received for perhaps 90% of its content, angered some Trump supporters in the hall when the Texas Senator stopped just short of an outright endorsement. Cruz called on Americans to vote, but to vote their "conscience," a phrase deemed a veiled insult to the nominee who was once Cruz's arch-rival in the primaries and caucuses.

"To those listening tonight," Cruz said as he looked into television cameras, "please don't stay home in November. Stand, and speak, and vote your conscience. Vote for candidates up and down the ticket who you trust to defend our freedom and be faithful to the Constitution." It was the exact instant when Trump supporters wanted to hear an endorsement, but it did not come.

Noisy outrage started within seconds. Catcalls and boos from the New York delegation—seated near the front—escalated into a nasty back and forth between Trump supporters and those in the hall who simply wanted decorum during a much-anticipated prime-time speech. Ushers and whips attempted to quell the disturbances, but they grew louder in the last moments of Cruz's speech. Cruz even acknowledged the "differences of opinion" evident in the New York delegation's noisy outrage.

Adding to the spectacle, candidate Trump chose to offer his own visual rebuff to Cruz's apparent snub by appearing at an entrance at an upper level of the hall in the waning moments of Cruz's speech, and at the moment when the angry catcalls from Trump supporters were reaching their noisy crescendo. Trump smiled and waved to delegates, drawing the attention of the television cameras and setting off competing noise to the growing hubbub below.

Afterwards, media analysts were as deeply divided about the speech as were those delegates in the convention hall, with some Republican talkers saying that Cruz had clearly rebuked Trump, and with others suggesting that Cruz was rightfully reluctant to offer an endorsement to a rival who had engaged in such a bitter series of attacks earlier in the year. Many political observers also noted that Cruz may very well be positioning himself for a possible run in 2020 in the event of a Trump failure in November, another clear-cut example of the philosophical divisions and strategic differences within a party still very much unsettled with its agenda.

The Cruz fracas was one of many events that marred the proceedings throughout the week, and exposed once again the unease and disorganization evident in both the GOP strategic plan and the coordination of the convention itself. Reporters after the speech said that the chaos spilled over into the back hallways and side-rooms, with angry confrontations between Trump supporters and Cruz supporters exploding backstage, and Heidi Trump being ushered away from a physical confrontation between a Trump loyalist and Cruz in one of the skybox areas of the arena.

Former House Speaker Newt Gingrich sought to pour healing oils on the brouhaha in his speech just minutes later, declaring that Cruz's reference to "voting your conscience" and choosing a candidate in November who will defend the constitution necessarily meant voting against Hillary Clinton, thus translating as a vote for Trump. Gingrich's effort at rescuing the situation was deemed commendable by some GOP analysts who watched the speech, but others expressed worry that the Cruz dust-up was merely one more example of a Republican Party at war from within. New Jersey Governor Chris Christie did not mince words, calling Cruz's performance "awful" and "selfish," and reminding reporters that Cruz—like several other candidates—had signed a pledge to support the Republican nominee.

Candidate Trump, who officially received the GOP's nomination on Tuesday night, is scheduled to speak to delegates and to the television audience on Thursday during the convention's final night.

Related Thursday Review articles:

Republicans Nominate Trump Amidst Controversy; Keith H. Roberts; Thursday Review; July 19, 2016.

Trump to Select Pence for VP Slot; R. Alan Clanton; Thursday Review; July 14, 2016.