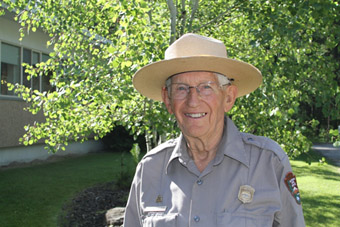 Photo courtesy of National Park Service
The Most Remote Park in the U.S., and the Oldest Park Ranger
By Earl Perkins | published Wednesday, November 6, 2013 |
Thursday Review Associate Editor
Nowhere in the book of life does it say you need to get old, crawl off in a corner and leave all the work and fun for younger people.

Many cultures throughout the world have revered their elders through the ages, and maybe the United States is starting to follow this trend.

Lyle Ruterbories' life story is an inspiration to thousands across the world, although he figuratively lives on the dark side of the moon. You can't get much further from civilization than Kintla Lake campground, a stretch of wilderness along Montana's border with Canada in Glacier National Park.

When the Associated Press asked the 93-year-old Ruterbories what it was like being the oldest park ranger at Glacier National Park, he quickly came back with the best answer out there.

"Not in Glacier—the whole park system," he said, "the oldest working ranger in the whole park system. That includes everything."

A lifetime ago, he started out as a manager at Colorado's Rocky Flats, which was formerly a nuclear weapons manufacturing facility. Then in 1962 he and his wife, Marge, began spending each summer in Glacier. They became hosts at Avalanche Lake campground on the Going to the Sun Road. It was a great gig at a very popular and busy park, but eventually opportunity would come knocking.

At first it didn't seem like much of a step up, but North Fork District Ranger Scott Emmerich had to have someone to cover Kintla. This was a remote stretch of land east of the north fork on the Flathead River, where folks had to be sturdy and healthy, and willing to stay the season in a little red ranger's cabin on the lakeshore. Ruterbories was 71, but he could hike 28 miles a day, haul gravel, mend fences and run a chainsaw to clear fallen trees from remote encampments. It took two years of convincing, but after turning down seven other Glacier jobs Ruterbories agreed to accept the challenge. He would be the ranger, while his wife took on the job of camp hostess. For 12 wonderful summers the couple lived together and made many wonderful friends at Kintla, until Marge died from a stroke. He was heartbroken from the loss, but Ruterbories was told by a grief counselor that he needed to get back into a routine.

The comeback took quite a while, because everything reminded him of Marge—all the good times they'd shared together and that she wasn't coming back.

"The reason I come back here, she called this a paradise on Earth," he said. "She really meant it. When I walk down through these treed, I still remember that."

Kayakers and hikers came to Kintla for its remoteness and quiet, but they kept returning because of Ruterbories. Oh, he slays them with the stories: close encounters with bears, being chased by wildfires on the historic Indian migration routes, and on and on. He is proud of the fact that a Blackfoot Indian cleanup crew awarded him the name Gray Eagle. He also tells the story of how he discovered a 30,000-year-old fossilized jaw of a two-toed horse in a stream.

"Initially, we came here on a kayaking day. Just a kayaking outing," said Ingrid Forsmark of Whitefish, Montana, and Tok, Alaska, who's visited Kintla for three years. "I met Lyle, and he was so interesting to talk with, I thought, ooh, I'm going back there."

For two decades Ruterbories has been ambassador, manager, accountant, anthropologist, botanist, historian, traffic cop, landscaper, handyman and rules enforcer. However, he has had to become very resourceful with age, knowing adjustments had to be made if he was to continue his work. Special tools he designed help him complete tasks, including a wheeled cart he uses to haul logs around the campground.

"He's pretty ingenious," Emmerich said. "As he ages, he has to get smarter. He thinks it through and he's not going to hurt himself."

And Ruterbories has had to deal with more than just normal aches and pains. He now moves around with a distinct limp, giving him the choice of retiring or going through painful joint surgery. The cartilage was removed in 1969, but now the joint has worn through to the nerve. The operation might fix his bad knee, but he's concerned about recovering from surgery at his advanced age.

"I'll tell you what's going to happen," he said. "Everybody's talking me into getting that knee fixed—if I get it fixed, I'll be back."

And somehow, you just know he's telling the truth. What would Kintla be without the park system's greatest story teller? And what would a place as rugged and remote as Glacier National Park be without the nation's oldest park ranger?